TSMate.com - the ladyboys are so hot here you might get singed!
Welcome once again to my HD Cam reviewing website. I am glad you have found this little extra corner of my website, as it can actually get a little lonely over here at times! If you haven't already guessed, then I shall today be reviewing another sex porn cam site that caters for those ladyboy lovers among us. The site I shall be informing you all about today can be found at TSMate.com
Not much of the snooping work required for this site from yours truly, as the site has already been well and truly snooped by yours truly, in a way. If you haven't already guessed, then "TSMate" (which I guess is short for for TransSexualsMate) is a companion site to the broader porn cam site, Streamate.com (if you want to read my review of Streamate.com, and let's face it, why wouldn't you?, then you can view it here). It's the same way that LiveJasmin.com provides a specialist tranny-only version of its site for MyTrannyCams.com, sharing the same, shemale-only cam performers. This "deal" has been on-going since TSMate.com burst onto the internet shemale sex scene in September 2007. Let's find out if I share the same views about TSMate.com as I do with Streamate.com, shall we?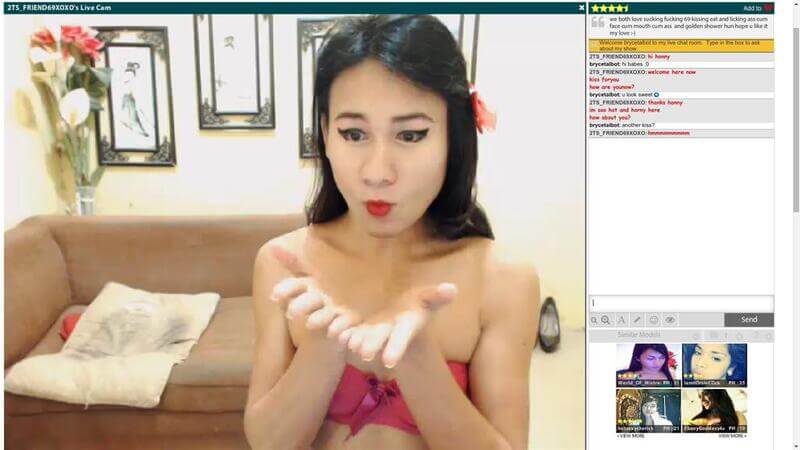 My considered thoughts
I am afraid to say that my first impressions of the site are not good. Where Streamate.com does at least look as if it was designed with the modern "flat" system of web-design, TSMate.com does look as if it is rather behind the times. It doesn't look too terrible, just a little uninspiring. You also immediately get the impression that there's nothing much beyond the porno cams at the site - but then again that is precisely the correct impression to get, as there isn't. It's like MyTrannyCams being a very stripped-down trannys-only version of LiveJasmin.com. All you really get that can be described as "extra" from the site are a filter and menu system that makes selecting the kind of shemale who you think's really going to get you excited just a tiny bit easier.
There's also no "sneak peak" at the site when you select a model's thumbnail. Another missing piece is that none of the thumbnails have a "HD" indicator, so you won't know what quality of cam you're going to be privvy to when you enter your selected she-male's room. The info you do get is the type of chat the ladyboy model is currently up for, how old they ("allegedly") are, where they come from (a help as many of the models on the site struggle a little with English), and a tiny little bio which really is only a "slutty" enticement to get you to enter the cam room. There's also the model's current five-star rating as to how accomodating they are. The ratings are handed out by registered members of the site who have viewed the shemale porn wannabe's private show.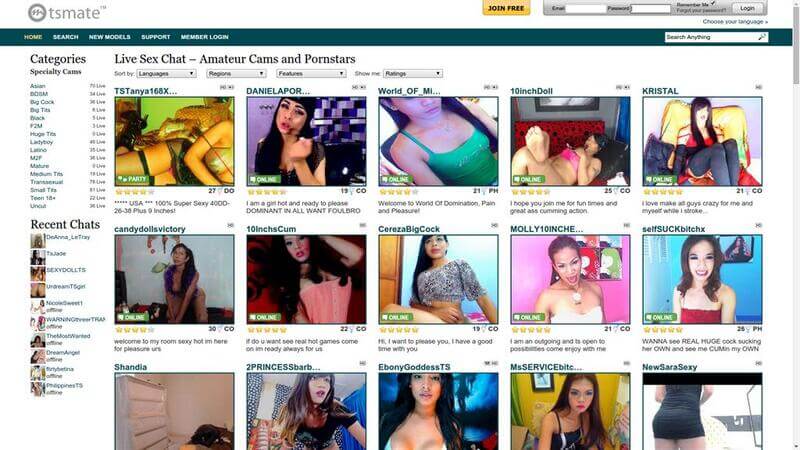 Once you pop into a shemale cam model's room, the private chat can be a little of a pain. I suspect that the models do not get a lot of traffic, because as soon as you start to chat they are constantly begging or demanding that you go private with them. If you are not accommodating, they can kick you out of the room. Some of the shemale models are genuinely lovely, but others are not so friendly. The positive side of this pressure is that the sex cam shemales can get pretty raunchy and revealing as they try and lure you in to 1-2-1. You'll see plenty of bits you might find interesting, and all for free.
Anything else?
What you won't find interesting at the site are the extra features, because there aren't any.
Becoming a member
Bear in mind that there is only one real reason to register at the site, and that's to pay for your pleasure. You do need a valid Visa/MasterCard/Discover card to complete your registration, so if you've a desire to keep your purchasing history off your credit card statements, then tough luck. To register, you just need to plug in your chosen username, password, email address and credit card info. Note that membership of Streamate.com automatically means you're a member of TSMate.com, so you won't have to go through all that registration business again.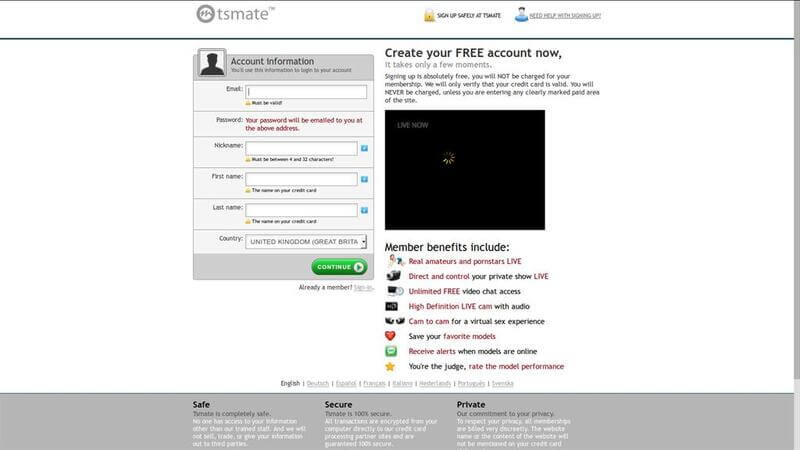 Let's get chatting
You get five chat options at TSMate:
Free chat - like free chat at other sites, except that you cannot see what other people are typing.
Party chat - free chat where you can see what other people are typing.
Gold shows - same as the Gold Shows at Streamate.com, check my review for details.
Private chat - 1-to-1 chat, although people come and see what you're up to, but you won't know they're there.
Exclusive chat - 1-to-1 chat that genuinely is 1-to-1.
Models can charge what they want between $0.99 and $9.99 a minute for 1-to-1 chat (most charge between $1.99 and $3.99 a minute). Gold costs $1 per piece.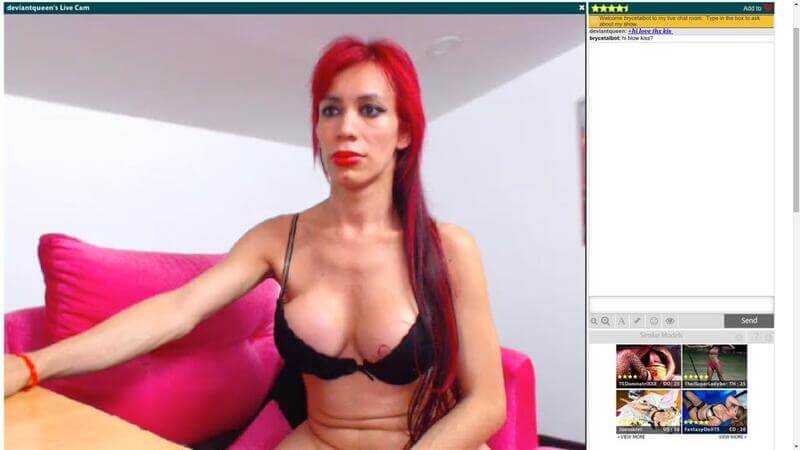 Quality of video
Hmmm ... well, there does seem to be a lack of HD at the site. I must say, the cam action is generally smooth, but that's often at the expense of pixelation. Some of the cams from some of the models is very poor, but some of it is really good.
Putting your money where your mouth is
Everything you spend at TSMate.com comes straight off your card. This is great in many ways, as you don't get confused about how much you are spending, unlike you may do if you are spending "credits". If you pays it, you spends it!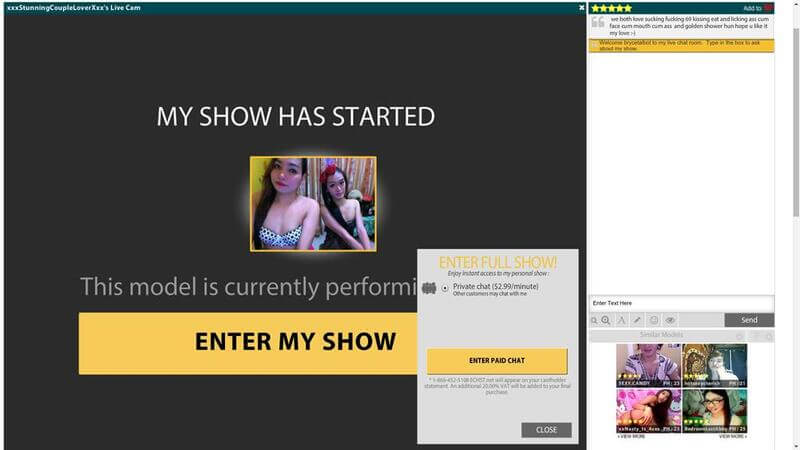 Ways to pay
As I said wayyyyy back - plastic only.
How many xxx lovelies?
Because the models are shared between TSMate.com and Streamate.com, there's usually a large number of models out of the 1,400ish who are registered at the site(s) online at any one time, so you usually get a lot of choice.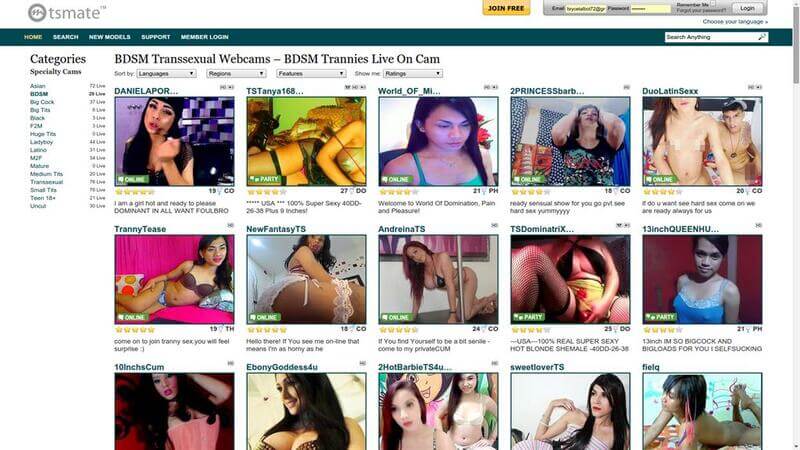 Help when needed
The support options are again shared with Streamate.com, and they are very good. I used the live chat applet and found it to be perfectly fine. There are phone numbers and email addresses supplied as well.
Positives and negatives
Positives
✔ - No-nonsense, no frills and no cloak-and-dagger stuff
✔ - You can browse in free for ages and see plenty of dicks and tits!
✔ - Lots of accommodating models to choose from
Negatives
✖ - "Hello babe h r u wanna have fun then go private and I show u good time!"
✖ - No payment options unless you have a credit card
✖ - The loneliness of the long-distance free chat hunter
Summing it all up
The way TSMate.com operates appeals to me. You should know me by now - I'm a no-nonsense dude who likes things to be functional and doesn't take kindly too being messed about with. TSMate certainly operates on that level. Want trannycams? You got 'em. Want to pay to go private? Then hand in your credit card details and you're all set. You want frilly bits and distractions? Then go elsewhere. The only thing that kinda grates with me is the desperation from the models to go 1-2-1 with you, but then again they're not putting their sexy bits on show for nothing, are they?
If you like the same no-nonsense approach as me, then I suggest you head to TSMate.com when you next feel the urge for some hot tranny action.
Review of TSMate.com
- Reviewed by
hdcamsites.com