LiveJasmin Review - Hot Babes in HD are Waiting
The adult cam site topping my list for the best high definition webcam streaming, is LiveJasmin. With close to 2,000 models online at any time of day, this highly popular site promises to provide its users with some of the best live HD sex shows. LiveJasmin promises gorgeous models broadcasting from studio-like settings. It presents like a glamour-mag come alive, complete with professionally produced photo and teaser videos of each girl.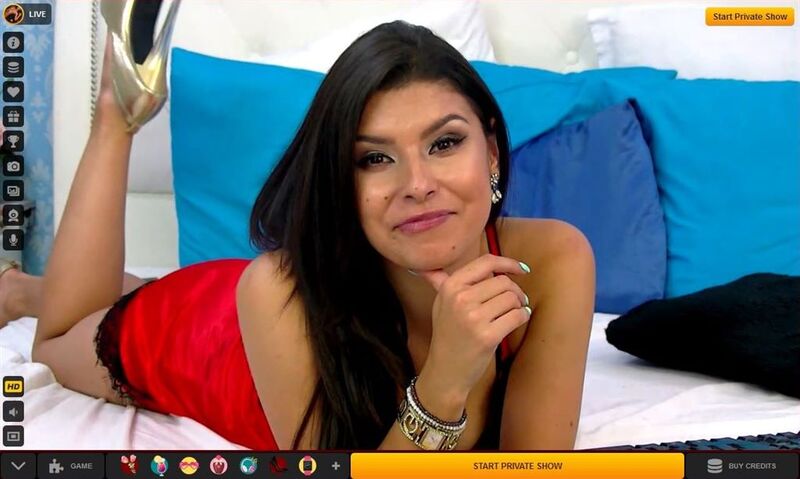 Does it live up to its promises?
As I discuss below, it surely does. LiveJasmin.com is definitely one of the best live adult cam sites around. Not only does it display the loveliest ladies, it also enables easy registration, very reasonable rates and an intuitive interface that is easy to get around. Before I explain why, let's start with a bit of history.
LiveJasmin popped into existence in 2001, as the brain child of an entrepreneur called György Gattyán. If you are thinking that name sounds about as American as pineapple pie, you are right. Mr Gattyán is from Hungary. Originally, LiveJasmin was for those lucky adult chat fans from Hungary only, but it was such a success that Mr Gattyán decided to open it up to the rest of the world. In retrospect, it turned out that this was quite a good idea, as LiveJasmin has been ranked within the top one hundred most popular websites (and not just porn sites) ever since.
First Impression
As soon as you enter LiveJasmin, you are left dazed by all the preview galleries displaying the most babelicious beauties just waiting to fulfill all your dirty little (and big) desires, some of which you would be quite embarrassed to admit you have. But it's perfectly OK. On LiveJasmin, you are among friends who will keep all your secrets discreet.
The overall layout of the homepage and entire website is something you can't ignore. The red background instills a kinky atmosphere. And with all those amazing ladies presented in high definition, you feel as if you have just landed in paradise.
The Girls You Will Meet
There are so many possibilities to choose from to help you find the girl that is a perfect match when it comes to your personal preferences. You can choose a girl with whom you can spend your quality time based on specific categories. You can choose among 5 main languages: Spanish, German, Italian, French and, of course, English. And, you can search by age, ethnicity (You know me, I prefer Asians), appearance and even hair color.
The girls can also be sorted according to their price. It's great if you are, like many users, on a budget. You can also pick a model based on her willingness to do hardcore and extreme sex acts. For example, some of the models are into anal sex while others are into sex toys and even squirting. To each his own, and as you can see, the website has spared no effort into giving you what you really like.
As for the other genders, male and transgender, there are nicely populated categories for each. Go to the Boys category and explore the Straight and Gay sub-categories where there are typically 60 performers actively online. For chick with a dick, check out the Transgirl category where there are some 40 models always online.
Top Site and Chat Room Features
Navigating LiveJasmin is easy and fun. If you hover your mouse over any of the sexy preview galleries you can see what any particular girl is up to... unless she's currently engaged in a private one-to-one show with another member. In which case, you will get a teaser trailer for her. As a basic member, you will have plenty of features free of charge:
Getting to know every girl by looking at her profile and learning about all the stuff she will be willing to do for you. If you browse the galleries that the ladies have set up, you will see plenty of professionally taken pictures they have left there. Premium members get access to x-rated pictures showing the girls in full nude.
10 exclusive peeks at girls in private video chats upon signing up.
If you fall for a particular girl (has happened to me more than once), you can follow her by adding her to your favorites list. You will be notified by email every time she comes online.
Joining public chats. If you don't want to get private with a model, you can join a public chat that takes place on every model's personal screen.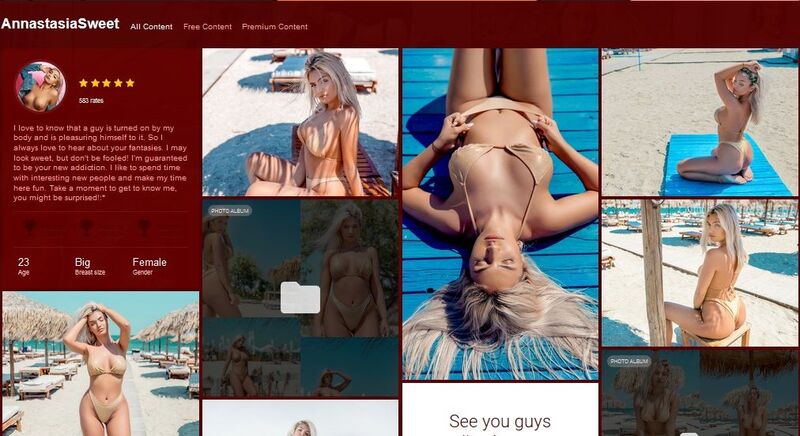 Public is good (and free), but private is much, much better. Once you've paid your way, you can move up to a premium membership, and you can join a model for a one on one video show. When you do, she'll be all yours, ready for your every request.
The Advanced Search to Help You Find Exactly What You Want
The site function that I like the most is the advanced search. This highly effective tool allows you to cross reference all the categories allowing you to choose the model you want at the highest resolution. For example, you can order the system to locate for you a newbie girl (if you love them fresh) who speaks French, who is ethnic white with big tits and blond hair from Europe. That girl may be willing to do anal sex and play with sex toys. Finally, you can set an age and price range. On LiveJasmin, it seems, the possibilities are almost endless.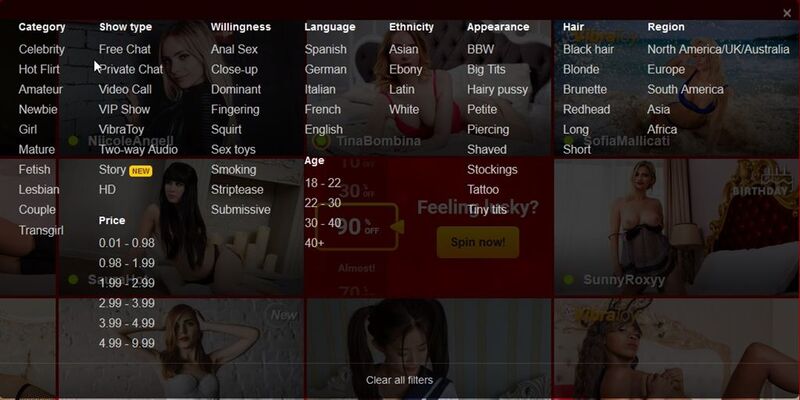 HD Webcam Quality
LiveJasmin is dedicated to providing you with the ultimate video experience. That includes high definition broadcasting on your desktop computer or on your smartphone. Unlike other similar websites, on LiveJasmin almost all the girls broadcast in hi-def quality. The video broadcasting standard is set at HD720p. And the rooms that have the HD on/off toggle in the webcam player window have the option to increase the broadcast to HD1080p.
However, bear in mind that if you haven't got sufficient bandwidth, you can only enjoy standard video quality. That's OK, you will still be able to make the most out of what the website has to offer you with a regular Internet connection.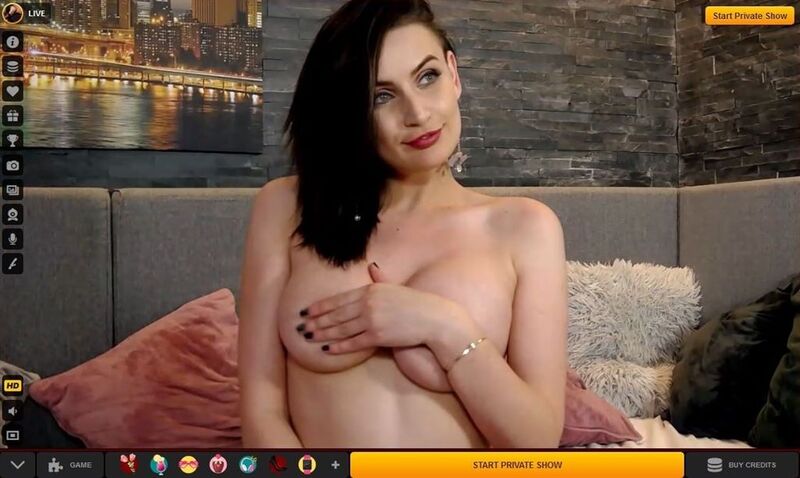 LiveJasmin on Mobile
This is one of my favorite sites to sex chat with cam girls over a mobile device. Many sites make chatting possible, but only a few make it possible to activate your phone's camera for a mobile cam2cam session. Turning on both you camera and activating the 2-way audio feature do require an additional fee, which is only a fraction of the models regular private session rate.
Becoming a Member
Registering at LiveJasmin.com is so easy. The signing up process is fast as it won't require any effort from you apart from confirming your membership on your email account and agreeing to the site's T&Cs. You will need a little bit of an imagination to come up with your username and password, but I assume you will manage to do that.
So, it's time to do a little sexy window shopping (it's just like being in Amsterdam, but with less canals and pot heads), and see what dirty joys you might be lucky to uncover with those 10 free sneaky peeks, and then moving to paid membership and going on private one on one show with a gorgeous model
Purchasing LiveJasmin Credits
The moment you validate your credit card details, you will gain 9.99 free credits, which are worth a little more than 10 dollars and can be used (based on the site's average chat prices) for an approximately 3 minute private show with a model.
The smallest credit package will cost you $35.99 and will give you 27.99 credits. The most expensive package costs $178.99 and it includes 157.99 credits.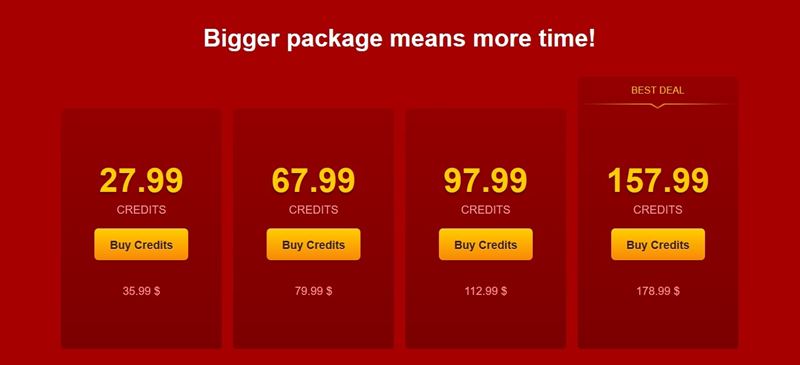 In addition, LiveJasmin offers an awesome feature in the form of a wheel of fortune you will spin before making your first purchase. With this wheel you will be able to get up to 100% extra credits once you complete the transaction.
Sex Chat Costs
The average price for a private one-on-one show is $2.70 a minute. The models that are the most sought after command significantly more. These are the models that have built up a fan following and are very popular on the site. They can get in upwards of $7.00 a minute and more for a private session. By applying the Price filter on the site, you can sort the models by their sex chat rate to find the most expensive or the cheapest girls.
The cheapest rooms go for $1.05 a minute. These rooms are typically filed with girls that are newer to the site and have yet to become the professional LiveJasmin models they aspire to be.
The rates you pay per minute are inclusive of turning on your own webcam during the private show for the model to see what you choose to show her. But, be advised that activating the 2-way audio connection does require an additional fee of another credit a minute. And, if you are accessing the site over a mobile device, activating the c2c and 2-way audio features will both cost an additional credit a minite.
These prices don't put LiveJasmin at the bottom of the list compared to other webcam sites. However, the differences are not that big, and for what you get from it, it will be worthwhile paying an extra buck or two.
Security of Payment Methods
LiveJasmin is a trusted cam site. It operates a fully secure payment system using SSL encryption combined with state-of-the-art fund security software and hardware. So no need to worry; your money is in safe hands.
You can use almost any payment method that exists on the online market:
A variety of credit/debit cards, like Mastercard, Visa, Diner's Club, JCB, Maestro, Visa Electron, Visa Bleue, and Discover.
Skrill
Gift cards (e.g. Walmart, Best Buy)
Cryptocurrencies like Bitcoin or Etereum
European customers cannot pay with Skrill and gift cards, but they can do a wire transfer or use WebMoney. Apart from gift cards, all payment methods give customers the bonus credits with their purchases.
Protecting Your Anonymity
You probably don't want the whole world to know you are using the services of video chat sites. There is nothing to be ashamed about it. All my friends know I'm a regular visitor on these sites (a few of them joined these websites because of me). But some users want to remain anonymous, which is perfectly fine. When you issue payment to LiveJasmin, no information will appear in your bank statement that could indicate the nature of the service you have purchased.
World-class Customer Support
LiveJasmin takes great pride in a highly dedicated and professional customer support team. And they have all the right in doing so. If you encounter any problem with anything (whether these are billing issues or technical difficulties), a customer support representative will come to your aid in no time. You can reach the Support Department via phone, email, or - most conveniently - a live chat window. Live chat help is available 24/7. In addition, basic questions at the site are usually answered in the FAQ section.
Positives and Negatives
Positives
✔ HD broadcasting - You will hardly ever find girls broadcasting at a quality lower than 720 pixels
✔ It's really easy to find your way around, and everything loads and works fast
✔ Loads of beautiful webcam models just waiting to play intimately with you
✔ An effective advanced search helping users zoom in on the exact kind of model they are looking for
✔ Everything is transparent - you know what you are getting and what you are paying, and there are no hidden fees
✔ Well populated categories for male and transgender webcam performers
✔ The website operates well on handheld devices. It's easy to do mobile cam2cam
✔ Most payment methods include a credit bonus
Negatives
✖ It's impossible to see the models nude unless you purchase site credits
✖ No forum or message board to talk with other like-minded users. There is no sense of community on LiveJasmin.
✖ Private chat with the popular and well-known models can be relatively expensive
One should bear in mind that LiveJasmin encourages professional cam modeling. It can easily be seen that the vast majority of the girls are highly trained in how best to perform online. They never have bad lighting, and they are always perfectly positioned in front of the webcam. Now, that can be an advantage or disadvantage depending on the user's personal preferences. I personally like the professional angel. Others would prefer their video sessions to be more amateurish.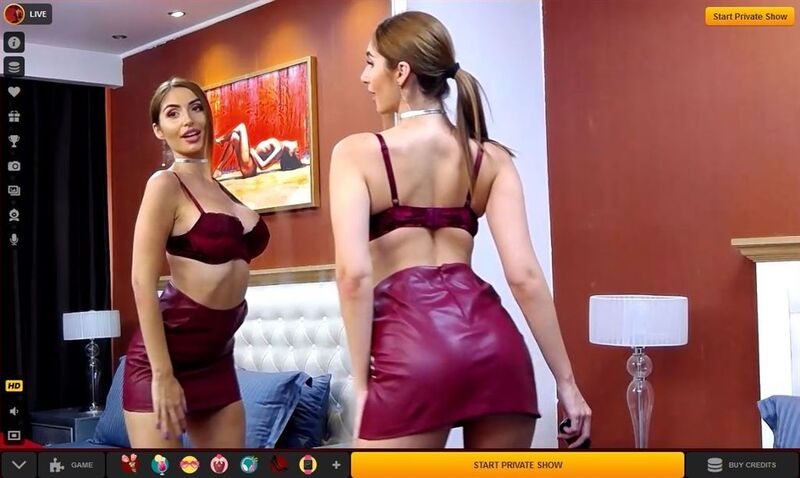 A Few Final Words
As a veteran web porn user, I have high standards, and not only does LiveJasmin meet them, it excels at them. Modesty has never been my strongest attribute and I rarely admit that my expectations are surpassed. When It comes to LiveJasmin, I have no choice but to say it out loud: this website is the real thing for sex chat in HD, and you can take my words to the bank.
Review of LiveJasmin.com
- Reviewed by
hdcamsites.com