LiveSexAsian.com - like Asian sex cams? Then you'll love this site!
Hello again, I say at the risk of repeating myself. I hope you are well, all nice and relaxed and ready to read another one of my tremendous x-rated cam reviews concerning the awesome universe of adult sex chat sites with added cam-vision. For the latest leg of my cam trek, I have decided to boldy go where no old Walt has been before - namely all the exotic eroticism available via the wide selection of Asian cam model sites.
I have decided to start this new leg of my cam-journey by reviewing LiveSexAsian.com. I have had to check that URL several times as of course I am a very logical person and that sequence of words just doesn't sound right to me. Perhaps it sounds better to you? I've checked the more logical versions of that name, URL-wise, and ended up at dead ends, so LiveSexAsian.com I guess it is. The site has been around for only a relatively short period, since 2007 in fact, and has been completing it's requisite task of supplying Asian babes to cam viewers ever since. As you will see, this site has a lot going for it, primarily its association with the wonderful LiveJasmin.com. Let's crack on ahead, shall we?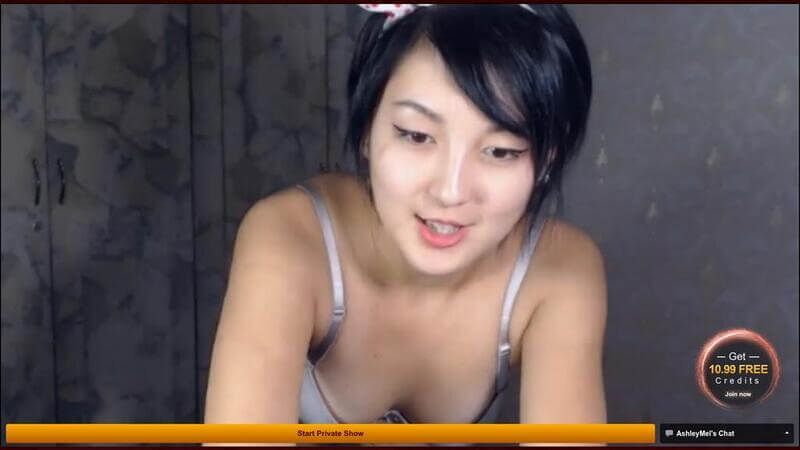 My considered thoughts
As a member of polite society (and hot and steamy society) I typically make associations, such as Dodge and good motor vehicles, and Budweiser and good beer. So, I associate LiveJasmin.com with good cam sites - and to all intents and purposes LiveSexAsian.com does nothing to dilute that reputation. This site is a cloned version of LiveJasmin.com with everything that is not Asian in origin stripped away. Unfortunately, I do feel they have stripped a little too much away, but I will not dwell on that quite yet. There are enough hot Asian porn models to go around - most of the time anyway. and that is the most important thing.
The site looks even more like LiveJasmin.com than MyTrannyCams.com, as they've gone for a deep red look instead of the brighter red of the mother site and the dull brown of the sister site. You will see by the screen shot below that the structure of the menu site is exactly the same as at LiveJasmin.com, with the multi-sized thumbnails of the Asian xxx hotties. The only thing I can say here is that unlike the other two sites, models who are not online are included quite high up the screen, so always do that thing with your mouse or you'll be sent into a slideshow of the model's gallery if she is not online - not that such a thing is always a bad thing! There's not a lot else you can ascertain at this stage of the proceedings.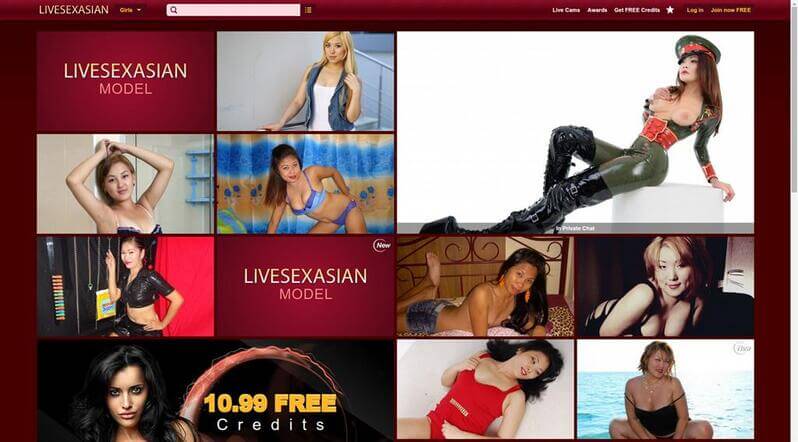 There's not much else to the rest of the site, as I hinted at above. You can quickly switch between girls, boys and trannys via one menu, and then filter with another, although this is largely pointless as there are never enough girls online to make this a worthwhile exercise. The cams screens are great though, and you can switch quickly between different views, call up galleries, save your chosen Asian cam babe to your favourites list, or join her fan club.
Anything else?
Nothing that I have not described already.
Becoming a member
As you are no doubt expecting me to say, if you are already a member of LiveJasmin.com or MyTrannyCams.com then you do not need to go through the registration process here, as you will find you have an account waiting for you already at LiveSexAsian.com. If you do register here, your registration will be good across the board for all these associated sites, and you receive ten free teasers (see below) and 10.99 in credits when you register a credit card. Signing up is simply a matter of typing in your username, password, and a valid email address. Once you've confirmed you agree to the T&Cs you're good to go.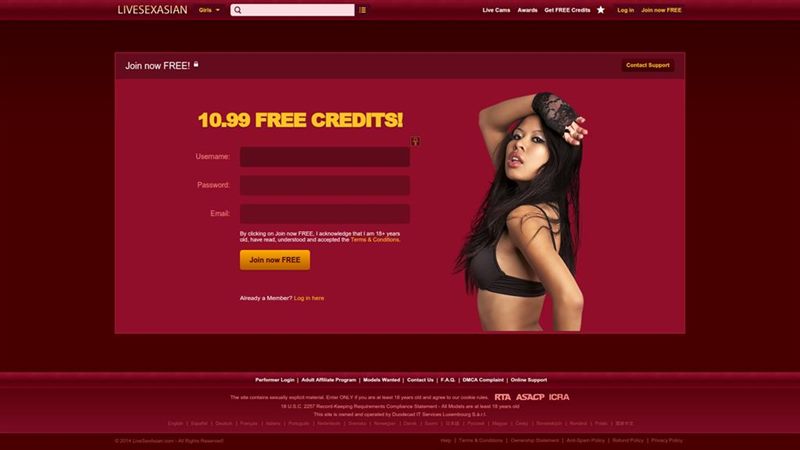 Let's get chatting
The site keeps things simple when it comes to chatting. Free chat is truly free and comes without limitations. You can move into private chat for the fee the models asks whenever you feel the urge. A "teaser" costs one credit and allows you to look into a private show that's already in progress for twenty whole seconds.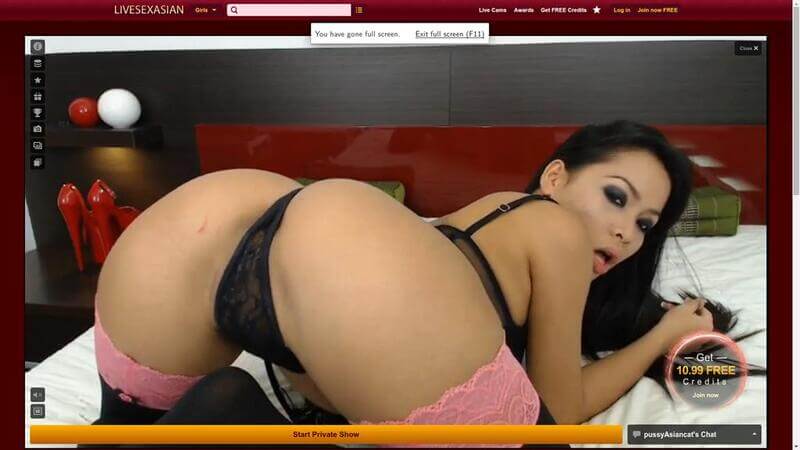 Quality of video
LiveJasmin.com didn't get to where it is today without providing cams of the highest quality, and SexLiveAsian.com is the same platform, so the cams are just as good. The HD is truly the absolute best, and the SD is pretty damned fine as well.
Putting your money where your mouth is
The average price for a private porn chat on the site stands at $3.00. You will be able to find models who will charge you much less. The cheapest I found was $1.05 a minute. But take into account that you will have to pay 1-2 dollars extra if you want your chat to include c2c and the same sum if you are interested in 2-way audio.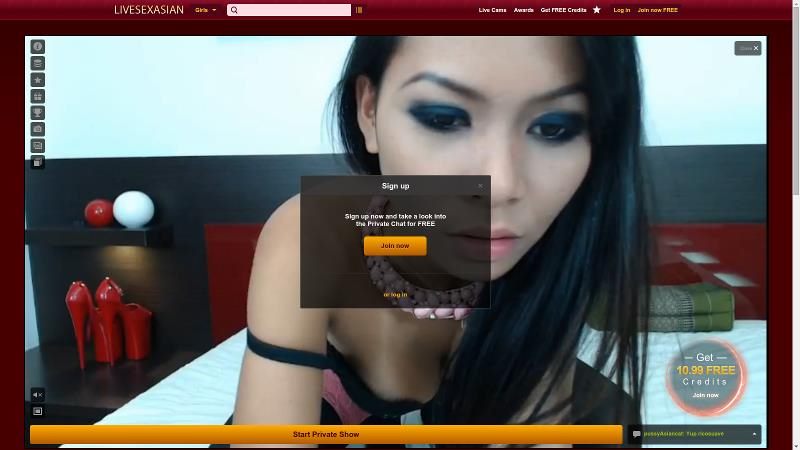 As to credit purchasing, the site offers several packages. The cheapest one costs $35.99 and it includes 27.99 credits. The most expensive package climbs up to $178.99 for 157.99 credits.
No matter which package you will go for, the first time you will validate your credit card, you will enjoy a bonus of 9.99 credits, which is worth around $10.
New buyers get to spin a wheel of fortune containing numerous bonuses. The maximum bonus is 100% credits for the package you choose to purchase.
Ways to pay
Enough options to please everyone. If you have plastic in your wallet then you should be fine unless you have some weird or wacky brand. You can debit direct from your bank account via Sofort banking, or - if you're European (and I won't hold that against you) - you can set up a direct debit. You can even fund your account via your mobile if you want.
How many xxx lovelies?
Surpisingly few. It is hard to be exact, but I am pretty sure there are less than 100.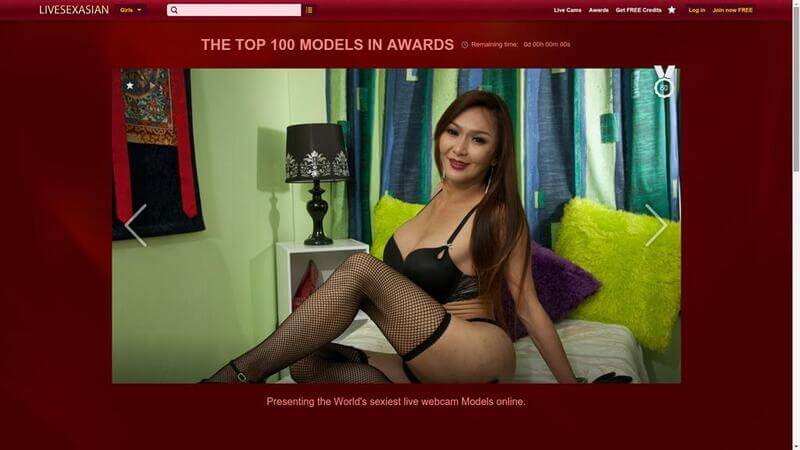 Help when needed
Again, very good. There are phone numbers you can use for both technical and finacial issues. There's also a live chat function, and an email address.
Positives and negatives
Positives
✔ - Excellent streams, plus you can stream to your iOS or Android device (although these streams are not as good)
✔ - A very, very high standard of sex cam performer
✔ - Excellent support options, which is always something that is reassuring
Negatives
✖ - Not currently enough Asian cam models available at the site
Summing it all up
It could have snipped this review and written "LiveJasmin.com - Asian sex cam section" and that would have told you everything you need to know. Good cams, good site, excellent models, good support and good payment options. There are only two downsides as far as I can see - the lack of models, and the cost of some of them. Still, I'm a firm believer in "if you want the best, pay for the best" - and that's what you'll find at LiveSexAsian.com if you go hunting for Asian sex cams, trust me!
Review of LiveSexAsian.com
- Reviewed by
hdcamsites.com