Fetish Chat Rooms On CamSoda Reviewed
There are many quality fetish webcam sites on the internet, and CamSoda's fetish chat rooms are no exception. CamSoda has managed to stand out from the rest, with a user friendly "freemium" pay structure, on top of having many choices when it comes to models, willing to cater to a variety of kinks and fetishes. There are also some features that are exclusive to CamSoda.com, at least in the mean time.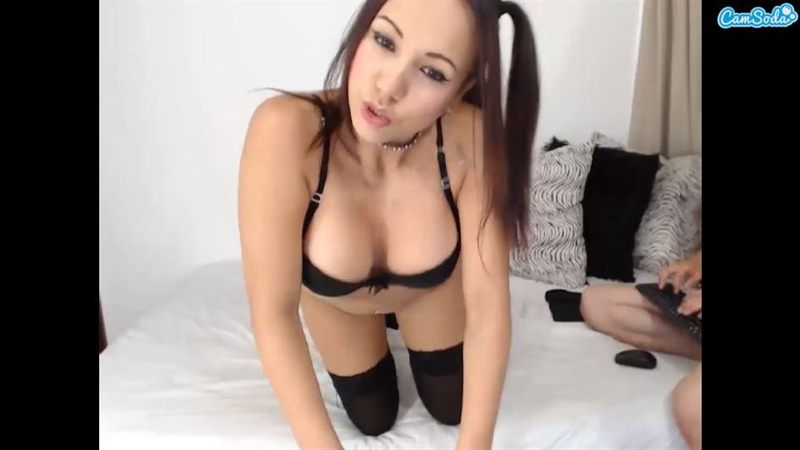 We'll be covering some of the more attractive features in greater detail later, and you will want to stick around to see what surprises CamSoda has in store for you.
My Considered Thoughts
CamSoda is a relatively new site on the adult chat scene, breaking out in 2015, and establishing themselves as a site with mass appeal to both models, and users alike. Attracting 8000+ cam girls, and many thousands of their fans, they've cemented themselves as a contender quickly.
Despite starting out as the new kid in town, CamSoda.com has been swift in building a model, and user base, rising in popularity steadily since it's inception.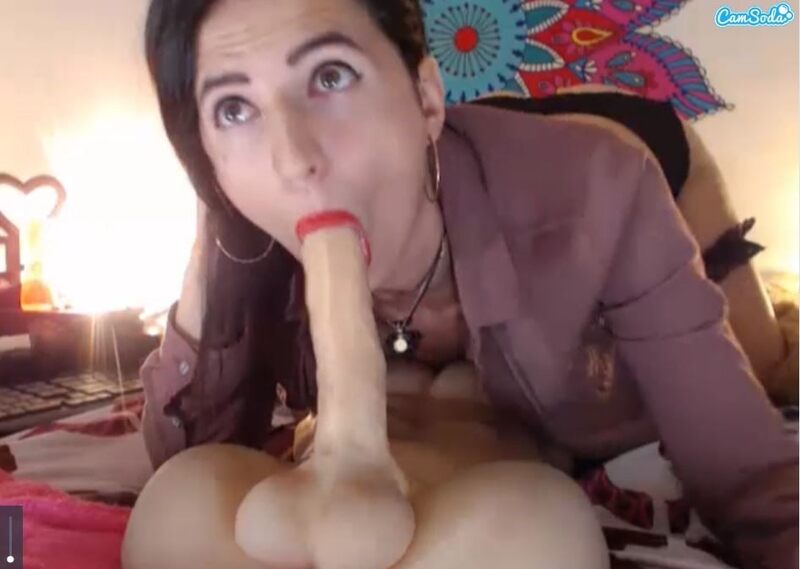 With a wide variety of different models, with new ones joining all the time, there's always an attractive selection of models available for a good time. The credit system is friendly to the models, which draws in customers, who in turn draw in more models. The selection is sure to grow in the future.
So why choose CamSoda?
What Sets CamSoda Apart
Immediately upon entering, you'll be treated to one of CamSoda's most unique, and interesting features, live previews, across all the model page links, along with live updates to the available models on the home page.
Most sites provide some indication of what you can expect when you enter a model's room, but CamSoda's fetish chat rooms set themselves apart with their superior preview system. CamSoda offers immediate engagement with the user, allowing for a fun, easy going experience, when "window shopping."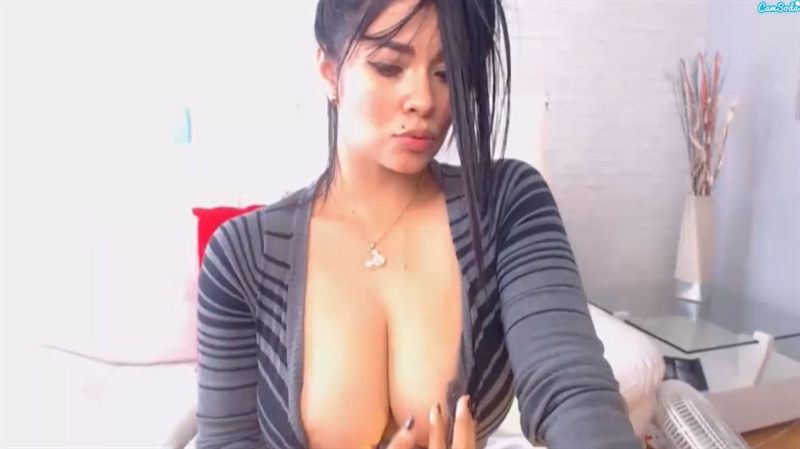 The user interface looks similar to many cam sites, it's formatted and presented nicely, but the UI itself is actually much more clunky, and unwieldy than it appears at a glance.
The lack of adjustment options for the homepage is slightly off-putting, but the ability to have at-a-glance previews of CamSoda's models more than makes up for it, as do the other unique features of the site offered in chat.
Cam2Cam service is one of the most exciting features any service can offer. It's fun to show off once in a while, get that ego boost from a girl telling you how big you are (less fun if you're a female, incidentally,) and CamSoda is no different.
One huge difference is, CamSoda.com boasts another (currently,) exclusive feature. Live Cam 2 Cam chat on mobile. Models on other sites will tell you that they can see you too, because they know you're trying to get the poison out in a hurry (you're on the clock, paying in private adult chat,) and they know you're not gonna check. CamSoda guarantees that models who support Cam2Cam on the browser site also support it in mobile.
CamSoda also features a number of interactive Token based games of chance in their free live cam chat rooms. The choices of games are dependent on the model in question, as are the cost of each round of play. This provides another exciting method of providing tips to the models you love, in exchange for different, and fun cam shows.
CamSoda's Fetish Chat Rooms Do Leave Something to be Desired...
CamSoda.com is set up much like other camsites you might have visited in the past, with a few unique quirks. If you're a fan of Chaturbate, the sites share some distinct similarities. The quality of entertainment you can get, spending nothing, or close to nothing at CamSoda is astounding.
In the free, open chat, the models are already going at it, trying to please the audience, and have the audience help please them, with the aid of remote activated toys, that go off with varying intensities based on the size of the tips they receive. At CamSoda.com, money really does make em' cum.
Much like most sites, CamSoda features the ability to save your favorite models into a personal section in your account for convenience. Build your rapport with the girls you like to watch, give them attention, and good tips. A little goes a long way, and most models will make it a point to remember good users, especially good tippers.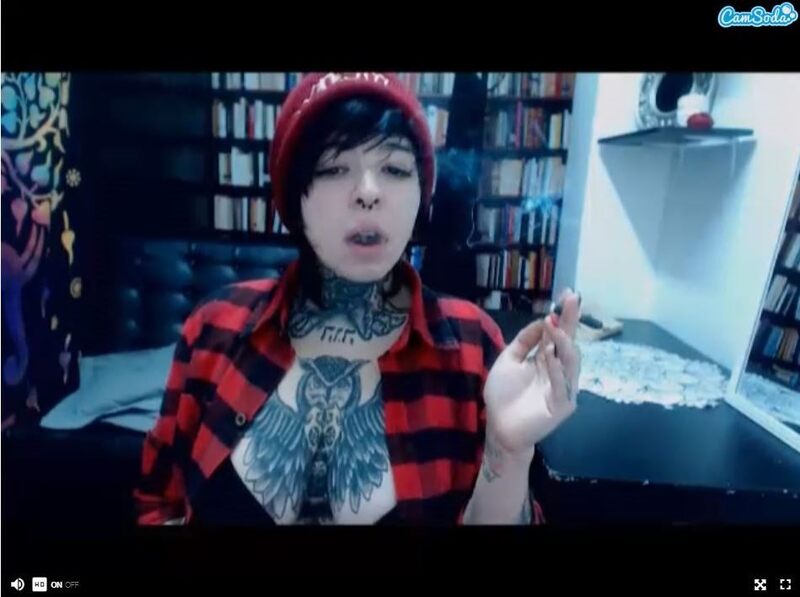 Models on CamSoda.com have the ability to restrict the chatting ability to users with tokens in their wallets, but token packages are reasonably priced, and a little goes a long way. Models frequently will offer special, "golden ticket" shows for a set token donation, or fulfill a promised carnal act on display for everyone for a set donation goal. Many feature interactive sex toys that are triggered to activate by receiving tips.
If you want the show tailored to your tastes, if there are any kinks you want to explore with a model, get to know them, and talk it over. Often, they'll be happy to oblige a particular sexual fetish you may hold, and the listings of fetishes listed on the model pages are unusually sparse, so that makes knowing your models, and building a list of those you like to cum to something of a necessity.
... But the Choices are by no Means Limited!
Looking to get off after a long day (night?) Well, it's 5 o'clock somewhere! With models from all over the world featuring themselves on CamSoda, "happy hour" is whenever you want it to be.
Got a favoite girl (guy, etc?) Send them a message offline, or browse their page, most will feature an extensive library of sexy videos and pictures, available for purchase with tokens.
CamSoda.com also features free videos, exclusive to their platform, produced by Team CamSoda, available for viewing for free. For all it's faults, the strengths of CamSoda more than pick up the slack. They feature the option to get notifications delivered when your favorite models check in, or to schedule a private show ahead of time.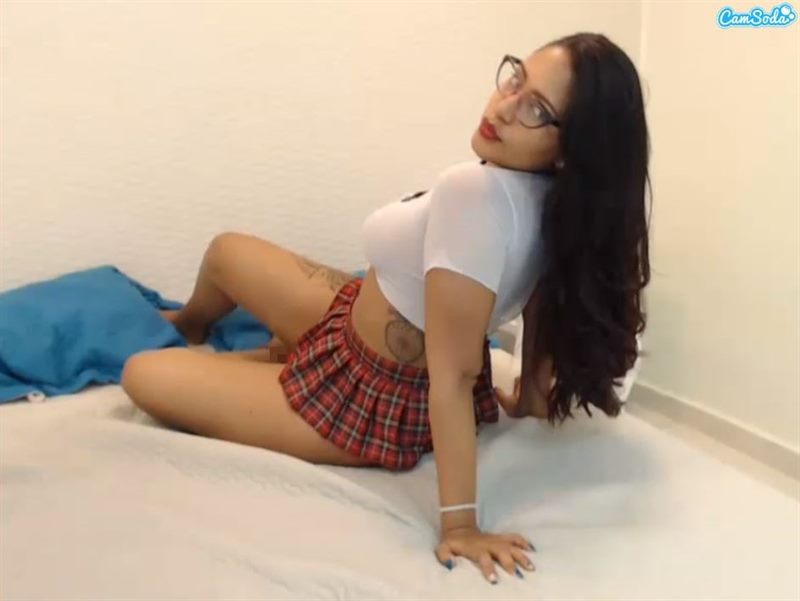 You're sure to find a variety of models who can cater to your specific kinks and fetishes. The UI of the site doesn't make it easy for users to search by specific kinks or tags, but the experience is also very personal on CamSoda.com. Everyone visiting CamSoda ought have a great experience, but the good customers will naturally enjoy a superior level of service.
CamSoda has been enjoying a great deal of success in the Cam 2 Cam world, have gone above and beyond in their attempts to innovate, so the current lack of fetish chat rooms specifically should not dissuade you from making them a regular stop. The user base is constantly growing, and the site is sure to get a new coat of paint sooner than later, with continued successes.
Anything Else?
Camsoda.com has always strove to be a leader in the world of live sex cams, together with technological innovation, sometimes to better results than others. They were the first, and only website to attempt VR headset integration into live model rooms. Fortune, unfortunately, does not always favor the bold, and VR fetish chat rooms did not prove to be as popular as they'd hoped.
This failure has not deterred CamSoda from exploring new avenues of technological integration in their live webcam chat platform. Their CamSoda Labs section lays out some of these ambitious features they have expressed an interest in bringing out.
Here's the kicker,
Most of the Labs section seems to be delivered with pretty obvious tongue in cheek undertones, with a grandiose, high falutin writing style. The technologies they describe in some cases mirror similar devices to others that only existed as prototypes or limited, special release items. This doesn't bode well for anyone who wants a more realistic VR sex experience in the near future.
It's hard to see how they can be blamed for having a bad taste in their mouth when it comes to implementing new technologies into their adult live chat platform. VR solutions are still something of a niche product in the world of consumer electronics, much less the Cam 2 Cam world, and their integration didn't prove to be very popular.
So when they tout projects such as VIRP (Virtual Intercourse with Real People,) in their Labs section, a technology promising to meld the experience of RealDoll™ sex toys on the user end, with the fuck machines many models utilize, it should be taken with a grain of salt.
Most people don't own a VR headset to begin with, and even less own a RealDoll™, so having VIRP become a new standard in adult entertainment is something of a pipe dream. Don't expect to have the electric marital aid thrusting in time with each of your pumps into your RealDoll™ anytime soon.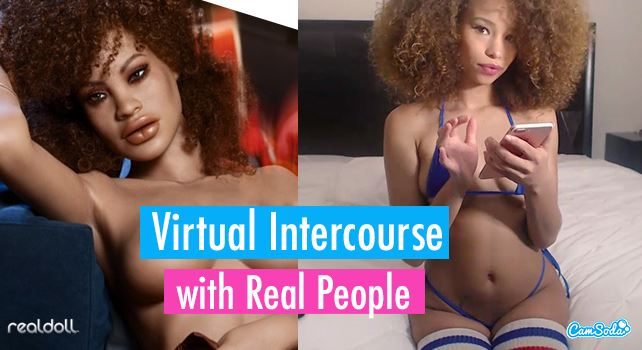 It's been an observation of mine, and other reviewers that the Labs section of CamSoda.com is more a long term sales pitch for technologies that are being considered, however it should be taken into account how porn has been observed to drive the progress of consumer technologies forward.
There's no telling what the next 5 years may bring, and small scale projects, like those in the CamSoda Labs, might end up influencing the growth of the AI and robotics fields in a big way.
Becoming a Member
Registration to CamSoda.com is easy, and painless. You don't need a credit card, and there are no membership fees. Simply complete their registration, and there you go. You're on your way to having fun with sexy, fun cam girls from around the world. Just make sure to fill your token wallet, and have at it.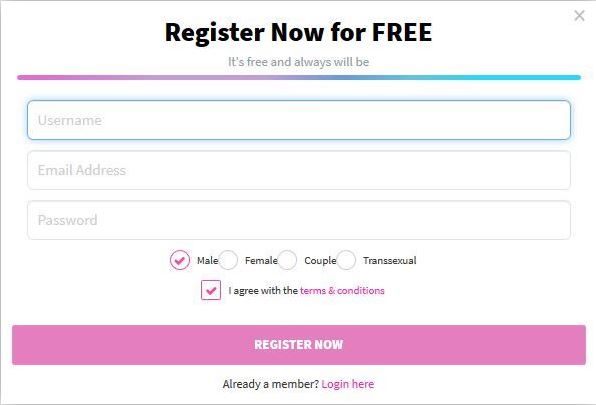 Upgrading to a premium membership eliminates ads, enables one on one private messaging with the models, and grants you a 200 token gift package as incentive for upgrading. $19.95 a month is all it costs to enjoy CamSoda all of it's amenities, without restriction.
A free membership to CamSoda.com will provide you with plenty of fun, but you WILL want to purchase a token pack before long. This frees you up to take the models into private chats, for more intimate attention, squared on you.
The average price of a private show (varies from model to model,) is $2.40 per minute, with the cheapest being roughly $1.45 per minute of private time. Credits are sold at a unit rate of $1.20 to a credit, with a 100 credit package being sold at 12 dollars.
Varieties of Chat
• Open Chat Rooms – Free to all, with restrictions on chatting on non-premium members, at the model's discretion. Open chat features tip-driven goal meters, encouraging guests to tip at each end, and the middle of shows.
• Private Sex Chat – Take your favorite model into a private chat, and the Cam 2 Cam feature is enabled, allowing you and the model to enjoy each other, with the models able to grant permission for you to record the show. Create your own, personalized library of films of your favorite girls!
• Golden Ticket Show – A group show where members can buy in, paying for a ticket through tokens. Golden Ticket shows will usually revolve around a particular sex act, toy, or fetish, etc.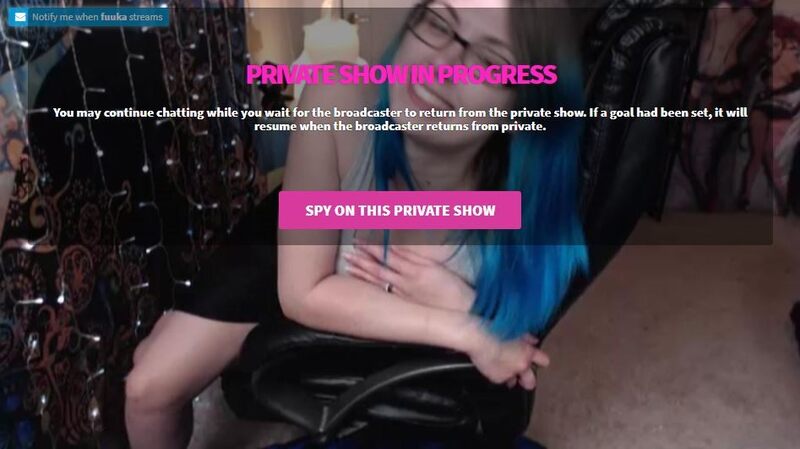 Quality of Video
A minimal of 720p HD is the quality that can be expected, with an upper end of full, 1080p HD. The CamSoda.com interface has the option of turning the quality down, for occasions when your network connection isn't ideal. CamSoda is not a site that requires models to have an HD camera as a rule, but for the most part, the models seem to realize that it's something expected.
Putting Your Money Where Your Mouth Is
Visiting and joining CamSoda is totally free, with registered members having Token packages available for purchase. Premium membership requires a monthly subscription, which enables VIP benefits for their first Token purchase.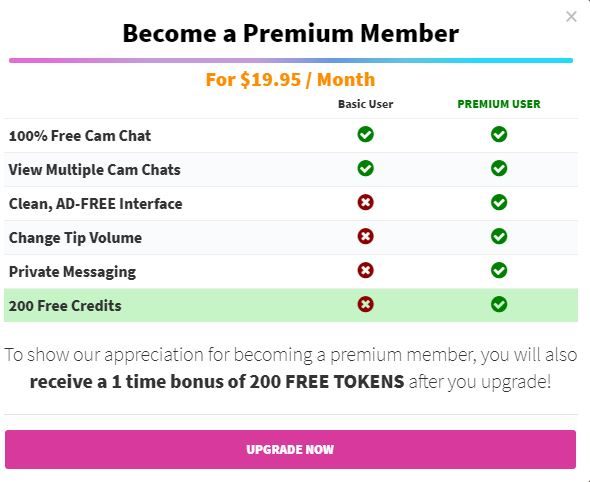 First Time Buyer – Credit Card Purchase
| | |
| --- | --- |
| Price | Token |
| $5.99 | 50 |
| $10.99 | 100 |
| $20.99 | 200 |
| $49.99 | 550 |
| $69.99 | 800 |
| $99.99 | 1205 |
| $249.99 | 3100 |
Ways to Pay
There's a wide variety of options of payment methods available on CamSoda.com; Visa, and Mastercard are the most popular, with credit, debit, and prepaid varieties all being accepted. Maestro and Discover cards are accepted as well, along with wire transfer, checks, and even paypal.
How Many XXX Lovelies?
The catalog of CamSoda.com is somewhat limited compared to the more established sites, with something in the range of 8000+ models, a number guaranteed to climb in the future. With their consistency in attempting to integrate new and interesting ideas, CamSoda has proven itself to be a player worth watching.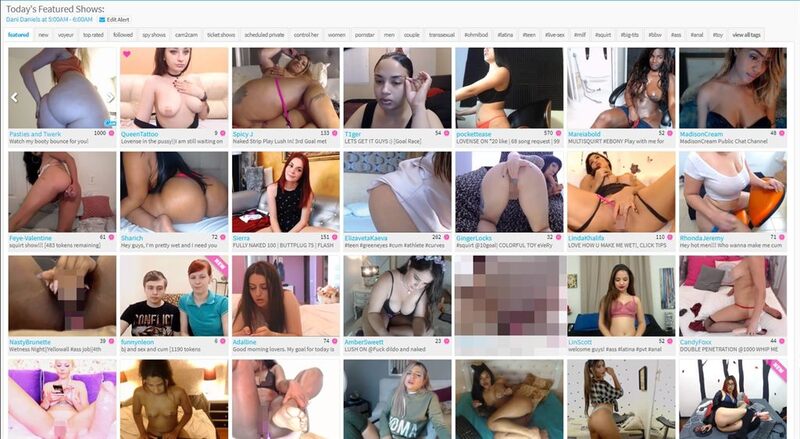 CamSoda features a library of site exclusive adult videos, that are always being updated, so there's will always be something to entertain you. These can range from sexy, to funny, all the way to a little strange, but they're all a lot of fun.
FAQ and Technical Assistance
Team CamSoda provides an FAQ section at the bottom of their support page, detailing certain, common problems in billing, or technical issues users may face. All users can seek technical assistance by way of email.
More specific billing issues can be dealt with by email, to an address separate to that of the technical assistance department. There are also several phone contacts provided in this section that can be used to expedite matters related to billing.
Live chat support is only offered to premium members, which I personally find to be unfortunate. However, your favorite spank bank having a temporary outage might not be the end of the world. If it's that catastrophic, you ought be able to afford the 20 dollar monthly surcharge, or sort out your priorities a bit.
Positives & Negatives
Positives
👍 - 100% free access to model chat rooms, watch live nude webcam shows 24/7.
👍 - High definition camera feeds, with some models broadcasting in HD quality.
👍 - Adjust the screen size during the private performances, view in full screen.
👍 - Cam2cam is available in the private performances (not all models offer this service).
👍 - 8000+ registered live webcam models.
👍 - Even the guest users are treated to quality.
👍 - 200 Bonus Tokens gifted when upgrading.
👍 - Exclusive HD videos, starring acclaimed porn stars (free to watch).
Negatives
👎 - Tip volume can be adjusted only by performing models, or premium users, which comes off as pushing you to premium.
👎 - Besides the bonus 200 Tokens, the Premium package doesn't grant Token discounts.
👎 - The UI feels poorly structured, the tag search menu is poorly formatted, and clumsy.
👎 - The information provided in model profiles is sparse, and the tags aren't listed.
👎 - The selection of specific fetish chat rooms is underwhelming.
👎 - Some models prohibit non-paying members from chatting in their rooms.
👎 - I consider it a blunder that they only have live user support for premium members.
Summing it All Up
What you might find while browsing CamSoda's fetish chat rooms, is that you aren't astounded by the selection. If you want to see more options available to you, you should do yourself a favor and check out my review of LiveJasmin's fetish chat rooms.
However, as a relative newcomer to the market, CamSoda has gone above and beyond, attracting a wide variety of models, catering to many particular kinks in private, and providing all new, innovative methods of user interaction to their system. A free membership can be rewarding without any payout, but the true potential of the site becomes available with premium memberships, and Token packages.
Review of CamSoda.com
- Reviewed by
hdcamsites.com