XLoveAsian.com is a Small and Outgoing Asian Porn Chat Community
It's so nice to see your faces again, readers. Have you been chatting with sexy Asians on the best adult webcam sites on my list? Well, if you are reading this I can assume that one of two things happened: You are either looking for new options because you are bored with your existing ones, or you've heard the name of XLoveAsian.com and want to know more about it. Either way, you're in luck my friend, because I am in possession of the information you're looking for and I am willing to share. This XLoveAsian review may be your very own ticket to a world of hot Far East camgirls that have sexy hobbies such as giving blowjobs and showing off their naked bodies on live webcam, Or maybe not. Maybe this is a disappointing adult cam site. Which is it? Read on pal, you're just a few sentences away from finding out.

My considered thoughts
I know that some Asian webcam review sites prefer to keep the downsides well-hidden, as if the users aren't going to find the truth out as soon as they enter the website. Not I though. I believe in putting it all out in the open and allowing my readers – who I hope bother to actually read what I have to say – to make up their own minds. This is why I will tell you immediately that the one thing I had a problem with when I browsed this Asian webcam site for the very first time was the low number of live sex chat rooms. I thought that there were more – I really did, and then discovered that I had to actually conduct a search to end up with Asian cam models, because the site showed me the whole lot – not only Oriental chicks. Then I had to separate the shemales from the regular camgirls – again, annoying, and when I was finally through I was only left with like 25 models. That helped me understand why the website kept all the models on its home page – it made it look like it offered many more sexy Asians than it actually did.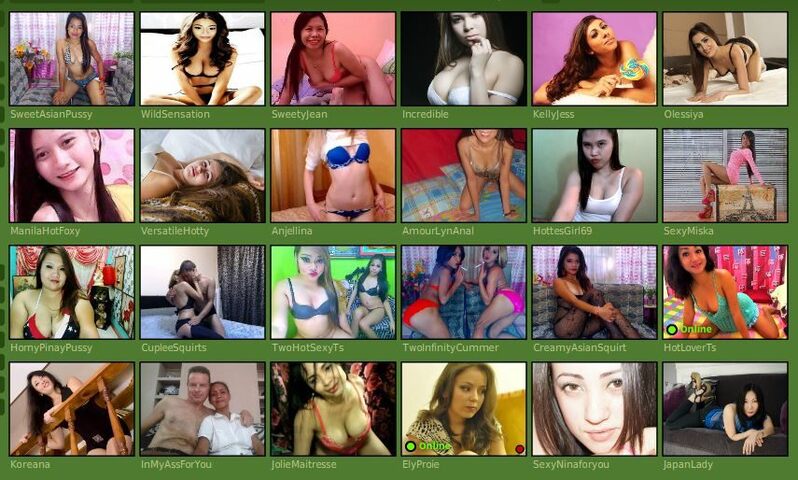 I did like the webcam models though. I chatted with a busty Thai chick, and when I say "busty" I mean it – that babe had massive hooters, probably fake, but I don't mind that, and I also met a horny Chinese beauty that started to strip as soon as I clicked that private chat button. It was remarkable and I could go on chatting with these live camgirls for hours, but I had a job to do and research to conduct and I am not the kind of guy that would leave his readers hanging. Not that I wasn't tempted.
Anything else?
There isn't a big variety of features on X Love Asian, but I did like the ones that were there. You can tip, type, use audio or Cam to Cam and you can very easily communicate during the shows. There is a pretty large video section, but most of these vids are VIP, meaning you have to join a VIP club or a specific camgirl to access it and all of the profiles that I have seen had quite a few sexy Asian pics. I recommend that you take a look of the rating of each Far East babe – it's pretty reliable, but try not to be too strict. Sometime you will like a camgirl that other users dislike – there's just no accounting for taste.
Becoming a member
Start off by browsing the site – you don't have to be a member to do that, but keep in mind that the free chat will be very limited until you join. Basic membership is free and it takes like 10 second to join. Simply type in a user name, password and email and you're done. This is a very quick and simple process, and considering that you don't have to pay or even insert your credit card details, there's really no reason not to register. You don't even have to provide your real name. And once you validate your email, you get a bonus 1 video of your choice. This is a 15-dollar worth video with a model's electrifying private show.

Let's get chatting
XLoveAsian.com allows its users to enjoy free video chats, but I may be stretching the term "enjoy" in this case. The free chats on this live adult webcam site are okay, but they're not really exciting. On some sexcam arenas the women dance or show off a bit, like it's some kind of a party, but in this case most of the Asian chicks I chatted with were just sitting there typing. When you want to launch a paid chat though, things change fast. All of the live Asian porn shows I've watched were lovely and the women were really attentive.

Quality of video
Streaming is okay, I guess – I mean, it's not like it left me thrilled, but it was good enough for me to be able to enjoy the live sex shows. The web camera quality depends on the models of course, because this is an amateur webcam arena and each babe goes and get whichever web camera she prefers. It is what it is.
Putting your money where your mouth is
This adult cam site, like just about any other website on my list, uses the credit system. You add funds to your account by purchasing credits and there are different credit packages available - as you will see in my chart below. Notice that unlike other sites where the more credits you purchase, the cheaper they are – in this case the price per credit remains constant regardless of how many you buy at once.
The average sex chat cost is about 2 credits per minute, which is a very good rate, and you can find models that charge only 1.50 per minute if you look around. VIP membership is around 15 credits per month and what you get for this price is unlimited access to the private content collection of the specific Asian babe: Nude photos and XXX videos.
| | | |
| --- | --- | --- |
| Number of Credits | Cost in USD | Cost Per Credit |
| 25 | $31.20 | $1.24 |
| 50 | $62.41 | $1.24 |
| 100 | $124.83 | $1.24 |
Ways to pay
You can buy credits using your Visa, MasterCard, Maestro or PayPal account and you can also pay with Bitcoin or by phone. When you sign up from different locations, XLoveAsian will recognize your IP and will possibly offer some additional local payment methods, such as local prepaid cards, according to your location – but this is only true to some countries, so don't come complaining if you don't see any.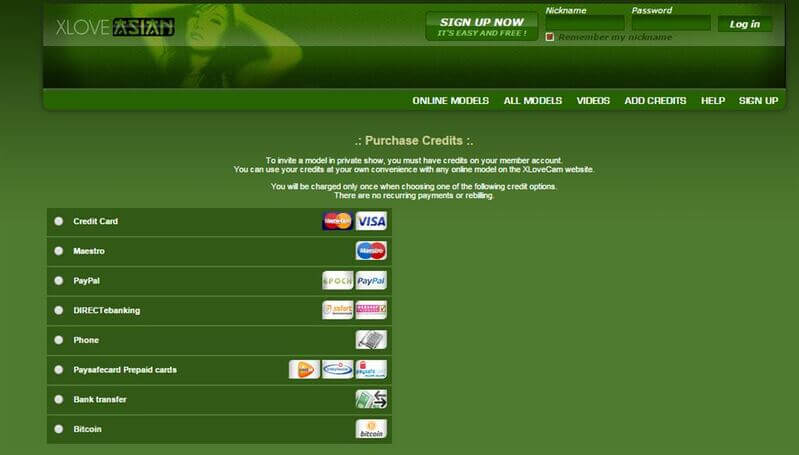 How many xxx lovelies?
There are roughly 8,000 Asian webcam babes registered to this live sexcam arena, but most will certainly not be online when you login. As I mentioned earlier, you will find between a dozen and 30 live chat rooms, and you can always browse through the rest of the women – the ones who are not from Asia, if you feel like spacing things up.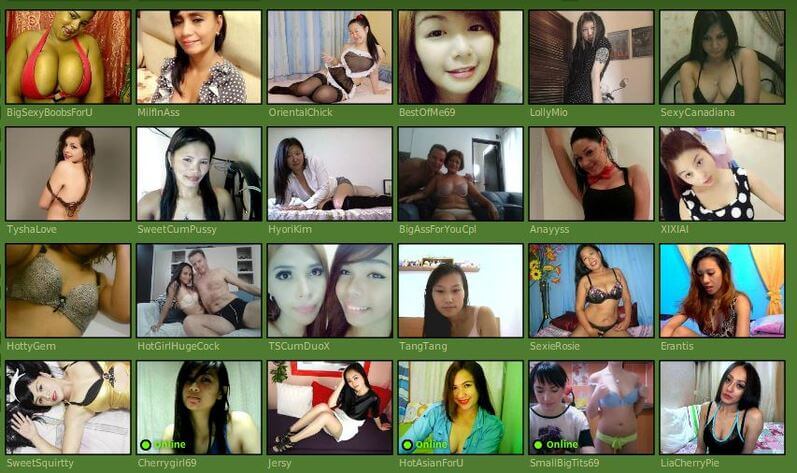 Help when needed
In order to receive assistance, simply follow the Help link at the top of the page, and by follow I mean click of course. It will take you to the Frequently Asked Question section that also includes useful info such as contact details and billing support. This website is pretty straightforward though, so I doubt if you get confused.
Positives and negatives
Positives
✔ - Nice and accessible video chat platform
✔ - Nude shows are relatively cheap
✔ - The live Asian webcam models are cute and don't judge
Negatives
✖ - You have to search for Asians – the main page shows other camgirls as well
✖ - You have to pay to view the amateur porn videos
✖ - Not enough models form the Far East
Summing it all up
There are some adult webcam sites that leave an impression – kind of catch your attention immediately and don't let go. As I believe you noticed on this XLoveAsian review, this is not an especially memorable website. I am not saying for a minute that you will not be enjoying the live sex shows. In fact, I am convinced that most of you will like them so much that you will be coming back to watch more. However, the low selection of live camgirls remains a serious problem and this is not such a niche site as it is an amateur webcam site with some Asians. If this is what you're after, you should definitely consider trying this site out. Now that I think about it, you should give it a go anyway – it's free, it's there and the women are undoubtedly sexy.
Review of XLoveAsian.com
- Reviewed by
hdcamsites.com