Stripchat Review - Beautiful T-girls Live & Naked
You love women. You love the way they look, move and talk, but there's just one thing missing. So why not have them both - a female with a dick, a shemale? And why not devour these transgender babes over the highest quality HD video streams as they perform for you in all their glory? These is exactly what you will find on Stripchat: breathtaking shemales giving you exciting high resolution live porn shows.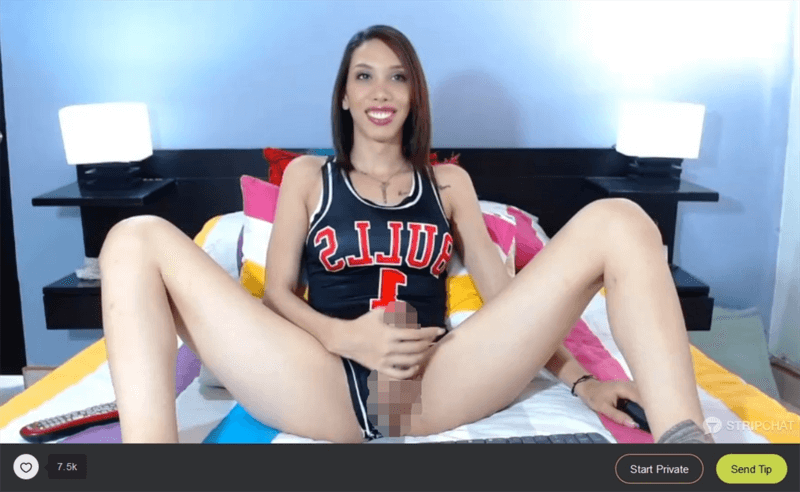 First Impression
The moment you enter Stripchat's Trans section, you are surrounded by nudity from all directions. The preview galleries show most of the models in their birthday suits and there are huge cocks and boobs everywhere you look. You quickly understand you have reached a freemium adult cam site at its best and from now on things can only get better (or worse).
You immediately spot an effective filter that includes all the parameters you need to find the exact performer with whom you will like to spend time in a private sex chat. This filter sorts out models by their age, ethnicity, body type, hair and prices.
One thing bothered me, though. Stripchat's preview galleries are static. When you hover over the preview galleries, you are not able to get a glimpse of the action in the open chat rooms. You will have to enter a room to find out what is happening inside. This can be time consuming, especially if you are a picky with your tranny tastes.
The Trannies You Will Meet
Stripchat's T-girls section hosts more than 100 astonishing shemales available for a 1 on 1 porn chat during most hours of the day. If you select the All Category tab below the site's filter (on mobile, you will find it on the header) you will get to a page displaying all the categories under which Stripchat's tranny performers appear (each gender type - girls, boys and trans -has its own All Category page). These categories are arranged in alphabetical order making it easy for you to find the kind of performer you would like to chat with.
Inside the Models' Chat Rooms
Each model's' public chat room includes her personal profile with details such as her sexual preferences, her country of origin, the languages she speaks, her ethnicity, age, body type (some performers mention their dick size) and eye and hair color.
Other pieces of information you will find in the room indicate the categories the performer appears in and her public and private show menu. Her tip goal and the things she will do if this goal is met are presented under her broadcasting window. In some chat rooms, you will see the model's photo album and a video gallery which can be either free or premium (i.e. demanding tokens).
The actions you can take in the site's open chat rooms are chatting with the model along with other users. You can add the model to your favorites list by selecting the Favorite tab below her profile and, most importantly, start a 1 on 1 sex chat with her in which you can open your webcam and let her watch you as well.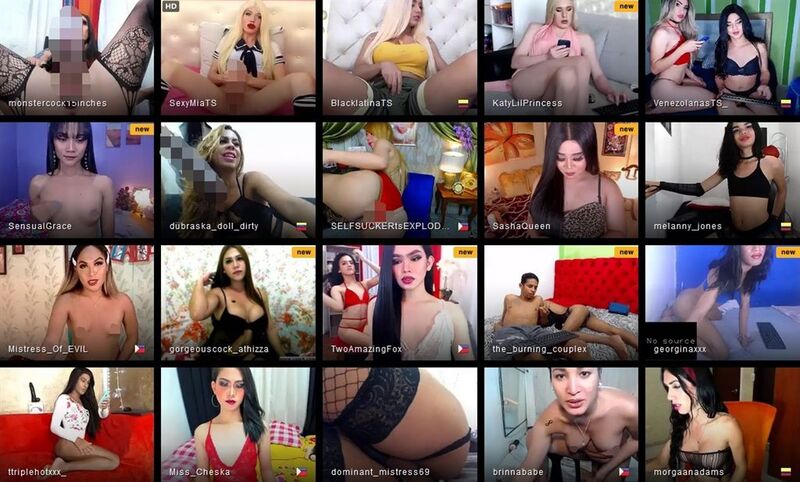 The Site's Chat Features
There are seven live sex chat modes available to you on Stripchat.
Free Chat - On the site's public rooms you can talk with the model along with other users for free. The open rooms display plenty of nudity and you can lie back and just enjoy the action, especially if you are in a room where the show is broadcast in HD. Tipping the model will help you win her attention and make her do special things for you.
Private Messages - Stripchat gives you the option to chat privately in open chat rooms. Just select the Send PM tab under the model's profile and a new private chat window will open where it is you and her alone. You will not be able to start a c2c chat as you are still in a public area. In addition, your tips (if you decides to give them) will be presented on the public chat board. Private messaging is kept only for Gold members (see below)
One on One Sex Show - The moment you press on Start Private in an open room, you will be transferred to a private zone where it is you and the model only. Things can get pretty wild there so brace yourself. A private show requires purchasing tokens and you will be charged by the minute. Each model has her own chat rate.
Cam2Cam Chat - You may choose to upgrade your private show to include c2c in it. Most models on Stripchat will charge you extra for that.
Spy Chat - If you are into voyeurism, you may opt for a spy chat in which you can watch others' private shows. You will only view the model's performance and not her chatting with other members; neither will you be able to communicate with her. The site's filter includes a Spy on Shows tab that takes you to all the private show rooms allowing for voyeurs.
Ticket Group Shows - To watch these shows, you will have to pay a fixed price in advance and not by the minute. Prices vary from 8 to 200 tokens depending on the performer. As the name suggests, in these shows you will share the model with other users who bought a 'ticket'. If the show has already started, you will still be able to pay, enter the room and take part in the action. To find Group Shows on the site, go to the All Category page, to the letter G.
VR Chat - Stripchat is the only adult cam site offering VR chat rooms where you can enjoy a full panoramic live porn shows. The VR section rarely contains a tranny performer. But who knows, maybe you will get lucky and find one there. Be advised, virtual reality sex shows demand special equipment which can turn out to a little expensive.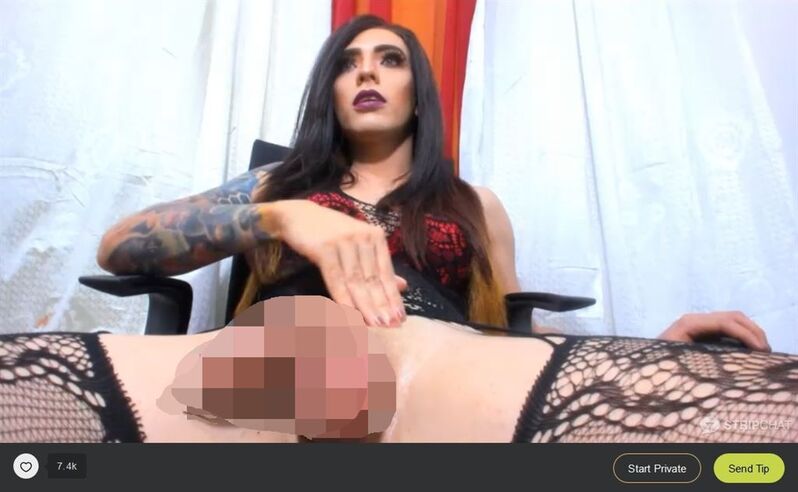 Stripchat on Mobile
Stripchat works well on any mobile devise either in a portrait or landscape mode displaying the necessary features needed to interact with the model.
I only have two problems with the site's mobile version. First, when you are in a landscape mode, you cannot see the performer and chat with her at the same time. Second, you will not be able to run a cam2cam chat. Only you will see the model and not vice versa.
HD Webcam Quality
Generally speaking, streaming quality on Stripchat is good with many models broadcasting in HD and HD+. Unfortunately, this cannot be said about the site's transgender section where the number of models employing hi-def webcams is relatively low. On the bright side, most of the tranny models broadcast in high quality SD, which will enable you a clear view of their sex shows.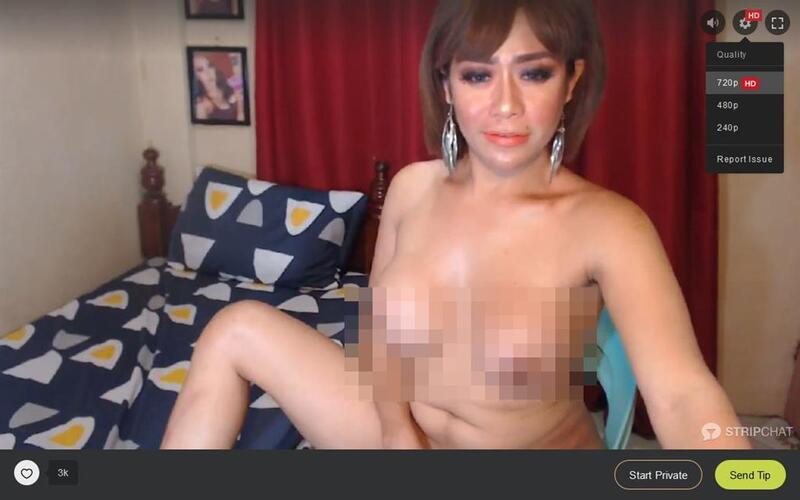 Note that each webcam room has a drop down selection of streaming rates. If the room you are in is broadcasting in HD, be sure to select the highest available streaming rate.
Becoming a Member
Only signed up users can chat in Stripchat's public rooms. The registration process is quick an easy. You will need to provide a valid email and a password. After you finish signing up, the site will ask you to confirm your account on your email.
Membership Status
Users on Stripchat are defined according to an hierarchical status.
At the bottom there are Grey Members. They are signed up members who have not bought tokens yet. Green Members are users who have tokens on their account and, therefore, can enjoy the site's premium features. Ex-Green Members are users who have utilized all their tokens and have not made another purchase. Gold Members are in the top echelon. They pay a monthly subscription fee which gives them various benefits users of a lower status do not have.
Gold Membership
Gold Members gets a whole package of benefits which enables them to
Send unlimited private messages to a performer in her public chat rooms.
Get discounts on token purchases.
Chat and give tips anonymously in public rooms.
Become a Knight.
Use fun emojis and expressive interactions.
Avoid being banned by other users.
To upgrade your membership to Gold, you will need to go to the My Profile section and select the Upgrade button which appears under your name. A Gold Membership costs $19.99 a month.
Purchasing Stripchat Tokens
Using the site's premium services, one on one sex shows in particular, requires tokens. The site puts at your disposal several token packages you may choose from, as shown below: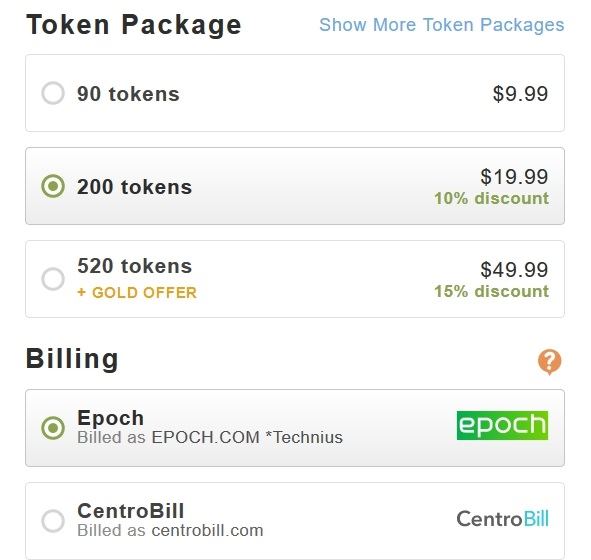 From these packages we can learn that each token is worth around $0.10.
Along with the $9.99 for 90 tokens, $19.99 for 200 tokens, and $49.99 for 520 tokens, there are two more packages offering you some great savings. For $99.99, you'll get 1080 tokens. This is a 20% discount from the price paid per token with the smallest tokens package offered. And the largest tokens package goes for $199.99 for 2340 tokens. This large bundle is at a 30% discount.
Sex Chat Cost
A private porn show on Stripchat costs $3.80 a minute, on average. If that is too expensive for you, there are plenty of shemale performers on the site who will charge you as low as $0.80 a minute. Yet, these rates are not the end of the story. Some of the models may charge you around 30% extra for a cam2cam chat. Not all, but some do ask for an added per minute rate.
Security of Funds and Payment Methods
Stripchat accepts the following payment means:
Credit card - Visa, MaterCard, Discover, Diners, JCB and Maestro.
PayPal
Skrill
Cryptocurrencies - Bitcoin, Ether, Litecoin, Ethereum, Dash, Ripple and +40 other cryptos.
Gift Card - Stripchat is one of the few adult sex cam sites that accept gift cards. There are close to 100 brands you can pay with.
The site uses the services of payment processors, like Epoch and SegPay, in order to make sure the billing process is kept safe and transparent. It also works in cooperation with Comodo - a cyber security platform designed to provide protection against unauthorized users and hackers.
Loyalty and Reward Programs
On Stripchat you become a loyal friend not of the site, but of a particular model to whom you choose to show your love and support. On top of the broadcasting window in some of the model's chat rooms, you will see a Join Fan Club tab. By pressing on it, you will be given the opportunity to join the model's fan club, choosing 1 out of 3 tiers. The cheapest Soldier tier cost $9.99 a month. The next tier is called Lord and it costs $19.99 a month. The top Prince tier requires a monthly payment of $49.99.
All tiers offer the same benefits and your choice of a tier level depends on how much you appreciate the model and are willing to show it. The benefits given by the tiers comprise a special badge attached to your name in the model's chat room, free access to her photos and videos, and the ability to send her private messages.
A model may also anoint you as her special Knight protector. As a Knight, you can mute rude Grey, Green and Gold users helping your ladyboy model moderate chatters in her public room. Only Gold members can become Knights.
Lastly, Stripchat has a mini-loyalty program, according to which, if you buy any package from the 520 tokens package and on up, you get 30 days of Gold Membership with all its benefits, for free.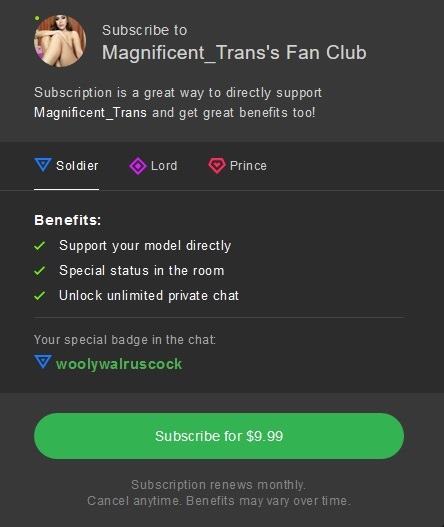 Customer Support
Stripchat does not have live support. If you encounter any problem or want to ask a question, you can submit a ticket by contacting customer support using the site's email system.
In addition, the site puts at its users disposal an elaborate FAQ and a wiki page which explain about the site's features in great detail.
Positives and Negatives
Positives:
✔ A relatively large number of beautiful tranny models available for private chatting
✔ Ample free nudity in public chat rooms
✔ Effective filtering tool displaying categories in alphabetical order
✔ VR chat rooms
✔ Special rewards and loyalty programs in the form of Gold membership and models' Fan Clubs
Negatives:
✖ Most T-girls on the site do not use HD cams
✖ Preview galleries on the site's main pages are static
✖ Members need to pay extra for c2c
✖ No live support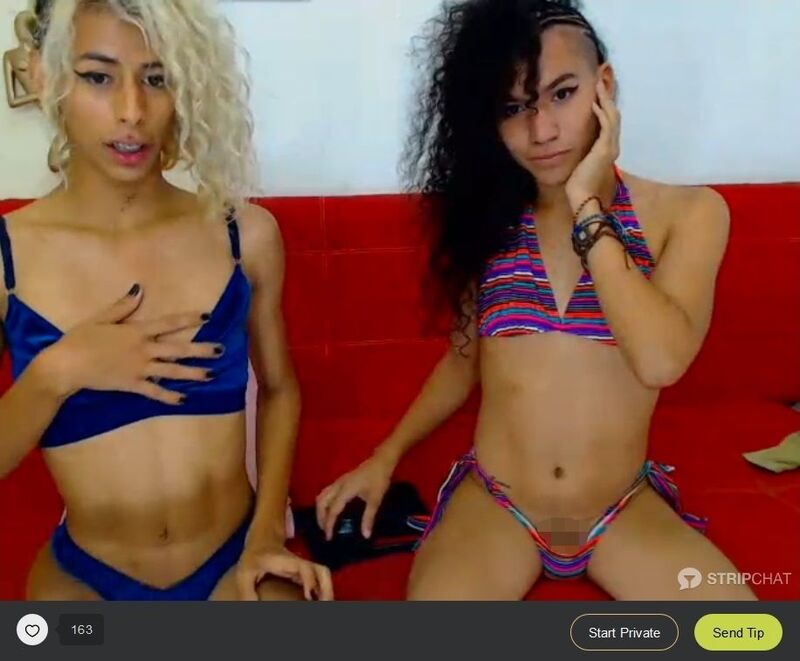 A Few Final Words
Do you love women with clear traces of masculinity? Stripchat is where you will get to watch many of these women posing boldly and fully naked in public rooms, free of charge. Sounds too good to be true? Go and check for yourself and find out how true it is. And after you have watched enough dicks and boobs, and feeling you are ripe for the next stage, the site's offers you effective private chatting features either with or without c2c.
Stripchat is one of the few adult cam sites that allows you to get attached to your favorite model in a personal way by joining her Fan Club. And let's not forget the VR chat rooms, allowing you a one of the kind live porn experience you will not find any place else.
All in all, Stripchat is a great site to engage with shemale cam girls. And it's free, so why not give it a try.
Review of Stripchat.com
- Reviewed by
hdcamsites.com