Flirt4Free Review - Free and Premium HD Shows
The Internet is full of video chat sites that just don't deliver. And then comes along a site like Flirt4Free, and you learn what a great HD live porn experience can be like. This incredible platform hosts some of the hottest babes you will ever find in an online environment, packed with the coolest sex chat room and site features you can imagine.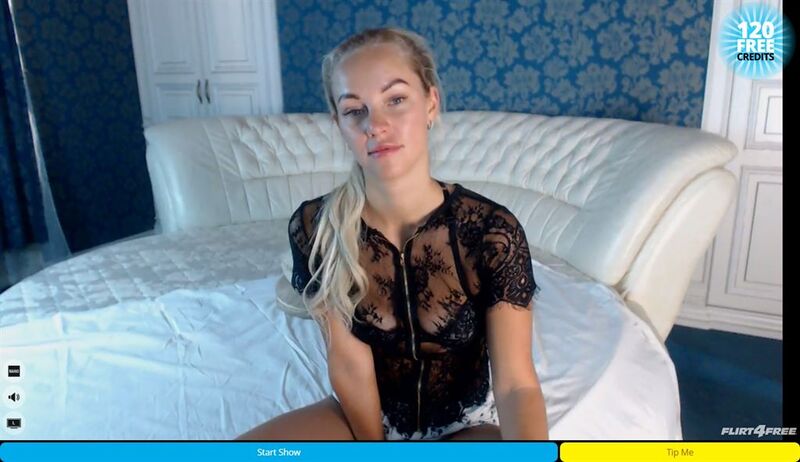 My review focuses on all the top site attributes and services on offer, and their associated costs, As well, I want you to be ready for the less glamorous, but no less important stuff, like the registration process, membership programs and customer support. And, since I know you come here because you want the truth, I will be honest about all the advantages and disadvantages of membership, from the perspective of this here webcam site reviewer.
First impression
The moment you land on the homepage, whether it be the desktop or mobile version of the site, you are left astonished by the affluence of gorgeous ladies. Knowing that you can pick any one of them for a one-on-one show any time you want, gets you more and more excited. The clean and elegant design gives the website the appearance of a distinguished and respectable online establishment. As you start wandering around, you are gradually exposed to an abundance of wonderful features that only make you want to stay longer and explore. The is truly a feature-rich site.
The Girls You Will Meet
On average, there are 400-600 models online available for a sex chat at any given moment. This number also includes the male models, for those interested in gay or straight male action, and transgenders for viewers looking for hi-def private one-on-one shows of dolls with balls. But, the vast majority of the online models are the girls.
Each model appears in a preview galley. As you hover over their pictures, a live video peek will start to play. By selecting one, you will enter into her public chat. If you are lucky enough, you may enter an empty room (It happens every once in a while) and will get all of her attention for yourself. I remember one time in which I was alone with a model. She was so anxious to get me into a private one-on-one show that she was willing to go a great distance to convince me to invest the necessary credit. It turned out she didn't have to make too much of an effort. After a minute or two I indulged myself with a full HD live porn session.
On the preview gallery, you will get access to the model's profile which includes her personal details (e.g. ethnicity, eye color, body type, and the really important stuff, like breast size and sexual preferences), spoken languages, last time she was online, awards, social network accounts, and free profile photos and recorded shows. The recorded shows are individually priced.
The preview gallery provides extra features, like adding the model to your favorites list and getting notifications when she is online. If you are willing to spare some credits, you will be allowed to email the model. Replies will appear on your personal inbox on the site. Some of the profiles include a Twitter button. By clicking on it, you can share a link with your followers to have them help boost a model's ranking. I have used it a few times for girls that gave me special treatment.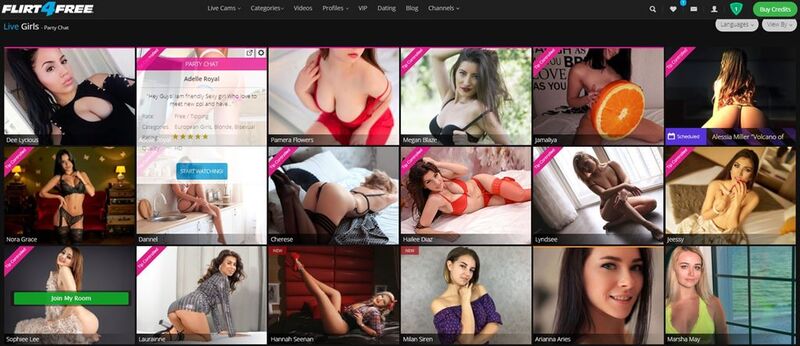 Popular Show Types and Top Features
In my opinion, what makes Flirt4Free so great are the multiple HD sex shows. This site has more show types than any site I know of.
The following are among my favorite show types Flirt4Free offers:
Open Chat - To begin with, every member can take part in an open chat with a model with no need for credits. Of course, you will likely be in the free chat with other members, but as I mentioned earlier, you might get lucky and enter a vacant room.
Private Chat - Those interested in a more intimate experience can opt for a private live porn chat. These are hi-def C2C sessions in which the model can view you as well, if you choose. Through an audio connection, you can actually talk to one another and she will be able to hear you, as well. In these chats you can use the tipping function to control the operation of the vibrator the model uses (Lovenese or OhMiBod) on condition that you are generous enough with your tips. Users interested in enhancing their experience even further can choose to use the Feel Connect app. It lets the model control your interactive sex toy.
Party Chat - Private one on one shows obviously have their merits, but if you are into sharing your quality time with other like-minded members, the party chat is your perfect choice. Tipping the model will motivate her to turn on you and all the other participants. If she does not get tips, the party will be over, so make sure you express your gratitude by rewarding the lady who is doing her best to entertain you in a hot a HD sex show. Take into account that once you are in a Party Chat, you won't be able to go private with the model.
The Multi-User Show is actually a type of private chat which incorporates more than one user. Any member can enter this show and interact with the model, and the big plus is that the rates are generally lower than an exclusive private chat. However, only the one who initiated the show can go on cam2cam with the performer. Other participant will not be seen by her.
The Group Show can be defined as a 'joint venture' run by the model and the members. The former sets a credit goal which the members have to meet at a pre-defined time span for the show to take place. To be a part of this show, there is a minimum credit threshold you have to cross. What I like most about this feature is the waiting time until the action starts. The model will try to entice viewers to tip her and she will do all sorts of interesting things. It's only too bad that you will not be able to find more than about 10 group shows on the website at any given moment.
Spy shows - Some of us get a thrill out of just peeping at others without being actively involved. I won't get into the psychology behind this 'hobby' (although I have quite a lot to say about it being deeply into voyeurism, myself), I will only mention that Flirt4Free enables members to take a peep at private shows for a minimum sum of 5 credits. VIP members (or the models themselves) can neutralize this feature, but very few actually do it. Out of respect for members' privacy, voyuers cannot see text or listen to the chat.
The Live Cam Mansion - This show type is somewhat unique to Flirt4Free. CamSoda has voyeur room webcams, mush the same. This access enable you to take a peek 24/7 at hot girls living in a fancy mansion. You can spot them in their most intimate moments in their bedroom, in the shower, etc. It only costs 25 credits per day and VIP members enjoys it for free. The Live Cam Mansion is every voyeurist's wet dream.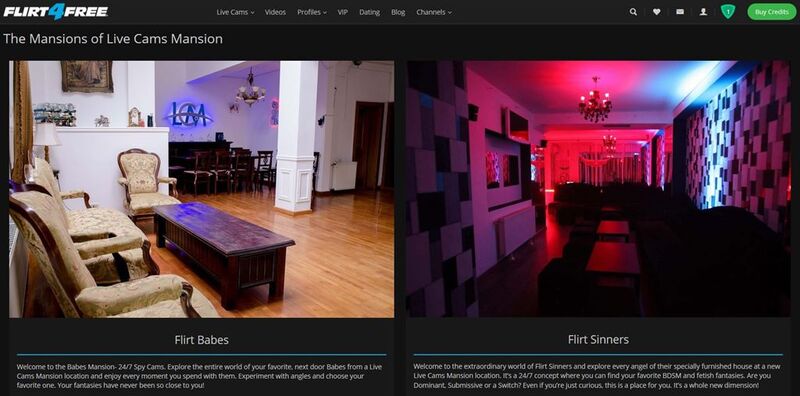 Apart from HD live porn chats, Flirt4Free offers some interesting and useful features members will surely benefit from. Here are some of them:
Videos of live shows that were given by models in the past.
FlirtSMS and FlirtPhone, through which members can flirt with their favorite girl on their phone. These features do cost.
Prearranged schedule of live shows for the coming week. This gives you enough time to prepare and make sure you are online and free of other duties when your favorite girl performs.
Flirt4Free on Mobile
The website works especially well on mobile, even better than a desktop. This enables users to enjoy live shows while they are on the go (Just don't forget to lower the volume if you are in a public place).
Flirt4Free suffers from one major flaw. It doesn't have the cam2cam feature on mobile. In that regard, it is one step behind its more advanced peers such as LiveJasmin and CamSoda.
HD Webcam Quality
Almost all chats on Flirt4Free are broadcasted in high definition. Picture quality is great. I have spent years on the site and I have never suffered any video stuttering or frame rate issues. In addition, like other similar premium live adult cam websites, users can watch shows at full screen, which definitely enhances your viewing experience.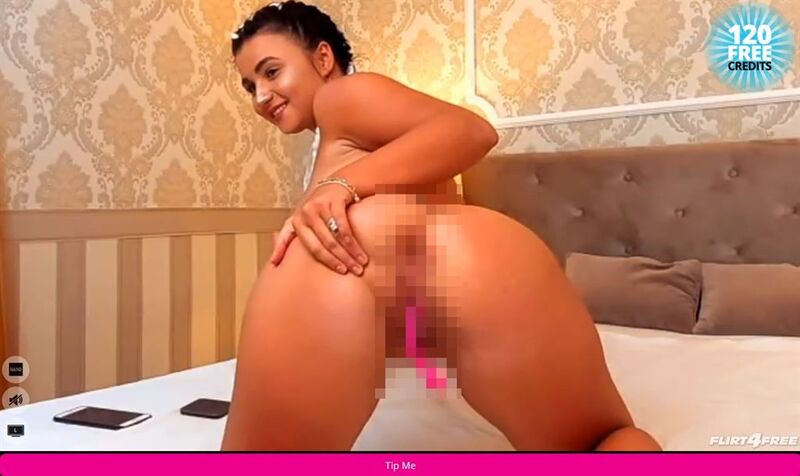 Becoming a Member
Signing up for Flirt4Free is simple. You just need to provide an email address, a username, a password and then confirm your membership through your personal email account.
Once you do that, you are defined as a Basic Member and as the name suggests, you are entitled to basic privileges which comprise unlimited free chat, personal nicknames, viewing models on a large screen, using emoticons, and watching free video previews.
By adding a payment method (with no need for spending actual money), you become a Premium Member and automatically receive 120 credits, which can be used for various activities on the site, such as private HD one-on-one sex chats with a model, participation in parties, group and multi-user shows, rating and reviewing models and videos, and tipping performers in exchange for interesting thing they will do for you on cam.
The highest status a user can aspire to is the VIP Membership, which offers unique features free of charge. The most important ones include the following:
Access to your own recorded shows without any limitation
150 daily videos available for 7 days
1 hour feature shows with access to archives
Full entry to archives containing adult star videos
Uninhibited view of models' photo galleries
The ability to block other members from peeping into your private one-on-one shows
In my opinion, the best benefit of becoming a VIP member is that the models recognize you as such and you automatically gain their attention. This privilege, and the others I have mentioned a few lines above do not come for free. I will dedicate a whole section to the associated costs below.
The Loyalty Program
Similar to ImLive, Flirt4Free operates a Loyalty Program. This program enables members to gain points by spending credits and using the site's features. It sounds all too great, but there is a catch. To be able to do something practical with the points, you will need plenty of them. In other words, you will have to spend many hours on the site on a regular basis. If you are a casual visitor, the points will be quite pointless.
Purchasing Flirt4Free Credits
As mentioned above, after signing up, you will get 120 credits for free on condition that you fill out your credit card details. For first time buyers, Flirt4Free offers a substantial bonus of credits. You will get an extra 135 credits when purchasing the $5.00 buy-in. 180 bonus credits for the $20.00 buy-in. And 340 bonus credits if you drop one-hundred bucks.
To get VIP status, it will cost you $39.95 for 30 days, or $99.95 and $179.95 for 90 days and 180 days, respectively. Be advised, the fee for VIP membership renews automatically. So keep track of it.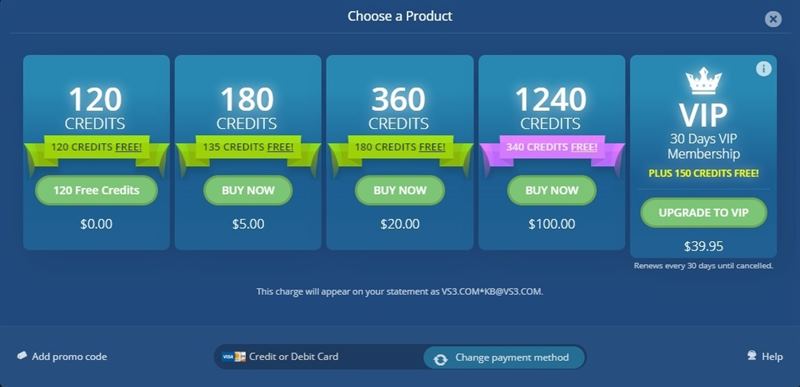 Sex Chat Cost?
Each service the site offers has its own price as the following table illustrates:
| | | |
| --- | --- | --- |
| Show Type | What It Includes | No. Credits/Min |
| Standard | One on one HD sex show | 30-60 |
| Premiere Chat | Chat room with HD+ broadcasting quality | 70-500 |
| Voyeur Mode | Peeping into private chat rooms | 10-40 |
| Multi-User | Multiple members interacting with a model | 10-120 |
| Combo | A combination of private and multi-user shows | 60-120 |
| Feature Shows | Interact with a hot adult star | 30 (free for VIPs) |
| Group Chat | The model sets the required number of credits for the show to begin. To enter the show, a member must pay a minimum sum. | Minimum entrance sum determined by the model |
| Offered Shows | Members negotiate with the model to find a price agreed by both of them | Negotiable |
| Party Chat | The model throws an online porn party and everyone is invited with no entrance fee | Tipping |
In terms of the money you will spend, I have found that an average HD sex show on Flirt4Free costs $3.90 per minute. The cheapest rate you'll see comes in at only $0.55 per minute. Of course, the more popular girls can demand in upwards of 120 credits a minute, which is close to $12.00 for each minute of sex chat. You can arrange the performers according to their rates by selecting to sort them by their chat room prices.
Security of Funds and Payment Methods
Flirt4Free offers a variety of payment methods which include a credit card (VISA, MasterCard, JCB, Diners and Discover), Gift Cards, Crypto, Maestro and PayPal. The website also accepts money orders, cashier's checks, and personal checks by mail.
Is Flirt4Free a trusted cam site? My answer is definitely YES. We are talking here about one of the largest and most established businesses in the industry. When I issue them a payment, I do it without even a speck of fear.
Highly Dedicated Customer Support
Talking from experience, whenever I encountered a problem and contacted customer support, I got a prompt answer and the problem was dealt with quickly and efficiently, so you are in good hands.
The website has a 24/7 live support for any issue or question that may arise. In addition, their support team can be contacted via email, post mail or on the phone.
Positives and Negatives
Positives
✔ High quality HD sex shows
✔ All the models are beautiful almost without exception
✔ A great number of male models for those interested in gay porn
✔ Plenty of features and chat options
✔ The VIP program offers nice benefits for regular members who spend much time on the site
Negatives
✖ The number of models is small in comparison to other live adult cam websites
✖ The transgender category is very small with too few models online
✖ The site's search engine is ineffective. This makes it hard for newbies to find specific features
✖ The Loyalty Program does not fit casual members
✖ There is no cam2cam option on mobile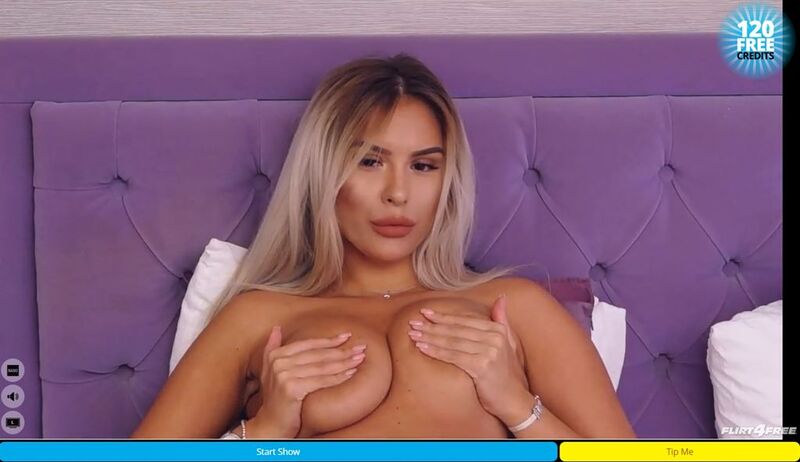 One Final Word
Best quality HD broadcasting, amazing models and multiple feature make Flirt4Free a truly premium live porn website. It is probably not the cheapest adult cam site around, but, believe me, this is where you should go if you want to indulge yourself with highly exciting hi-def live porn shows you would want to last forever.
Review of Flirt4Free.com
- Reviewed by
hdcamsites.com