FetishGalaxy Review - Cheap Dom & Sub Cam Girls
FetishGalaxy, as its name suggests, is 100% dedicated to hardcore live shows given by hot subs and doms itching to either dominate you, serve you, or teach you. The site's streaming quality definitely needs work, but that seems like a meager complaint compared to the oodles of kink and depravity you can enjoy on it with these seasoned pros.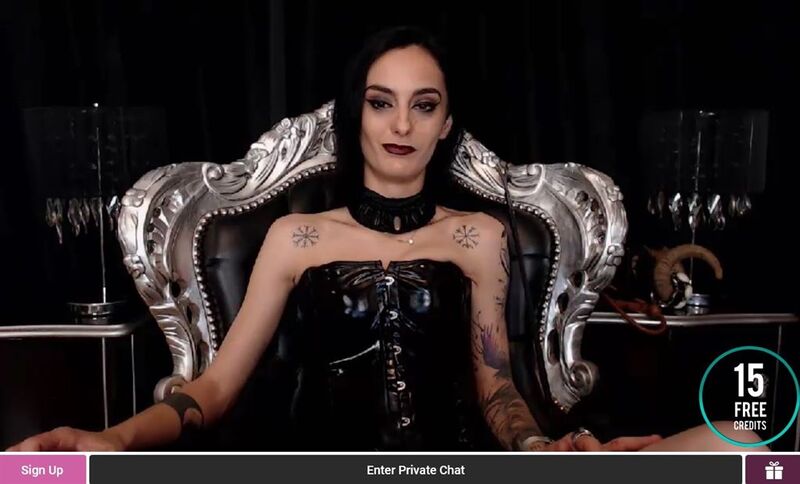 There seems to be no fetish or kink that the hosts in FetishGalaxy don't cater to. The categories on the top of the page really bring that notion home: Domination, Gags, Electrosex, JOI, Feet, and others. The filtering system and the advanced search right next to it break it down into Ethnicity, Kinks, Price, Language, and so much more. It's hard to imagine not finding exactly what you're looking for in this hot zone of fetish ladies bringing their A-game to their performances.
First Impression
The moment you set foot on the site, you get deep and gloomy vibes. The rooms are dark and sensual, the ladies present feet galore, and when you hover over their profile pictures on the main page, you will be amazed how comfortable and relaxed they are in all those corsets.
This is not a site that wows you with multiple features and bombastic visuals. The design is simple aiming at fetish enthusiasts itching for the extreme. And, indeed, the large profile pics express what you might get in a wild private show while temporarily putting aside all inhibitions. To make sure you find the model you're looking for, use the Advanced Search option located in the search engine to the top right of the main page.
The Fetish Girls You Will Meet
FetishGalaxy hosts around 100 active models most hours of the days. You shouldn't be deterred by this relatively small number as what the sites lacks in quantity it makes up for in quality with performers who are immeasurably adept in the art of kinky cam shows. Though each one labels herself in one of four categories: Professional Dominatrix, Professional Submissive, Professional Teacher, and Expert - They all know their work well, and always offer their assistance to either humiliate or encourage, play games or teach a valuable lesson.
The diversity is also pretty impressive, with girls ranging from light skinned to ebony, petite to BBW, and the same can be said for their fetish proclivities of course - BDSM, bondage, femdom, and so much more. You might be able to distinguish the seasoned pros from the younger crowd of models by their profile pics, some of which are professional and stunning, while others a simply snapshots of their rooms. The Advanced Search lets you sort them out more precisely according to their seniority on the site (You can select New Models) and rating.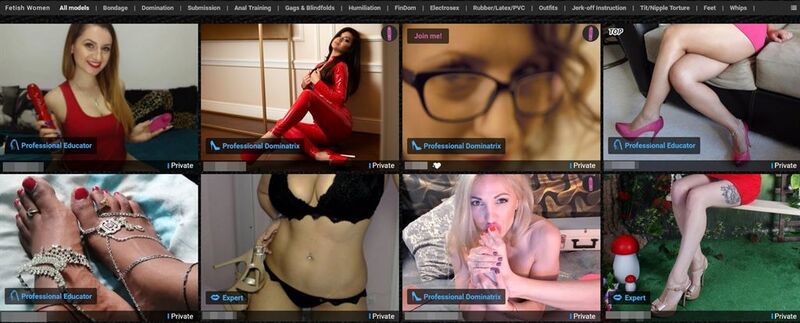 Top Site and Chat Room Features
Discount Club - Some hosts have discount clubs that are unique just to them, like a model membership. If you opt to join one of these discount clubs, you'll be able to get quite a few perks to your favorite kink queen: Receive special treatment in her room, get discounted prices for shows, exclusive access to her nude pictures and videos, and get notifications about her upcoming shows. It's a great way to connect with specific models you love.
Hands Free Mode - This nifty feature allows you to connect in an interesting way to your chosen fetish diva, without clicking a button. The models that have the option of a sex toy that's connected to the tipping feature in their rooms can be manipulated to go off - As it were - In certain time increments, lengths of vibes and even randomly. This way, you can enjoy the show in free or in private live chats without needing to touch your keyboard or your screen.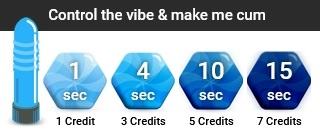 Other cool features include:
Special discount codes from models
Major discounts for prepaid live cam chats
Themed parties to fulfill your fantasies
Favorite your model by clicking on the heart icon
FetishGalaxy on Mobile
The mobile version of the site is pretty decent, and the streaming quality the site suffers from seems to go away due to the smaller screen. It functions very smoothly, and even has a cool feature of leaving a models' room and having her live cam image still follow you as you scroll, so you don't miss any of the action. Even when you switch to landscape mode and a full screen, you can still chat and it's not intrusive at all. The mobile version is very simple, unassuming, no bells and whistles, but so is the site. The focus is on the ladies.
Additionally, FetishGalaxy is the only fetish-centric cam site to enable the cam2cam feature on mobile devices like smartphones and tablets.
HD Webcam Quality
Despite the glorious abundance of fetish on this unique site, the one singular flaw is the streaming quality in many of the rooms. Not only that, there is no icon in the room or on the profile pic that can tell you the streaming quality before you enter a room and even after you enter it. The only way to get a good idea of the quality is to hover over the profile pictures and see live if the room is clear and crisp, or grainy and lagging.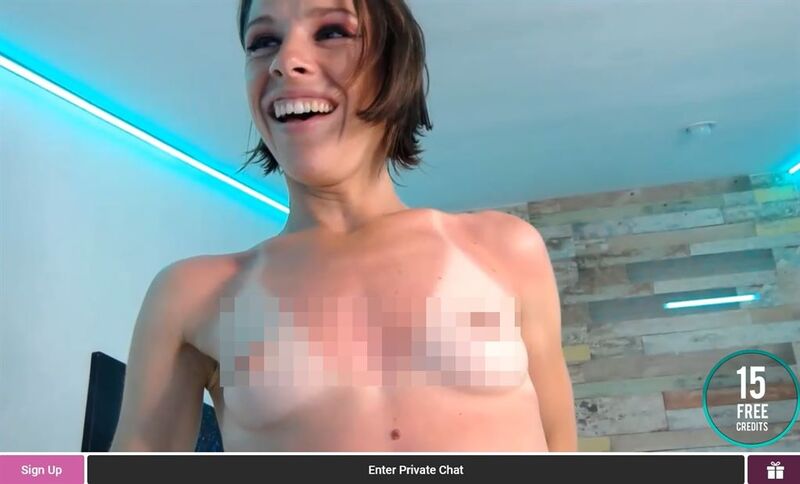 Becoming a Member
Joining the magical fetish world of FetishGalaxy is simple - Provide a valid email address (While you will need to validate), username and password, and you're off to find your kinky bliss. And just for being a good sport and registering, the site provides you with 15 bonus credits.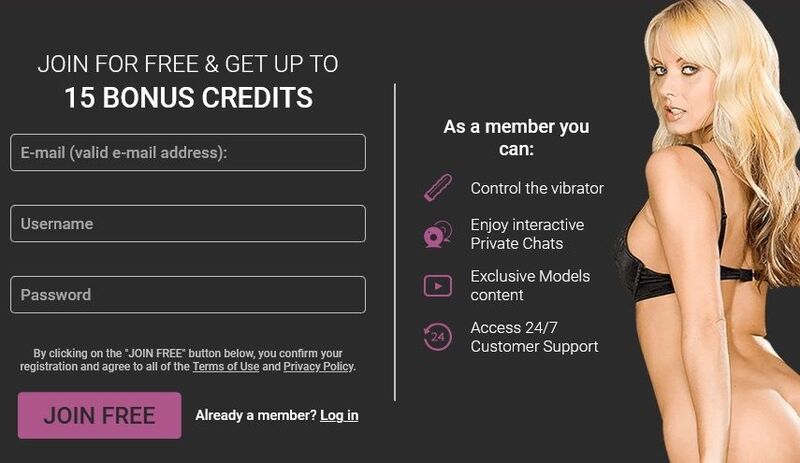 Purchasing FetishGalaxy Credits
Unlike other sites that make purchasing credits a hassle with strange conversion rates, this is a classic site, offering the amount of dollars for the same amount of credits (25 credits - $25).
The Reward Program
FetishGalaxy knows how to spoil its repeat users. The more purchases you make, the more points you get and the higher your membership status becomes. You start with Bronze after buying credits for the first time. There are 3 additional level you can reach, Silver, Gold and VIP. Each level comes with its own benefits.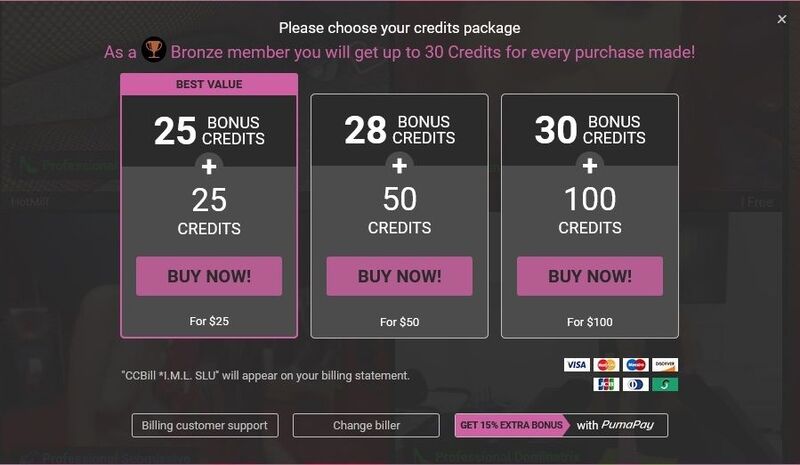 Bronze - Get up to 5 Bonus credits on every purchase and access to paid features.
Silver - Get up to 8 Bonus credits on every purchase and access to paid features.
Gold - Get up to 25 Bonus credits on every purchase and access to paid features. Added bonus - Free access to all Celebrity events.
VIP - Get up to 30 Bonus credits on every purchase and access to paid features, free access to all Celebrity events,50 Bonus credits on every 10,000 Points collected, and special VIP customer support.
Sex Chat Cost
The profile pictures can be deceiving in the sense that they show very explicit adult action. However, in the free rooms, there is rarely nudity or any kind of sexual acts. But not to worry, with these low and friendly price choices, show types and discount rates, anyone will be able to get their fetish on.
Free Chat
This is actually an interesting place to be and also a necessary one. No matter how the model has tagged herself, you can always talk to her and make polite requests, explaining your desires. Most likely, they will be happily obliging, and that way your private show will not be a gamble, but a surely satisfying bet.
Private Chat
After getting to know your model, you'll be glad to know that you might just get an even lower rate than her regular price, by asking for a discount code. She is not obligated in any way to provide it, but if she does, you can enter it and get a cheaper rate. On average, a private show will go for $3.00/min, but you can find private chats for as low as $0.98/min.
Candy Show
Some of the models will have a cute candy icon on their profile pic, indicating they are either in, or getting ready for a candy show. When you enter the room you'll notice a timer counting down to the show. All the members in the room are supposed to chip in and reach the goal the host has set, so that the show can start. It's a great low-cost option, while still getting a great show. And don't worry - If the goal isn't reached, the show won't start and your credits will be refunded.
Group Cams
This is a unique chat feature enabling you to chat with two models simultaneously enjoying an intensified fetish live session. The second model can come from either the first model's Group Cams friend or from your favorites list. For the second model you will get a discount of up to $0.70 a minute.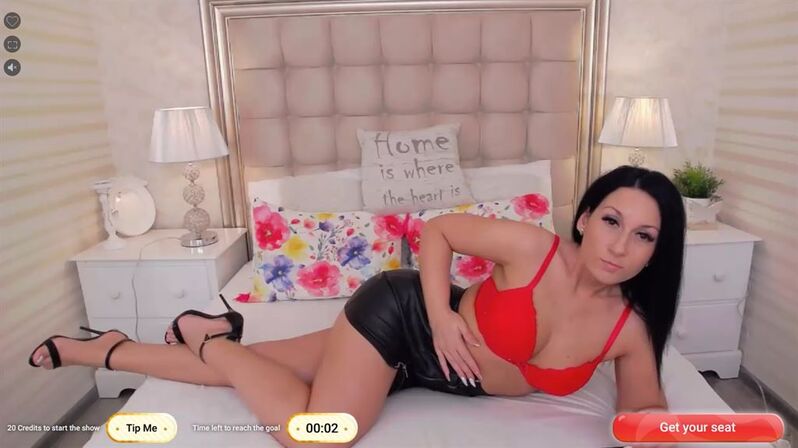 Payment Methods
Payment on FetishGalaxy is extremely secure, and uses the highest level security systems around. All credit/debit card payments are discreetly and securely handled by authorized payment processors, and the website is in full compliance with the relevant laws and regulations, while abiding by a very strict anti-spam policy. Note that if you pay by credit card you can choose one of three payment processors. There are three ways to pay on the site:
Pumapay - 15% extra credits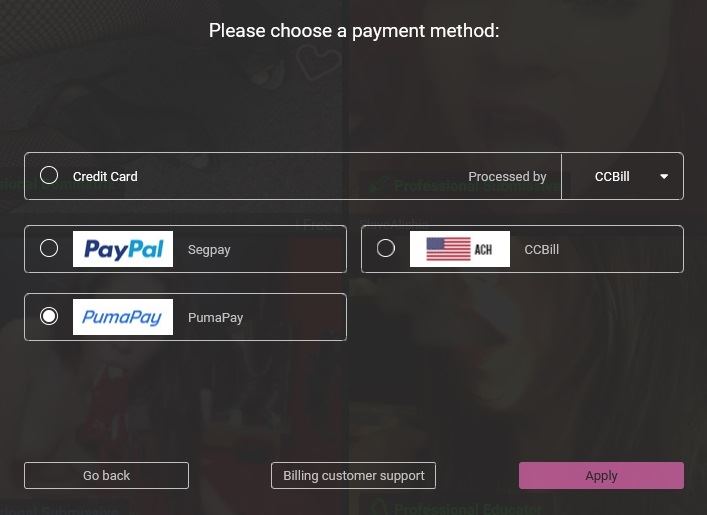 Customer Support
There are several ways to get support. On the very bottom of the page is the Customer Support Center button, which leads to to the FAQ section, which is quite large and full of important information. Next to it you can fill out a ticket and you will receive an answer within 24 hours, and finally you can click on the Contact Us button right next to it and find an immediate connection to an email address, also answered within 24 hours. Once/if you reach VIP level, you will also have access to 24/7 live customer service support on the site.
Positives and Negatives
Positives:
✔ Fetishes abound
✔ Professional hosts
✔ C2C on mobiles phones
✔ The site is available in 16 languages
✔ Multiple chat options, including the awesome Candy Shows
✔ Relatively low prices and low cost options
✔ Controlling the model's toy by tipping
✔ A lucrative reward program with bonuses and discounts on chat rates
✔ Great advanced search option
Negatives:
✖ Low model count
✖ Streaming issues in many rooms
✖ No nudity in free chats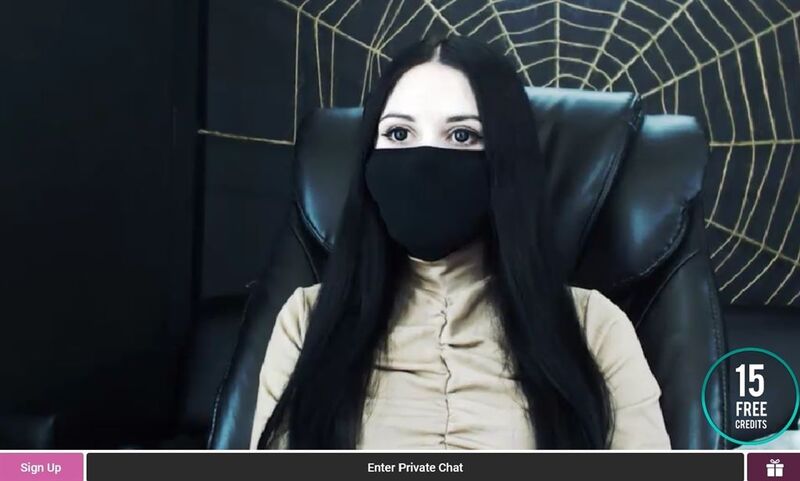 One Final Word
FetishGalaxy is one of a kind, encompassing myriads of fetish niches, from the vanilla to the multi-flavored. Finding that singular flavor is easy with a top-notch search engine, and the live chat stream in the profile pics makes it easier to differentiate between the lower and higher quality streaming rooms. The hosts are professionals, catering to fantasies and desires other sites might shy away from, and becoming a member of their discount club will make things even cheaper. This FetishGalaxy review is here to assure you that with the budget friendly options, pro models and unbridled passion for fetish, this site is one the best places to get your freak on.
Review of FetishGalaxy.com
- Reviewed by
hdcamsites.com