DxLive.com - breathtaking HQ cams of the loviest Asian performers
Hello. I am afraid this good evening finds me a little under the weather, my dear friends. I have not been sleeping well of late, so if I tend to babble a little in this review then you will know the reason why. I would like to say I have not been sleeping because of all the deliciously devious and dirty sex cam shenanigans I have been finding out about, but in truth I have been doing my taxes. I'm disappointed to learn you cannot put "HD Cams Sites Viewing" as tax relief. Oh well.
Enough of the frivolity, though, as it's time to get serious so I am able to bring you another HD Cam Sites review of a specialist Asian-only sex cam portal. The site I have been reviewing this evening is DxLive.com. If you like cherry blossoms, tentacle porn, hentai and saki then you are in for a pleasurable experience. DxLive.com is a Japanese site, and features mainly Japanese girls. I definitely love Japanese girls, especially their pale, smooth faces and long black hair (except that one who comes out of the TV in "Ringu"), so I was really excited at finding this site. Read on to see how long my excitement lasted.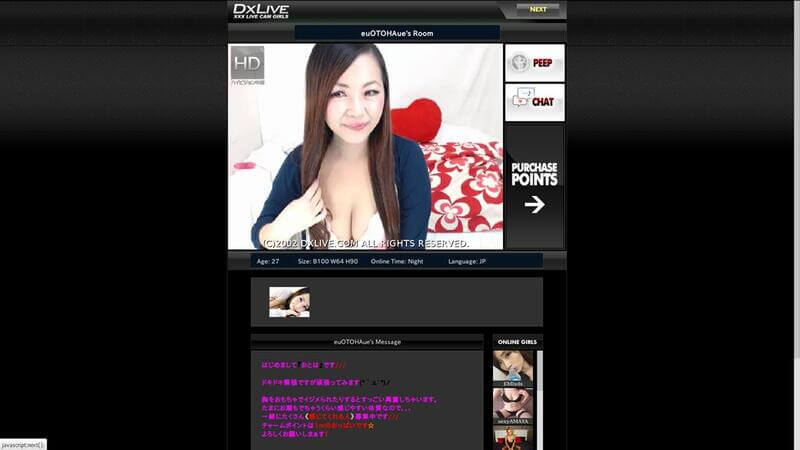 My considered thoughts
Although I described this as a Japanese site, you shouldn't be worried if you can't make head nor tail of Japanese (fact: the Japanese use not one, not two, but three alphabets! Katakana, Hiragana and Kanji!) as you won't need to, although not a great deal of the cam models here do speak English. Once you're through the "Are you over 18?" pop up, the site will work out where you are and adjust the language accordingly.
What you then get is a menu screen in a semi-modern style. DxLive.com (no idea what "Dx" stands for) has a sexy black as its main color scheme, with the odd dash of pink and purple. The model thumbnails don't really give that much away, and are rather small for my tastes. As seems the norm at these Asian cam sites (and seemingly in particular with amateur Japanese porn models) a lot of the performers obscure their faces for the thumbnails and free previews.
Moving to menu thumbnails themselves, as I said above they don't really give anything away, aside from the performer's screen name, the languages they can speak (only really Japanese and English) and the amount of sex toys you can use. If there's a number in the top right hand corner of the screen, then this is the number of punters in that x-rated performer's cam room. You can enter the room yourself, but unless you're a member and have purchased some "points" (the DxLive.com version of credits) you won't be able to chat, and your free preview will only last around thirty seconds, more's the pity.
Anything else?
Another disappointment, as chatting is really all you get. I suppose you can count controlling a sex toy (or two, if the cam model has them) as extra, and seeing porn cam models sitting so you can't see their faces, and even sometimes, fast asleep!
Becoming a member
And now for my main "moan" about DxLive.com. I can handle not being able to get much for free if you're not a member of a site, and I can handle having to sign up to experience a little bit extra, and I can even handle having to register a credit card to become a member of a site. What I struggle with is when sites force you to make a purchase before they allow you in through the door. And what I really can't handle is the $49.95 minimum charge that DxLive.com insists on. I'm all for paying my way of course, but having to pay $49.95 to find out how I'll feel about a site is a little too much, in my opinion.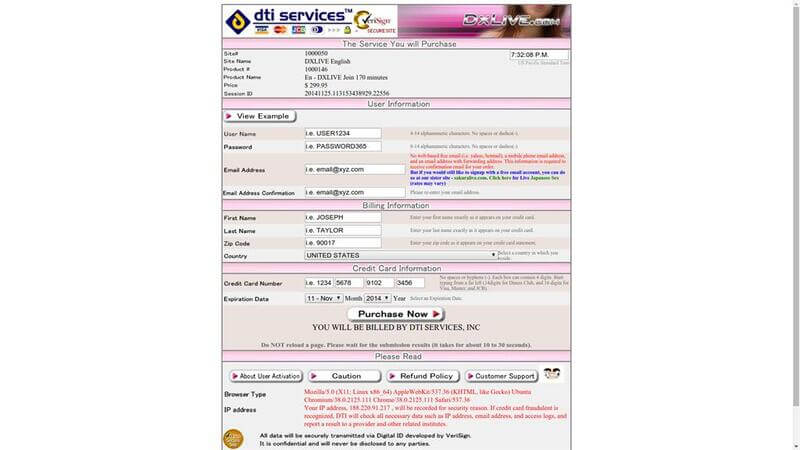 Let's get chatting
Despite having three sets of FAQs, the site is a little confusing when it comes to chatting, as according to these self-same FAQs normal chat and voyeur chat is actually more expensive than private, 1-on-1 chat. Surely that can't be right? Also, there seems to be no such thing as free chat here - all chat is paid for. You can go cam-to-cam if you stump up a few more points, and do the all-important sex toy controlling for the same price. Most of these options are available for one point (which is roughly $2), and the more you lump together, the more expensive it gets.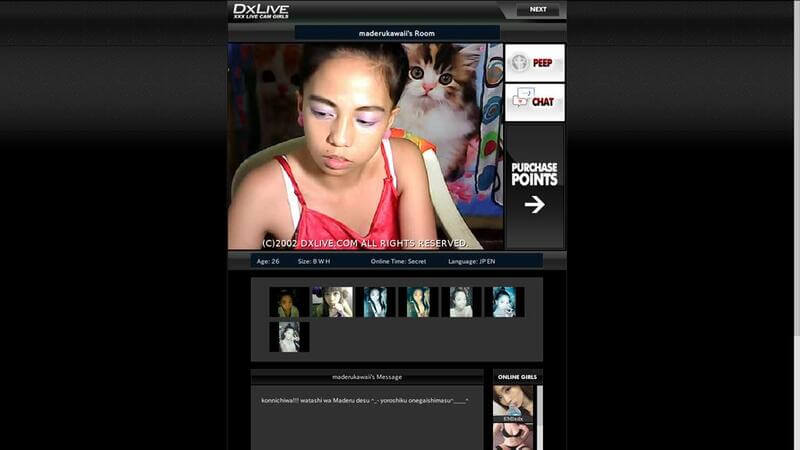 Quality of video
My site is of course a HD Cams reviewing site, so what do I think of the cams at DxLive.com? Well, they are among the best I have seen anywhere, I have to say. Really nice and sharp and smooth. This is obviously where all those $49.95 charges go. The SD is also pretty fantastic.
Putting your money where your mouth is
As I said, at DxLive.com $$$ = points = minutes. Here is a quick guide to what you can buy:
USD $
Price
Points
49.95
50
99.95
100
199.95
220
299.95
340
I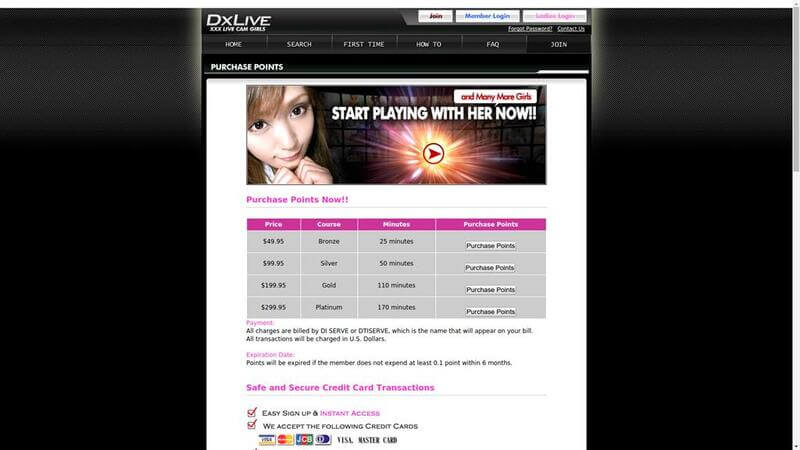 Ways to pay
Visa, MasterCard, Diner's Club or JCB. No other options.
How many xxx lovelies?
As registered profiles go, there are just a handful under 22,000. There's not close to that many active Asian cam babes on the site though - maybe between 1,500 and 2,000? You'll find between 100 and 200 x-rated cam performers on the site whenever you take a peek.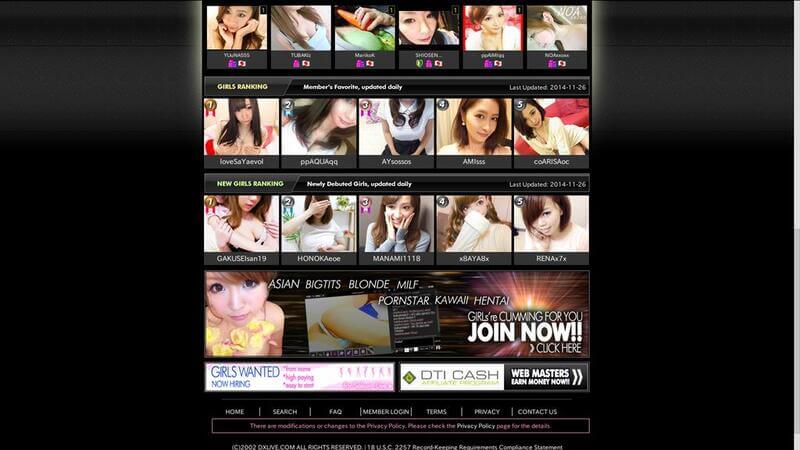 Help when needed
Help is another area where DxLive.com really lets itself down. There is only one option, and that's the worse one possible (aside from there being no help whatsoever) - a contact web form. No email addresses, phone numbers and definitely no live chat.
Positives and negatives
Positives
✔ - Very high-quality cams
✔ - Easy, transparent payment system that's not too expensive
✔ - Lots of models to enjoy, especially if you like Japanese ladies
Negatives
✖ - The lowest purchase price of $49.95 is far too high
✖ - It's hard to get a "feel" for many of the Asian sex cam babes as so many hide their faces
✖ - Not a great deal of English-speaking models at the site
Summing it all up
There is one question to ask yourself when you're thinking about becoming a member of this site:
Do I like x-rated Japanese cam models so much (even though around 90 percent of them hide their faces on the cams) that I'm willing to pay $49.95 for the privilege of finding out?
If your answer is yes, you're likely to have a very good time at DxLive.com indeed, especially in enjoying all those excellent quality cams. If the answer is no, the DxLive.com is very definitely not the Asian adult sex chat site you're looking for.
Review of DxLive.com
- Reviewed by
hdcamsites.com