MyTrannyCams Review – HD Sex Chats with Shemales
Looking for an adult cam site with more than just ordinary girls? You want something extra. Let's say...girls with a prick instead of a slit. MyTrannyCams is exactly the place you're looking for with its collection of hot transgender models ready for you in hundreds of HD chat rooms. I am talking here about highly cam-trained shemale performers giving professional live porn shows the likes of which you will not find anywhere else on the Internet.
In the following review, I describe in detail all the cool features and cover the range of beautiful T-girls you will meet on MyTrannyCams. I pay special attention to chat options, hi-def streaming quality, pricing for all services, and the quality of the site's customer support. In short, all that you need to know to enhance your experience when visiting the site.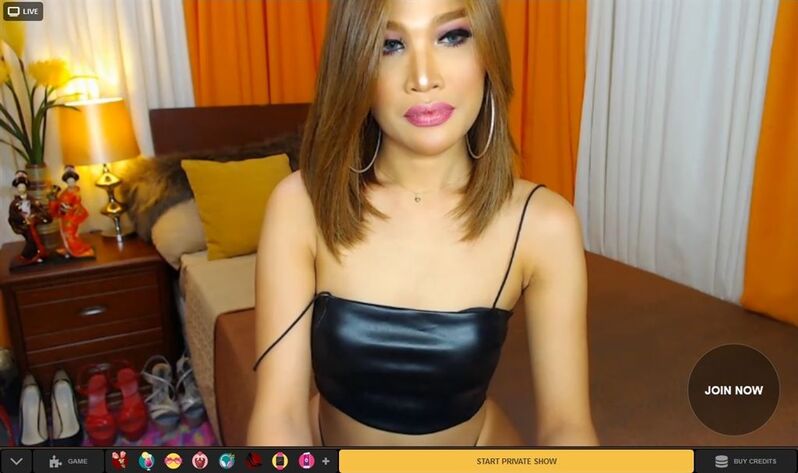 First Impression
The moment you enter MyTrannyCams, you immediately feel like you are in a paradise full of inconceivably beautiful models. I remember asking myself, "Are these really former males?" They are 100% feminine with hardly any traces of masculinity (excluding the surprise they store for you between their legs). And then I realized I have reached a truly premium sex cam site which spares no effort in hosting the best looking performers in the industry.
And as befits a premium cam site, you will not be able to see nudity. All the models in the preview galleries on the homepage are dressed, giving this online establishment a respectable aura. If you want things to get more explicit, you will have to pay. Fair enough as far as I am concerned.
The Tranny Models You will Meet
At any given time during the day, MyTrannyCams operates around 150 online HD chat rooms populated with tranny girls that will be happy to perform for you. Usually about half of the online models are occupied in private 1-on-1 shows on which you can Peek (as discussed below). The others are available for an open chat. Each model's current chat status is shown in her preview gallery. A green square indicates she is available for a public chat; a yellow square signifies she is currently in a live one-on-one cam show.
Once you enter a model's room (by simply selecting her preview window), you will be able to access her bio, which includes some personal details about her, her physique, penis size, and a list of the stuff she will be willing to do in private. The room also contains photo albums with professional (and extremely sexy) photos of the model. Some of these albums are free. Others are considered premium content which can be site when purchased. You can expect premium content to be more revealing regarding nudity.
How will you find the exact type of performer you would like to chat with?
The site is optimally designed to make navigation as easy as possible. It has a user-friendly interface that will enable you to sort out the models according to criteria such as,
Model type - single tranny, couple, group
Languages spoken by the model - English, German, Spanish, French and Italian
Special features - porn star, new models, VIP shows, etc.
Build - petite or BBW
Appearance - tattoo, stockings leather, hair color and type
Penis and Breast size
Willingness - masturbation, butt plug, dildo, oil, strap on, swallow, etc.
Age and Ethnicity
Price
You can also trace models based on their popularity, seniority on the site, or just by alphabetical order. The homepage displays the most recommended performers by default.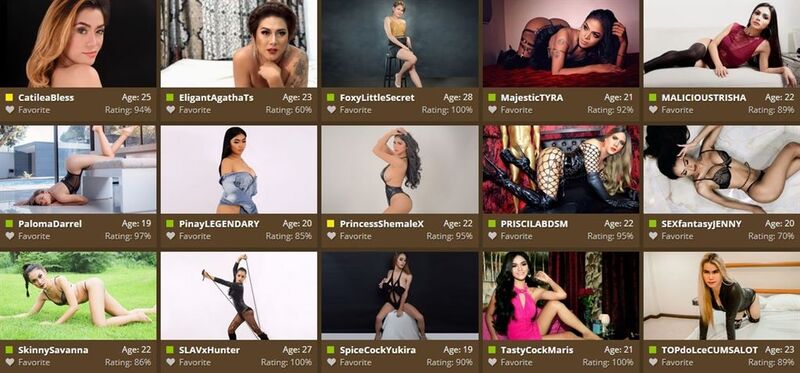 Top Site and Chat Room Features
The most basic chat option on MyTrannyCams includes the public rooms where you can freely watch shemales performing in hi-def quality and talk to them along with other users. As mentioned above, in these rooms you will only see dressed models. If you are looking for a 1-on-1 live porn chat with full nudity and some really bold action, you may opt for a private show. This show requires site credits.
Private shows also enable you to get fully interactive with your performing model by turning on your camera and starting a Cam2Cam video chat and by activating 2-way audio. Be advised, each of these features requires extra credits (to learn about exact rates, read below).
If you are into spying on others, you can invest one credit and get a short peek into users' private shows. You will not be able to see the user, only the model.
Throughout the day, the models may start a VIP Show. These are group shows which will start the moment the performer meets a certain credit goal. The show chat window displays this goal and a countdown to the beginning of the show. No need to say that VIP Shows, like all other shows on the site, are broadcast in high definition quality.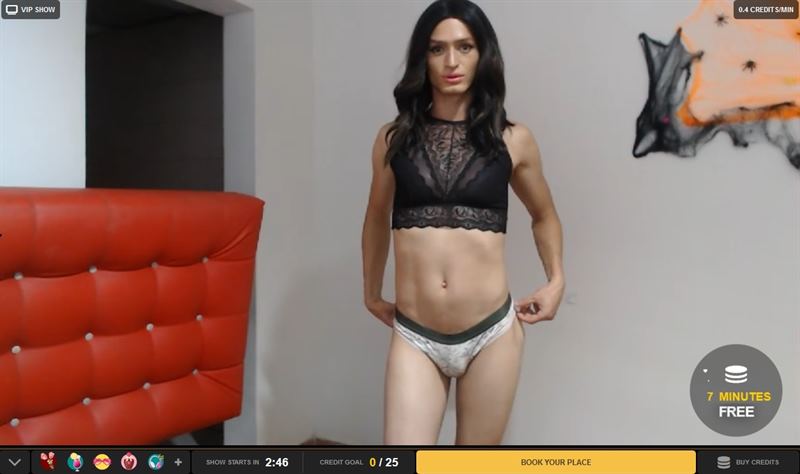 Sending a Gift
If you are feeling exceptionally generous or have some innermost findom fantasies, the sites enables you to send your performer some really fancy gifts that range from 1 credit to an exorbitant 5,000 credits.
The Club Elite
Members on MyTrannyCams can gradually build up their reputation. Every credit spent on the site (no matter whether it is on public or private chats and even when sending a gift) will get you points. The more points you accumulate, the higher your rank becomes. You will start as a Crush and may potentially reach top rank as a Casanova. Higher ranks will gain you prestige among the models and help you win their attention. Take into account that points can also be lost if you remain inactive. Every rank has a different daily point drop rate. The higher the rank is, the greater the number of points you will lose every day.

MyTrannyCams on Mobile
MyTrannyCams runs well on any mobile platform. On smartphones, models are displayed on a full screen in hi-rez webcams. What is more, you will find it easy to communicate with them as the chat lines appear inside the broadcasting frame.
Most importantly, MyTrannyCams is among the few adult cam sites which offer cam2cam on mobile, enabling you to enjoy interactive sex video chats on the go.
HD webcam Quality
All shemales performing on MyTrannyCams broadcast in either HD (720p) or full HD (1080p) quality. This excellent streaming resolution makes it a truly premium live porn site.
Becoming a Member
Signing up for MyTrannyCams is completely free. All you need to do is provide an email and come up with a password. After you do that, you will become a basic member who can chat with the site's shemales in public rooms. The moment you buy credits, your membership is upgraded to a premium status and you will be able to tip the models and engage in 1-on-1 live porn shows.
Purchasing credits
There are several credit packages you can choose from. The least expensive package costs $35.99 and it provides 27.99 credits. The most expensive one costs $178.99 and it will give you 159.99 credits. Regardless of the package you will eventually purchase, you will get 9.99 free credits the moment you validate your credit card.
With these 9.99 credits (which are worth around $10), you will be able to engage in a 1 on 1 chat with a model for more than 3 minutes. This is a wonderful way to get to know the site and its chat mechanism.
Sex Chat Cost
So how much will you have to pay in real money for a hi-def 1-on-1 live sex video chat with a shemale performer on MyTrannyCams? I have calculated the cost to you based on a purchase of the biggest credits package available. The average cost stands at $3.00 a minute. The cheapest rate comes in at $1.05 a minute. However, take into account that for Cam2Cam and bidirectional audio you will have to add extra $1-$2 a minute for each feature depending on the model's personal rate.
Payment Methods and Security of Funds
MyTrannyCam puts at its members' disposal multiple payment options which include,
Credit/debut card (Visa, MasterCard, Maestro, Visa Electron, BLEUE Visa, Diners, Discover, JCB and UnionPay)
Cryptocurrencies (Bitcoin, Ethereum, plus 50 more altcoins)
Gift Cards (Target, Walmart, Starbucks, plus 100 more gift cards)
Skrill
Payment methods available outside of the U.S. include: Pay by Phone, PaySafeCard, Neosurf, WebMoney, Bank wire transfer, GiroPay, Sofort Banking, European Direct Bebit.
The site exerts considerable effort in protecting members' funds and personal data. It meets the most stringent international requirements of (1)PCI DSS for securely managing customers' account data and funds. In addition, it uses McAfee Secure Trustmark to shield sensitive information from online threats. All of that is done to allow members the piece of mind necessary to fully enjoy the site's sex chat features without being concerned about security issues.
Customer Support
Customer service is something MyTrannyCams takes seriously. It operates a 24/7 online support through which you can chat with a human representative any time a problem arises. In addition, you can contact the site by sending an email message with a question or a complaint. Lastly, you can get billing support on the telephone. The site operates a phone line just for billing issues. As you can see, you are in good hands with all bases covered.
Positives and Negatives
Positives:
✔ All models on the site broadcast in hi-def quality, significantly enhancing your user-experience
✔ Cam2Cam on mobile allowing you to engage in interactive live porn chats when away from a computer
✔ Stunning transgender xxx models who know how to perform in front of a webcam
✔ 24/7 online customer support
✔ A user-friendly interface making onsite navigation easy and convenient
✔ The Club Elite feature enables you to establish your reputation as a tip leader among the models and other users
✔ Most payment methods come with a bonus of free credits on 1st and every 6th purchase
Negatives
✖ No free nudity. You will have to pay if you want to see some tits and dicks
✖ Camera to camera and 2-way audio demand extra payment making live sex chats more expensive
✖ No forum or any other means by which users can communicate with one another
✖ No other interesting features apart from chat options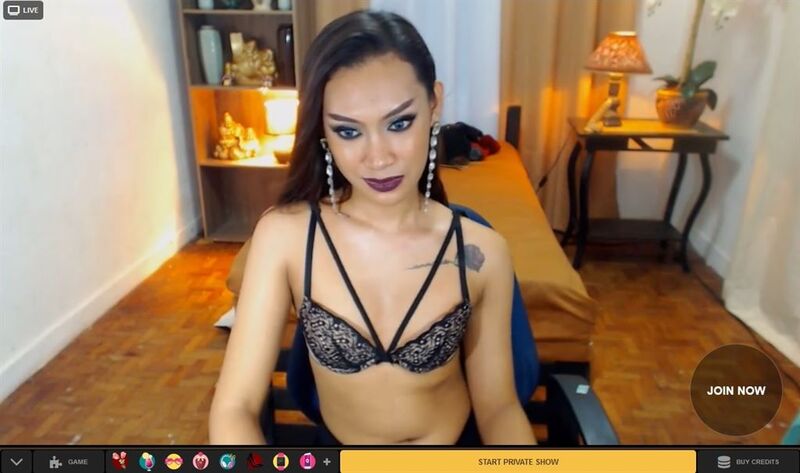 A Few Final Words
There is no room for doubt, MyTrannyCams is a professional adult cam site. The beautiful shemale models, advanced mobile options (c2c in particular) and the supreme HD broadcasting quality make the site an authority in the industry.
True, live porn sex chat may turn out to be a bit more expensive as you will have to pay for cam to cam and two-directional audio separately. Yet, such is life, high quality doesn't comes cheap. All in all, if you are looking for a good place to hang out with astonishing gender benders and maybe have a live sex session or two, MyTrannyCams is definitely where you should go.
Review of MyTrannyCams.com
- Reviewed by
hdcamsites.com