Sexier.com Serves up Sexy and Cheap MILF Sex Shows
Got MILF? Yes, I know it's an old joke, but we're dealing with sexy older women here, so it might be appropriate. In Sexier.com you will find not just a dozen or two dozens of busty moms, but hundreds of them and they will all be bored, restless and eager to get naughty as soon as their cuckold husbands leave the house. Even though this is a standard adult webcam site, not one that is dedicated to busty mature women, this still feels and looks like a domain made especially for horny MILFs and the guys who admire them and I, as you probably know, am one of these eager fans.
I don't think we need to drag this introduction. In the following Sexier.com review I intend to share with you my insights of this excellent MILF sex cam portal and disclose valuable facts such as prices and selection of features – which may or may not help you determine if this is the right site for you. Read through the review and then visit the site. I'll provide you with the details, but you really need to see this one for your own eyes.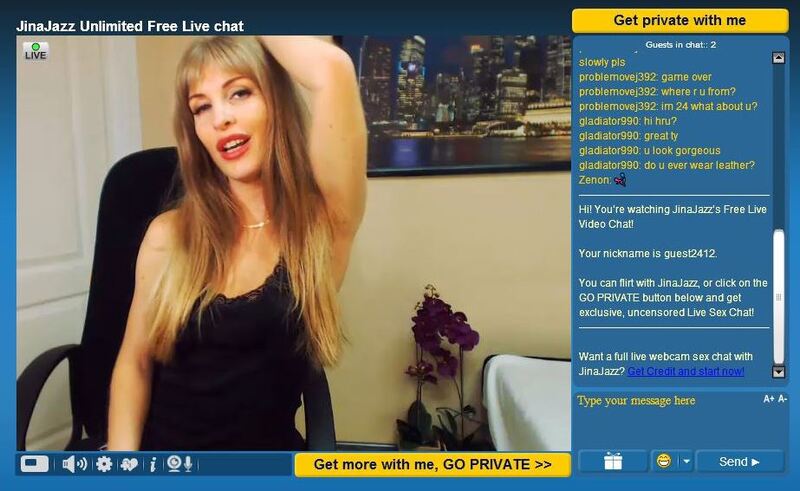 My considered thoughts
It's hard not to be captivated by the horny MILFs on Sexier.com and when I say hard I mean that literally. I know that guys usually have this porn movie fantasy about a blonde mature woman with gigantic tits, sitting at home when her husband is at work and all of a sudden some guy who is delivering something or fixing something walks in and soon enough the place is sticky with sticky squirting and cum, but the lustful amateur moms are even better than these repetitive fantasies. Why? Because they're real women – your next door neighbor, well – the hot one that you've always dreamed about. They have a sense of humor, they're friendly, they seem like the kind of ladies you could meet in the street, but they want sex and they want it all day and all night long.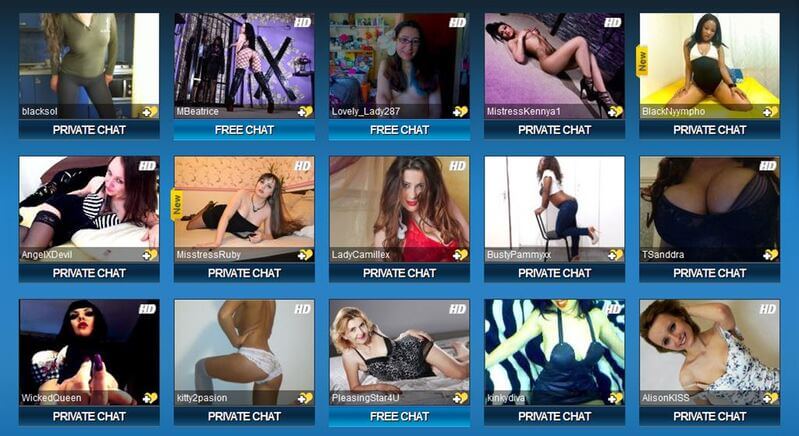 The site is just the platform which showcases these stunning, lovely wives and it has all the tools you need to interact and watch live porn shows. It's not particularly creative, it doesn't have many social features or public areas where members can chat and get friendly with the models, but the sexy older women are luring and they will give you wild XXX shows – which I think is enough.
Anything else?
Sexier has a really nice membership program which the site refers to as the Frequent Fuckers Club (give that copywriter a smack for me, will you?) and in spite of the silly name, it's an incredible option. It goes like this: When members purchase credits, they get "miles" which are basically bonus points which are accumulated. When you get enough, your membership is automatically upgraded and you start receiving discounts and free stuff. Sounds good, right?
Becoming a member
Signing up isn't difficult, but it's the one part of this mature webcam site that annoyed the bejesus out of me. You fill in your details and think that the site is free – which it is, but it makes you buy credit to complete your registration which is fucking rude. What if I just want to be a free member first? Also watch out because once you start filling in your info, you will never be able to go back to free chat before you purchase credit and will be constantly sent to the buy credit page – another thing that I am not a fan of.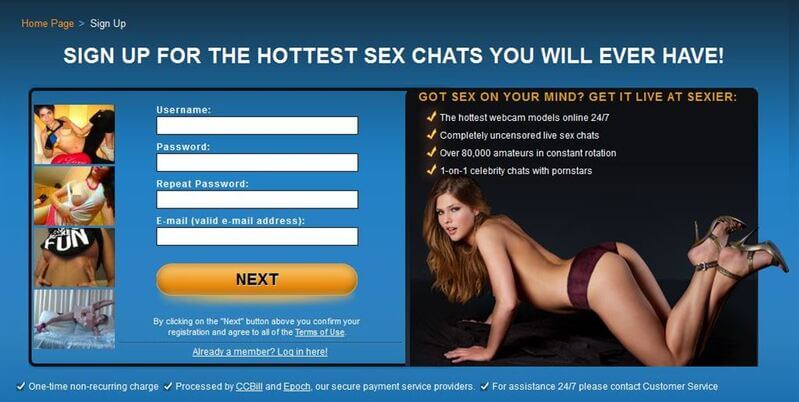 Let's get chatting
There's nothing fancy here – free MILF chat and nude mature webcams, and the latter cost money of course. You can find quite a few cheating wives that offer free chat, but this is not to say that they all do and there are also models that are only available for Happy Hour chat – which is a nude discounted type of show.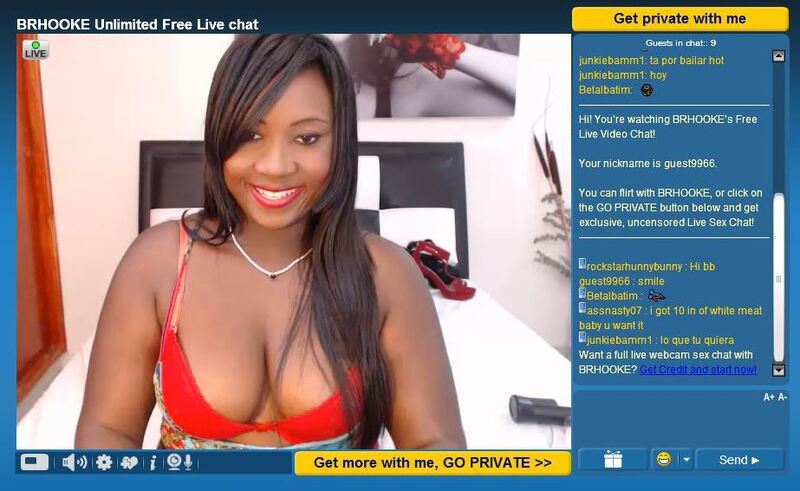 Quality of video
I watched several live porn shows on Sexier.com and was quite happy with the quality of streaming. Not all of the busty MILFs have HD webcams, but there are some and for the most part I was actually impressed for the best with the quality of the video.
Putting your money where your mouth is
Money money money – that really is what makes the world go around, right? Luckily on Sexier.com the price isn't stiff at all and in fact this is most likely one of the cheapest adult webcam portals that I have ever come across. Private chats range from a dollar to five and Happy Hour chats are only 0.88 per minute. Member discounts are substantial, so pack up those miles and wait for your upgrade.
The chart below shows the currently available credit packages. Note that Europeans pay more (because a euro is still worth more than a US dollar), but that is often the case on many porn sites – you pay a unit of your currency – regardless of its exact rate.
| | | | |
| --- | --- | --- | --- |
| Number of Credits | Price in USD | Price in EUR | Number of Bonus Miles |
| 25 | 25 | 25 | 2 |
| 50 | 50 | 50 | 6 |
| 75 | 75 | 75 | 9 |
| 100 | 100 | 100 | 13 |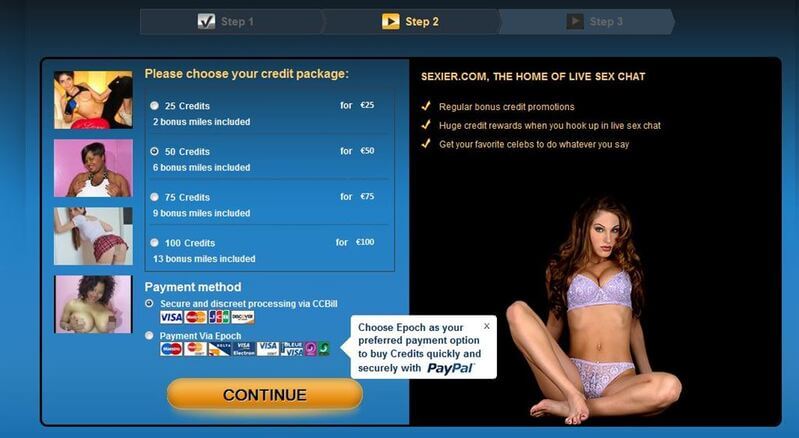 Ways to pay
You can pay for the company fo the busty MILFs on Sexier.com with Visa, Electron, Bleue, MasterCard, MasterCard debit, Discover, Maestro, JCB, and even PayPal.
How many xxx lovelies?
There are around 8,000 sexy older women registered to Sexier.com which range from babes in their late 20s that present themselves as housewives and busty moms and bored swingers and all the way to babes in their 50s and even 60s. You will meet about 400 of these ladies online when you go online, although this figure fluctuate a bit in different days and hour – more options during the weekends of course.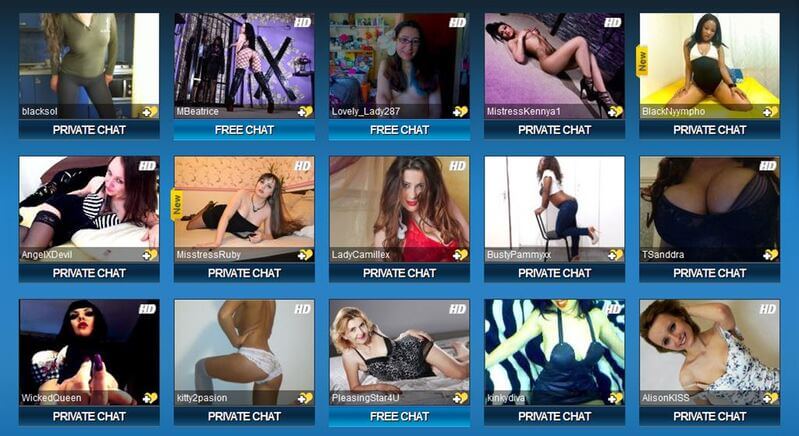 Help when needed
Even before you sign up to Sexier.com you can send an email to the Customer Support although I have no idea what you could possibly need help with after I've laid out all of this information for you in such an orderly manner. There is also a great FAQ page, but unregistered member see just a few questions – you need to join before you can see the full page.
Positives and negatives
Positives
✔ - The hot cheating wives are happy to explore sexual fantasies on cam
✔ - There are advanced search tools that will assist you in choosing a sexcam partner
✔ - Very low rates for MILF sex shows
Negatives
✖ - I wish the site would let me choose when I should buy credit
✖ - There isn't much of a webcam community feel – it's all about the live sex shows and that's it
Summing it all up
I don't think that the MILF webcam category on Sexier.com is as large as MaturesCam, which is MaturesCam.com's version of mature webcams, but it certainly puts up a fight. This is an amateur website which I am sure will make some of you very happy and the site doesn't feel fake – the housewives and soccer moms are really into fucking and while I don't know if they actually have cuckold husbands out there, they certainly might. I am convinced that many MILF webcam fans will appreciate this divers and entertaining site. Are you one of them? Visit Sexier.com now and find out.
Review of Sexier.com
- Reviewed by
hdcamsites.com