Stripchat Review – Hi Def & VR Live Porn Shows
If a large selection of beautiful models performing fully naked is what you are looking for, Stripchat is where you should visit. This relatively new freemium adult sex cam site enables you to engage in live porn chats with stripping girls from all over the word. Some of the models broadcast in HD quality, and you will even be able to find VR cams.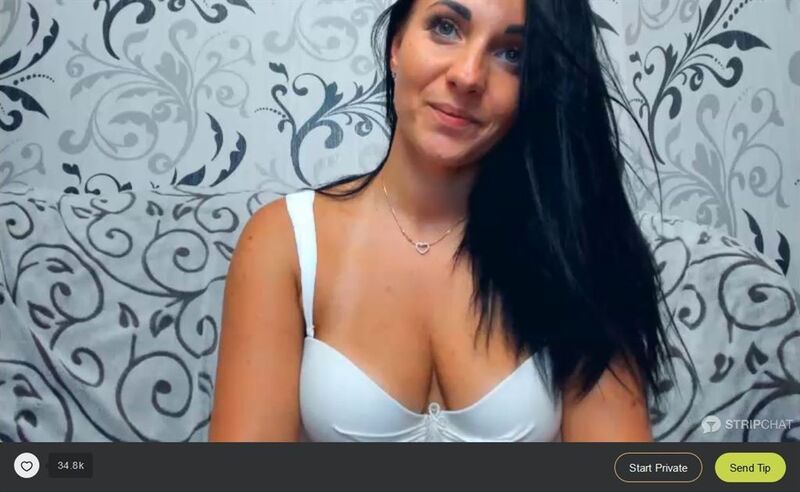 In this review, I examine the site's performers, unfold its main live chat features, elaborate on its membership terms, calculate the prices of private cam shows and discuss other aspects such as safety of funds and customer support - basically, everything new users should know before they sign up and start buying tokens.
First Impression
The moment you pull up Stripchat, you are bombarded with preview rooms of nude girls, couples and even performers using fucking machines. You scroll down and the galleries go on and on. You then understand you have reached the land of plenty with boobs and pussies all around you. All you have to do it pick one.
One thing that bothered me, though, was that unlike most adult cam sites I visit on a regular basis, on Stripchat, the preview galleries are static. That is, they capture a recent image from the model's chat room while not displaying what is happening there in real time.
As to the site's interface, I must say it is properly designed with the purpose of making navigation as easy as possible. On the upper bar you can see the main categories - Girls, Couples, Boys and Trans. On the left bar, you will see useful links to recommended models, your favorites, your personal collection and your watch history. Right below, there are all the tags, which will direct you to the exact type of performer you will want to watch.
The Girls You will Meet
Stripchat is distinguished by its large selection of cam models. At every given moment, there are more than 2,000 of them online waiting for you in live porn chat rooms. Quantity does not come at the expense of quality. The girls on the site are absolutely astounding to the point that you sometimes just cannot stop staring at them.
Most of these girls come from Europe, but you will able to find models from virtually every corner of the globe, including the exotic Near East (which is quite rare on live video chat sites) like Lebanon or Turkey.
In each model's preview gallery you will see a flag indicating which country she originates from. You will also see whether she is using an interactive sex toy and, most importantly, whether she broadcasts in hi-def.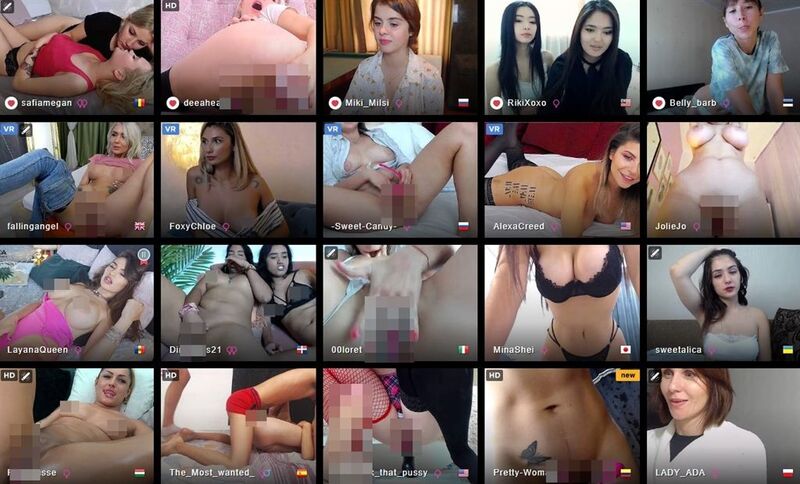 Inside the Chat Rooms
Once you click or tap on a preview gallery, you will get to the model's personal room which displays a free live porn video chat. As I already mentioned in the introduction, many of these chats include nudity. Apart from getting tips, the model will sexually pose for you trying to make you horny enough so that you will opt for a private 1-on-1 sex show (talking from experience, even the toughest ones break).
Beneath the chat window, you will see a number indicating how many viewers have liked the model (be nice and give her a like too). You will also see her token goal with a specific type of sex action, such as 69 position (for couples), squirt or lotion show . Once the goal is met, she will perform this action on cam.
Each room has a link to the model's profile near her name. Most profiles display the same contents: the performer's personal details, sexual orientation and social links, a short 'about me' text and a photo album with free pics and videos that require payment to open.
Chatroom Features
On Stripchat you can take part in 4 different kinds of live sex shows.
Free Video Chat - These are the models' personal rooms. You will find there plenty of nudity with no need to pay for it. Most performers use a sex toy (Lovense) which will vibrate when they get tips, allowing chat participants to arouse them whenever they want. I am addicted to these toys. All the models I engage with in live porn chats are grateful for the on going tips they get from me, and they don't stop moaning from the endless vibrations they feel in their pussies or asses. What I am trying to say is that on these free sex video chats, you will be required to invest some money if you want some action. So don't be cheap.
Private Shows - From time to time (for me it is all the time), you may want to get the model all to yourself. You can do that by starting a one-on-one porn show with her. Of course, this show costs money and each model has her own individual rate and (pay attention) a minimum chat duration. It means that you will be charged for this entire duration even if you decide to exit the chat earlier.
Private shows are not fully private in the sense that other members can spy on them. They will not get access to your feed, but they will be able to view the performer.
To remind you, as gorgeous as the models can be, not all of them perform in hi-def. I would recommend opting for those who broadcast at the highest resolution. That is what I do every time I enter Stripchat.
Cam2Cam Video Chats - Members wishing to upgrade a private show and turn it into an interactive session with the model may choose to start a c2c video chat. Be advised, this feature will cost you extra money in addition to what you already paid for the private show, and here there is also a minimum duration.
VR Chat - Stripchat is the only site I know of that offers VR live sex shows. There are usually a couple of VR rooms operating online on the site at any given moment. They are all HD streaming shows and some of them broadcast in 4K. You can find these rooms on the tag list.
I have done virtual reality porn chats a couple of times and it is absolutely fantastic. You feel as if the model is in the same room with you. It cannot get more real than that. Take into account that the virtual reality feature requires special equipment you will have to purchase.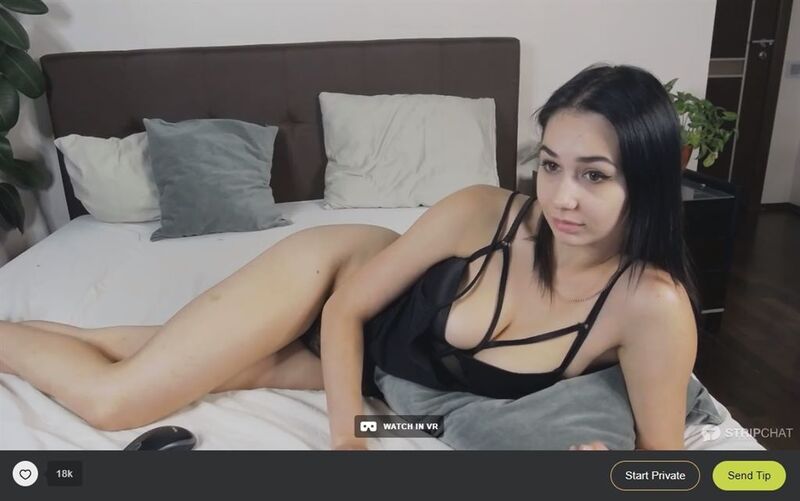 Stripchat on Mobile
Generally speaking, Stripchat will work well on your smartphone . All its features are responsive to mobile. Having said that, the site has one major flaw. It is virtually impossible to type and watch the show at the same time. When you want to type, the keyboard will pop up from the bottom concealing the window chat almost completely. I hope this irritation will be remedied soon.
The site also does not have the option to go on Cam2Cam on mobile, so you will not be able to have interactive live sex video chats while you are away from your computer screen.
HD Webcam Quality
Unfortunately, not all girls on Stripchat perform in HD. Many of them settle for 480p SD. Even those who do perform in hi-def do not usually go beyond the 720p to 1080p. To find the highest resolution chat rooms, look for the 'HD' tag on the general tags list.
The site does its best to make sure that standard definition shows will look good, but that is not enough for users who are used to the high resolution streaming you will typically find on premium websites, such as LiveJasmin.
Stripchat does have 4K porn shows, but you will find them only in VR cam rooms.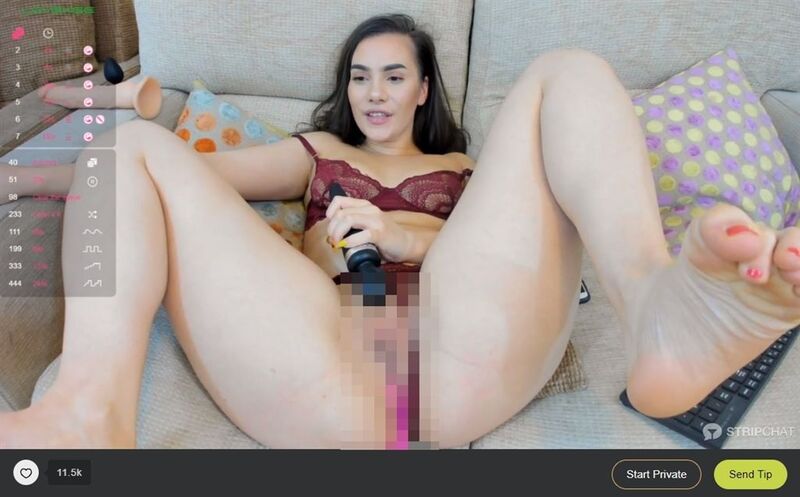 Becoming a Member
Signing up for Stripchat is obligatory if you want to chat in public rooms. In most cases, anonymous users cannot communicate with the performer.
The registration process is quick and straightforward. You will be asked to provide a user name and an email address. Make sure you give a real address as you will need to confirm your account the moment you will start buying tokens.
There are 3 types of membership statuses:
Grey User - Users who have signed up but have not yet purchased tokens. Grey users can enter and actively participate in public chats. They can also receive and answer private messages.
Green User - Users who have made a purchase on the site. They recommend models, tip models, initiate 1-on-1 porn shows (including virtual reality chats) and spy on others' private chats. Green users cannot be muted by Knights (see below).
Gold User - By signing up for Gold Membership users enjoy all the privileges of Green Users in addition to the following benefits:
Sending unlimited number of private messages to performers and other users
Taking on invisible mode which enables them to conceal their user name in the model's viewers list
Tipping anonymously
Using emojis in chat rooms
Becoming a Knight
The Gold offer is presented when you switch from a model's Public chat to her Private chat. The Gold membership costs $21.99 a month.
Models' Knights
Every girl needs her own guardian knight. You can assume this chivalrous role by subscribing to the Gold membership program and wooing the girl you wish to guard. That is to say, if you regularly visit a model's chat room and generously tip her, she may choose you to be her knight. Knights have the right to mute Grey Users for 24 hours. This extreme sanction is imposed on rude chatters who behave impolitely to the model being protected by her knight.
Purchasing Stripchat Tokens
Like any other adult live porn site, going on private 1-on-1 cam shows on Stripchat requires tokens. Token prices are as follows: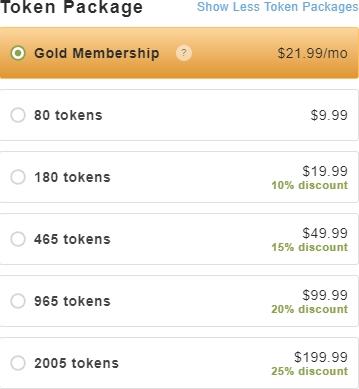 From these rates, it can be easily seen that in terms of real money, each token is worth around 10 cents.
Sex Chat Cost
After running some calculations I have figured out that the average price of a private sex video chat on Stripchat stands at $3.50 a minute. The most expensive chats can go as high as $6.00 a minute and even beyond that. On the other hand, you may find models who will charge you $0.80 a minute. Take into account that an interactive c2c porn chat is an added cost on top of her regular rate, sometimes twice as much.
Security of Funds and Payment Methods
Stripchat enables users to purchase tokens with a credit card (VISA, Mastercard, Discover, Diners Club, JCB and Maestro). You can also issue payments via PayPal and Skrill or use cryptocurrencies, such as Bitcoin or Ether.
The site works with payment processors like, Epoch and SegPay, to guarantee a safe and transparent billing process. It also uses the services of Comodo - a cyber security platform meant to provide protection against unauthorized users and hackers.
Customer Support
Stripchat does not have live support. If you encounter a problem, your only option is to submit a ticket and wait for a response from the site's customer service personnel. You will also be able to find a Billing Support page with contact details (email addresses and phone numbers) of the various sales agents the site works with.
Positives and Negatives
Positives:
✔ A small but growing number of models adopting HD quality broadcasting
✔ Sort models by New Faces and Just Came Online
✔ A huge selection of beautiful multi-ethnic cam girls
✔ Plenty of free nudity
✔ Prices are clearly presented
✔ The only site offering VR sex cam shows
Negatives:
✖ The large majority of the girls do not perform in HD
✖ Model's preview galleries on the homepage are static
✖ Prices for private sex video chats are above the industry average
✖ No c2c on mobile
✖ Limited customer support options. No live support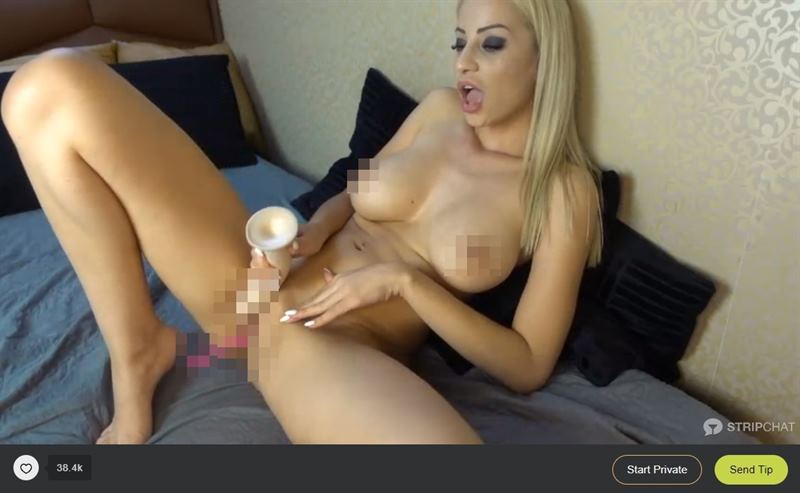 A Few Final Words
I definitely recognize a tremendous potential in Stripchat. Even though it is still a young site, it has managed to gather more than 1,000 models from all over the globe (and most of them are distinctively beautiful). I have run across models from locations you will hardly find on any other cam site, like the Middle East and Malaysia. So, if you are into exotic girls, Stripchat delivers the goods.
What is more, Stripchat is the only site that offers VR cam rooms. Some of these room broadcast in 4K and give users a perfect panoramic live porn experience.
I truly hope the site will be able to leverage its potential and rise to where it should belong - near the top of the list of adult sites delivering live video shows. To do that, it will, first and foremost, have to complete its transition to HD streaming quality. As of today, only 80 models, give or take, occupy HD chat rooms. This is something that will have to improve in the near future.
Second, and not less important, the site will have to upgrade its technological infrastructure and advance its services. I am referring mainly to its lack of mobile c2c and live customer support.
As a great fan of Stripchat, I truly wish it all the luck it can get. We, the users, will greatly benefit from an upgraded site.
Review of Stripchat.com
- Reviewed by
hdcamsites.com