Srteamate Review – Thrilling C2C Sex Chats
Tons of beautiful girls ready to start a private sex chat, good HD streaming quality, multiple chat room options, and a pay-as-go payment system – all these goodies are waiting for you on Streamate. In the following review I intend to go over these and additional features, helping you get the most out each for the purpose of maximizing the live porn experience Streamate offers you.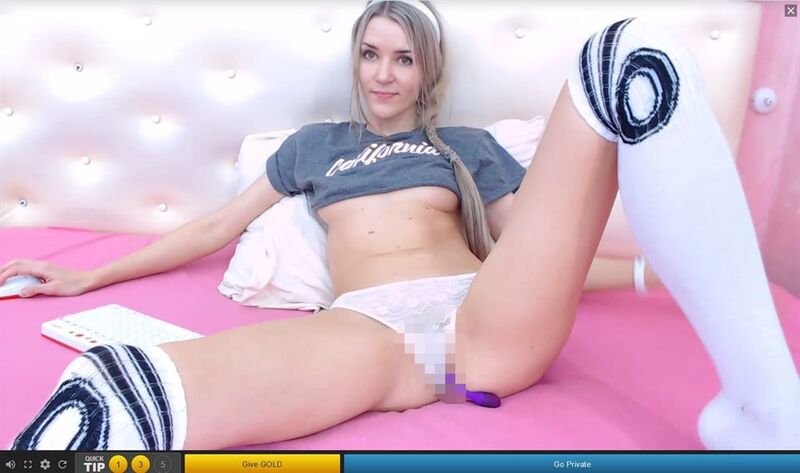 First Impression
The first thing you notice upon entering Streamate's homepage is the great numbers of preview galleries containing photos of breathtaking models. In some of these pics, the models appear topless giving you a foretaste of what is expecting you if you venture into a 1 on 1 sex show with them.
The site's interface is clean and well organize with a relaxing and inviting blue color. The header contains tabs with useful features like My Account, favorite performers, video archive, purchase history and access to your mailbox.
On the left, (if you are on a PC or a laptop) or on the header (if you are using your smartphone) you will run across an advanced filter through which you will be able to get to quickly and efficiently find the exact type of model you feel like chatting with at the moment.
All in all, Streamate creates a relaxed and amicable atmosphere where you can kick back and enjoy an endless array of beautiful cam girls. And when things start to warm up, you can always pick up the pace and take one of them into an exciting hi-def private porn chat.
The Girls You Will Meet
At any given moment, Streamate hosts around 1,000 public chat rooms with models of all types, sizes and shapes. The site's filter will help you get to chat rooms with specific themes like Babes, Asian, BBW, Petite Body, Ebony, Hairy Pussy, Group Sex, Housewives, Mature, etc.
Once you move your mouse cursor to a model's preview gallery, you will see what is currently happening in her room. This room functions as her antechamber where you can meet her and publicly chat with her along with other interested users.
Streamate is a premium adult cam site. That means you will usually not encounter nudity in the models' public rooms. To see tits, pussies and asses in HD, you will be required to start a 1 on 1 sex chat. Having said that, every once in a while, you may meet a performer who breaks the rules and takes off her clothes in public (usually her top clothes) hoping to seduce you and have you opt for a more intimate solo show.
The public rooms have other roles to fill apart from watching a performer either dressed or (sometimes) naked. They contain personal information about the model helping you become more familiar with her before you decide whether you want to take her to a private chat. You will be able to read a few sentences describing her in general and find out about her sexual orientation, her appearance (including pubic hair style, cup size and body measurements) and kinky attributes. You will see her Gold Menu which lists the things she will be willing to do in her open chat room, like Show Ass, Flash Tits, Stand Up, and Say My Name. All these actions can be had for a reasonable tip amount. At the bottom of a model's profile page, you will find all the themed tags she is associated with on the site. These will take you to other similar models.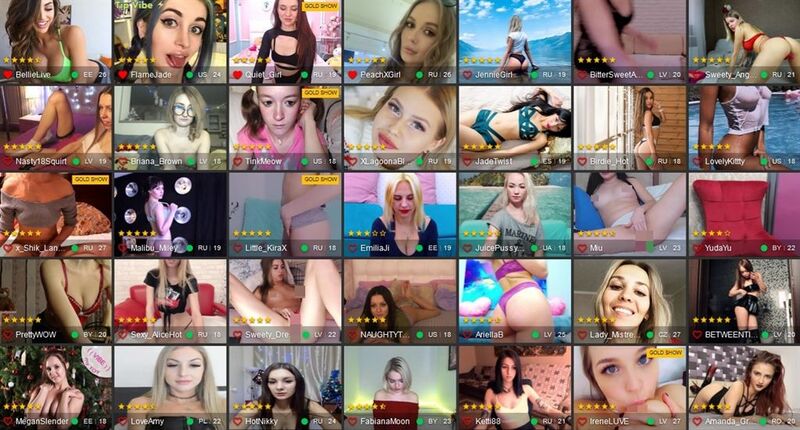 Open chat rooms also display the model's professional photos (Some of the models may choose not to include photos) which you can usually access for free. Sometimes you may run into video clips which can be quite explicit. These clips demand payment. If you are interested in finding out what other users think about the model, you will be able to read members' comments and ratings.
The public chat room enables you to do more active stuff, such as adding the performer to your favorite list, sending her a private message free of charge (This is where Streamate is different from the majority of its peers which usually charge credits for this service), tip her, and most importantly initiate an HD private sex show where things will escalate as rapidly as you wish for.
Top Site and Chat Room Features
Streamate delivers all the typical chat room options found on any typical webcam site.
Open Public Chat – These chats take place in the public rooms and are free of charge. You will not even need to sign up to take part in them. However, tipping a model demands opening a user account.
Private Chat – In this chat, it is you, the performer, and other users who might have tagged along. The difference between a public chat and a private one is that in the latter you can open your cam (You will find a special button for that once you are in the private zone). Only the model will be able to see you and not the other invaders.
Exclusive Chat – As the name suggests, this chat is a 'truly' private 1 on 1 porn show where other users cannot interfere and spoil your intimacy. In this chat you can also engage in a cam to cam session with the performer. Take into account that going exclusive with a model demands higher payment (see below).
Gold Shows – These are multi-user shows on which the model sets a Gold (the site's currency) target, and a preset time frame to meet this target. If the target is not met, the show will not start. To promise your participation on the show, you will have to pay a certain fee which is determined by the model. If you have paid the entrance fee and the show has not started, you will be refunded.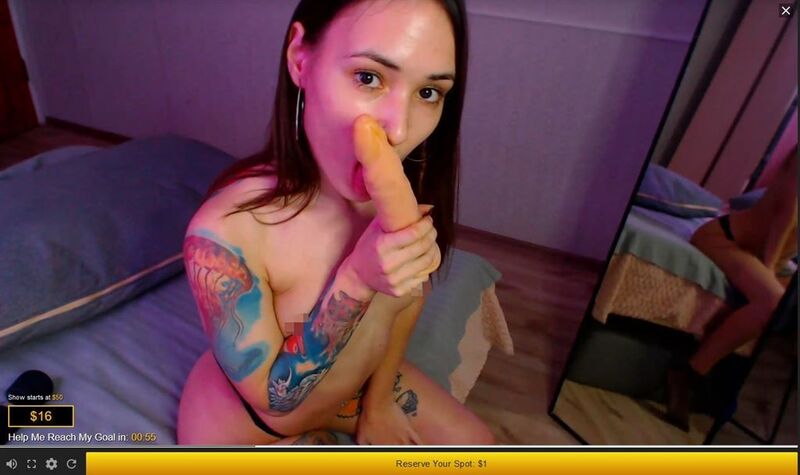 I personally hate it when Gold Shows are cancelled. These shows are, in my opinion, the best feature on the site. They are broadcasted in hi-def quality, the performer usually poses naked and the participants, intoxicated with desire, come up with all kinds of kinky requests for which they are willing to pay – great vibes!
Discounted Block Sessions – These are one on one sex shows, either Private or Exclusive, which you can pay upfront and enjoy a discount. You will need to schedule a show with a performer in advance making sure she is available for a porn chat. You can decide the show length. The longer it is, the higher the discount will be. For example, a 15 minute show usually comes with 5% off. A 1 hour show, in comparison, will be 20% cheaper.
HD Webcam Quality
Broadcasting quality on Streamate is very good. Although the site does not obligate its models to use HD cams, most choose to do so, understanding that users would prefer a high streaming resolution.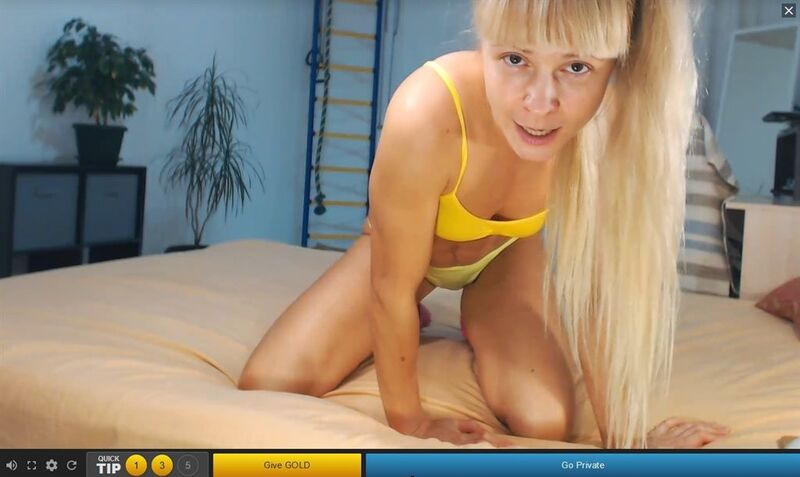 When looking through the gallery of online models, you can sort them according to those that are broadcasting in high definition video. On the main page, there is well placed drop-down menu of site features. Select for choice and go with 'HD'. Now, all the best streaming shows will be presented first.
One of the options you will have is Raw, which is the optimal broadcasting quality without any transcoding. Naturally, it consumes the most bandwidth and so is not fit every user, especially those without a fast internet line. On the other hand, those who are equipped properly, will be able to enjoy fantastic streaming quality that can reach as high as 1080p, and even 4K Ultra HD.
Streamate on Mobile
Streamate works well on mobile. The HD quality of most of the performances is vividly felt the same as using a computer. The vertical position is highly recommend for live porn chatting as it allows you to see the text chat and the model's screen at the same time.
The only flaw I can think of is the lack of cam to cam on mobile, which means you will not be able to enjoy an interactive private sex chat while you are on the go. I hope that in the future this lacuna will be fixed especially with the advent of 5G.
Becoming a Member
Any user can enter Streamate and start chatting with the models in their open chat rooms with no need for registration. However, if you want to start using the site's features, e.g. asking performers to do special things for you in exchange for your tips or taking one of them to a private sex chat, you will need to sign up.
Unlike other adult live porn sites, when signing up for Streamate, apart from providing an email, a user name and a password, you will be required to fill in your payment details. The reason for this is the site's unique payment system, which will be explained in detail in the next section.
Streamate's Paying System
Paying for live porn services on Streamate is different from what you will find on any other site in the live sex cam industry. You do not need to purchase credits or tokens. Instead, you pay with your own real money.
Streamate uses Gold as its standard currency, but each gold is, in fact, worth one unit of your local money (1 USD, 1 euro). In other words, when sending a model 1 gold, for example, you will be paying her $1 or €1 coming directly from the payment method you had chosen to use on the site.
This unique payment system has its merits and demerits. On the one hand, while on other cam sites you ought to have credits you purchased in advance for the models to take you seriously and pay attention to you, but on Streamate you do not have to get anything in advance to be noticed by the models for whom you are a potential tipper with resources that are not limited to a specific batch of credits you might or might not have obtained. That puts you on par with all other users.
On the other hand, when you are not limited to a pre-bought credit package, you have less control over your expenditures. You can virtually spend as much as you want without anything limiting you apart from your bank account. You may find yourself (which happened to me more than once) spending more than you had initially planned as a result of being carried away. Luckily new members have a daily limit spending of $25 to protect them from themselves. This daily limit increases in time. Alternatively, you can always contact Customer Support to set a higher or lower limit.
Sex Chat Cost
The average price for a 1-minute Private Chat on Streamate is $3.00. The cheapest rate I found stands at $1.00 a minute. For an Exclusive Chat you will have to add additional 25-60 percent depending on each model's rate. The prices of Gold Shows also vary from one performer to another. Before you start any type of show, you will be notified about its price.

Reward Program
Streamate rewards its members for the purchases they have made on the site based on 10 membership levels. A level is determined by the number of days a user has been active on the site. Active is defined as taking part in at least one paid live porn show longer than 2 minutes.
Each level entitles a user to a certain percentage of the money he has spent in the form of credits. A high level means a higher percentage as shown on the following list: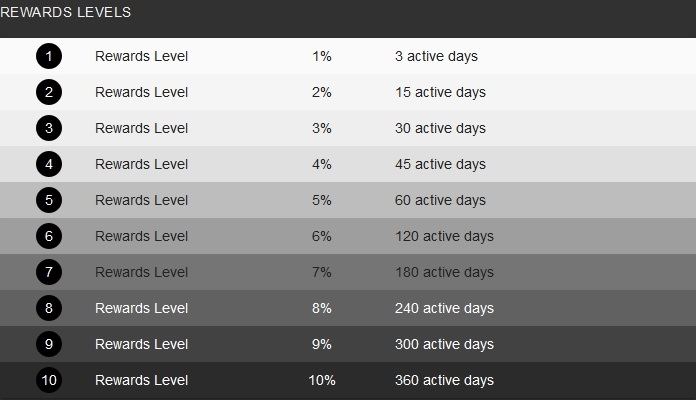 Credits can be utilized for future transactions. The site will send email notifications every time credits are earned or used.
Security of Funds and Paying Methods
Streamate does not offer its users too many paying methods. You may choose to pay either with a credit card (Visa, MasterCard or Discover only) or with PayPal and not more than that.
Any user, especially a paying one, can rest assured that all his personal and billing information are kept protected. The site uses Secure Socket Layer to encrypt transactions and to protect sensitive financial data. Moreover, performers are not given access to users' account or billing record.
Customer Support
Streamate's users enjoy advanced customer support mechanism which comprises a wide variety of contact possibilities including live support, email ,and different telephone numbers for specific countries.
Psitives and Negatives
Positives:
✔ Good streaming quality. Most performers broadcast in HD
✔ A great number of beautiful models available for live porn chats around the clock
✔ An option to watch shows in lower or maximum streaming quality based on your internet line speed
✔ No need to pay extra for cam2cam
✔ Paying with real money as you go. No need to buy a credits/tokens package in advance
✔ It's not hard to get the models' attention in public rooms
✔ Advanced site filter helping you find the exact type of girl you are looking for
Negatives:
✖ Nudity in open chat rooms is not as common as what you will see on freemium sites
✖ Exclusive Chats are quite expensive
✖ Too few payment methods available to users

A Few Final Words
I must confess that after many years of chatting with cam performers from all over the web, I became quite frustrated. Winning a model's attention if you haven't started generously shedding tips has become quite an impossible mission. Although far from being a new sex cam site, Streamate functions as a fresh breeze in this regard. Its unique payment mechanism, which is not based on any prior credit package purchase that may be used by the model to judge you and assess your tipping potential, presents you to her in an unbiased way and opens all the necessary doors to her heart, bra and panties.
Add to this the great number of gorgeous models that will be happy to host you in their private zones and the relatively high streaming quality prevalent on the site and it's easy to understand why Streamate is one of my favorite hubs for hi-def live porn sessions.
Review of Streamate.com
- Reviewed by
hdcamsites.com