Streamate.com's Live Fetish Porn Chat Review
Streamate.com is among one of the older live fetish porn sites, having opened for business in 2003. They've maintained a relatively similar business model, page layout, and user interface throughout their long life, besides updates to keep up with the ever changing web technologies.
There's a wide range of kinky cam models for you to choose from.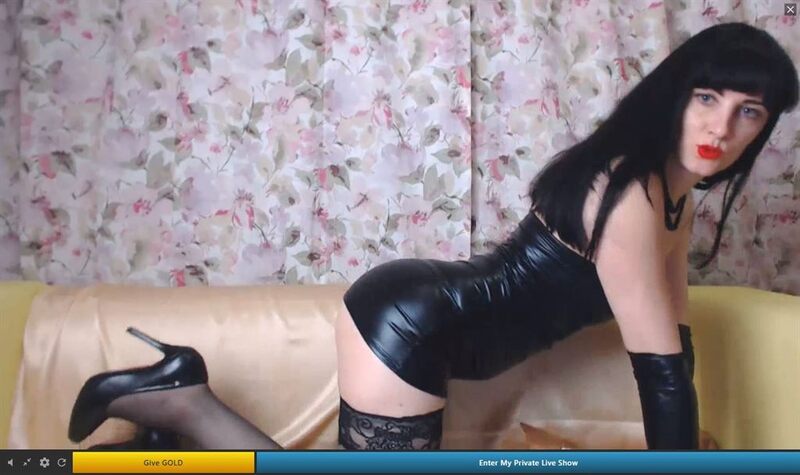 Streamate also maintained more or less the same search tags since their inception, which might sound like an issue, but it ends up being a net positive.
The tags are specific enough, and the model pages are extensive, with detailed lists of fetishes, kinks, props, etc.
Per model's choice, there are also optional photo and video galleries that the performers host on their respective pages.
Streamate is a site I have more than my fair share of experience with in the past, and returning to it after many years, the feeling is familiar and welcoming. I hold it near and dear to my groin.
I'll try to have my review reflect my experiences as a past, and once again new user, but I'll try not to get too sentimental...
... Promise I wont let it get in the way of me laying out the site features more in depth, later in the review, or savaging the design choices where deserved.
My Considered Thoughts
Streamate's model base is always growing, and changing, but from the outside, it seems that webcam performer satisfaction is high.
The Webcam Girls of Streamate.com seem to remain as performers for astonishingly long stretches, years, not months.
Most of the kinky cam models are amateurs, shooting themselves at home, but there are a few porn actresses, and professional cam girls who also hold account pages with Streamate.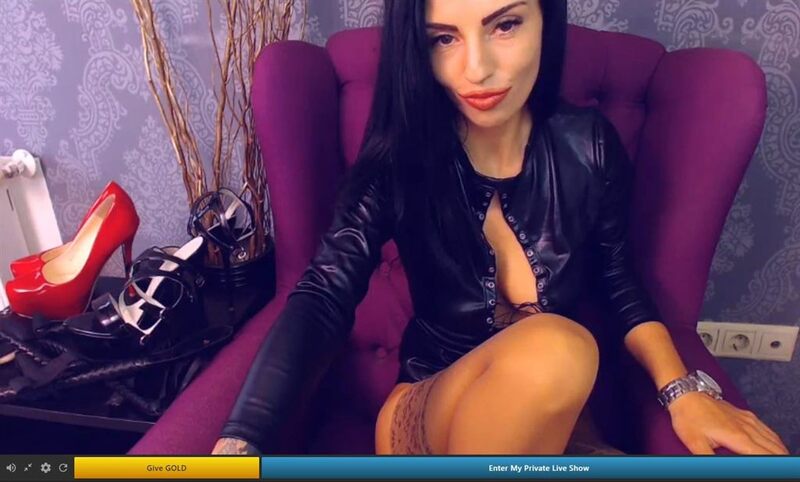 The atmosphere of Streamate.com is generally relaxed and fun, but it's not the place to go looking for a free show, a la Chaturbate.
The free webcam chat section does feature tipping, and as much play as the cam hosts are willing to give out for free, but private webcam chat is the goal for the models.
Tips can keep a free show going, but that isn't something that can be counted on, and more often than not, private chat is where it's at.
Streamate's selection of webcam girls is impressive, and the range of fetishes, kinks, toys and props on offer to cater to users is extensive.
The webcam perfomers are from all over the world, so there's never going to be a shortage of models available for viewing.
What Sets Streamate Apart
Streamate.com is similar in many ways to other fetish webcam chat sites you might have encountered, because it's something of an originator of the genre, and they've been very consistent with their page design and layout.
What makes them special is the access to such a wide variety of cam girls, guys, transexuals, and couples.
If variety is the spice of life, Streamate would be a ghost pepper, there is a lot of choices on offer.
Role play chat, all manner of live fetish porn, everything from the tame, to the depraved can be had at Streamate.com
Streamate.com Represents the Fetish Lifestyle
The layout of Streamate makes it nice and easy to find what's gonna start your engine.
The categories on offer look limited, at a glance.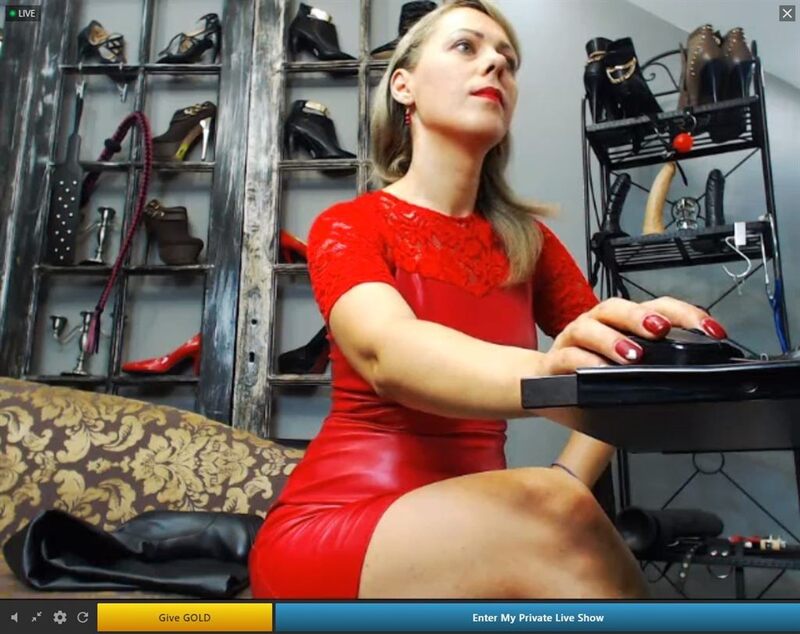 But the easily visible, search + advanced search options reveal a much more in-depth selection.
Body type, spoken languages, gender, sexuality, and most importantly fetishes are laid out for the user as search terms with tick boxes, making it a breeze to find exactly what you want to see.
There are many other fine adjustments that can be made to your search as well.
The fetish section has 19 different categories to choose from. From Anal to Voyeur, from dominant to submissive, from sea to shining sea, consider it a given, the Streamate.com fetish chat rooms are exactly what you've been looking for, you can take my word on it.
The kinky cam models, in large part, proudly fly the flag, displaying toys, latex bondage wear, and most importantly, themselves in their thumbnail photos.
Webcam performer bios on Streamate are extensive and detailed across the board.
The simple search interface makes it easy to find the kinky cam models that appeal to your tastes, and the webcam girl profiles lay out exactly what the kinks an limits of any model is, which his a good thing...
...Some Less Good Things
As stated, Streamate was a pioneer of live webcam sex chat, the layout style they started using very early is basically the standard today.
The free guest chat is open to all, without any registration, but as I also covered in the introduction, Streamate.com is not the place to go looking for a free ride.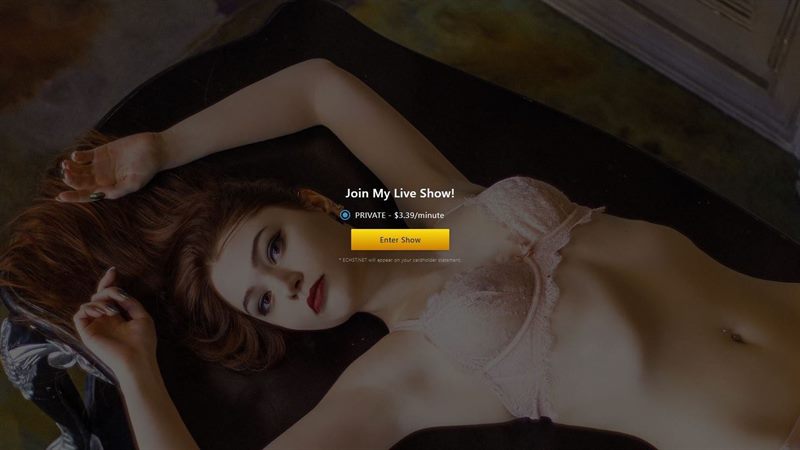 As a user I can personally attest, as soon as the free live chat starts getting good, inevitably the next thing that happens is that in short order, a registered user will initiate a private chat session, prompting other users to pony up cash to join in on the fun, and leaving you scrambling to find another model.
Streamate only allows one chat per user at a time, as a bandwidth saving measure, which can leave a user in trouble...
... Especially if they were trying to take care of business for free. You will end up sore if you try to use free chat exclusively.
If you're looking for free service, there are other sites with much better free live cam chats available, See our articles on CamSoda.com, and Chaturbate.com.
Anything Else?
Streamate has a number of features that are fairly unique, some good, some that are really quite vexing.
The overall experience feels solid, and easy to use.
The site navigation on Streamate.com has always been, and remains a major strength of the platform.
The color palette is designed not to burn your retinas out, and to direct your eyes to all the important bits.
All the menus are simple, well optimized, easily understood, and laid out in a logical way.
One important issue to take note of, is a daily spending limit on all accounts, starting at 25 USD per day for new accounts.
This amount can be raised in individual increments of 25 USD, by contacting Streamate Customer Support, and if determined to be eligible, the limit can be raised. To raise your limit in excess of 300 USD, you'll need to directly contact supportteam@streamate.com.
The limit can be lowered automatically through the Streamate.com account interface.
This is a feature many of the larger, pay2play live webcam chat sites, put in place to protect the companies from engaging in anything that could be misunderstood as fraudulent withdrawals, or customers from rubbing themselves raw, and spending the kid's college tuition fund on whacking.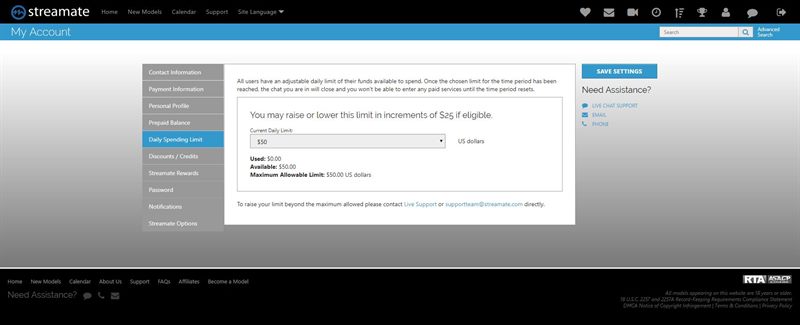 Like many live fetish porn sites, Streamate.com has a thumbnail preview feature when browsing webcam models from the home page.
You hover your mouse over the picture, and it ought load you up a video clip, complete with audio.
Some issues pop their heads up again here.
Thumbnail previews are only available for their free account holders, and even once you're a member, the option for video preview is turned off by default, every time you log back in.
It's not a huge deal,
It is tedious, needing to make the selection every time.
The previews also have sound, and you never know what level of noise you're gonna be getting at any given room at a given time.
On top of that, only one live webcam sex room can be open at the same time, and attempting to open another results in the window you switched over from to display an error message, explaining the policy.
These seem to be bandwidth saving measures, and they don't reflect on the site very well.
It doesn't look very professional, from a website with such a long history especially.
History might be one of Streamate.com's biggest enemies. From using the site, many (minor,) layout changes ago, I remember a Streamate feature by the name of "Party Chat." It's a model status, displayed on their thumbnail, offline, online, Gold Show, and finally, Party Chat.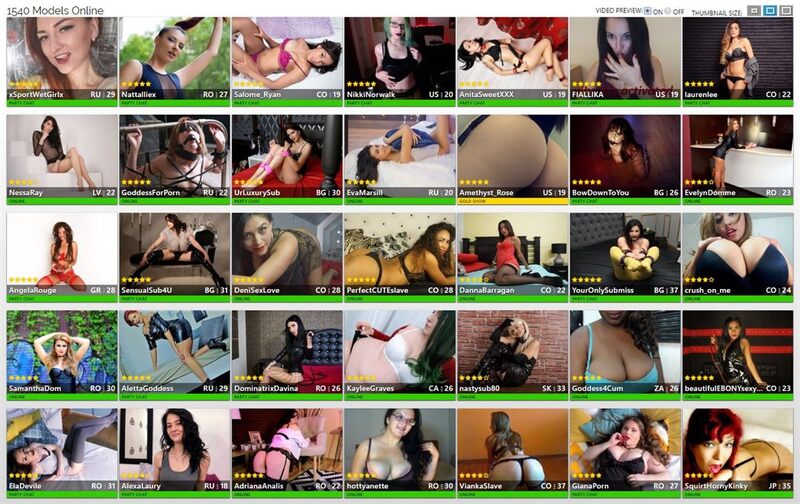 No information is available on the site explaining what exactly Party Chat entails.
Same deal with Gold Shows as well, actually, but that's something you can understand after one session using Streamate as a new, registered user.
Self-explanatory, but I'll go into more detail a bit onward.
The answer a live support agent gave, is that "Party Chat" is basically the same status as "Online."
It was something that confused me when I used the site back in the 2010s as well.
Upon further investigation, I found party chat is meant to be the state leading up to a gold show, a free chat where the cam hosts are collecting tips in gold to buy into the group cam show before it starts.
But it's unclear exactly what is, or isn't the case when it comes to the party chat feature, because they may, or may not be collecting Gold for an upcoming gold show when displaying party chat, as opposed to the online status.
Streamate.com is a consistent website, but the issues that plague it hold us back from putting it higher up on our live webcam chat top lists.
Streamate is the family member most of us have who functions, but always has some number of issues, basically.
On a lighter note,
As previously stated, Streamate.com has an amazing selection of kinky cam models available of your viewing pleasure.
The cam model base of Streamate has remained consistently impressive, with a massive range.
The structure is well done, and the prices, while not anything approaching optional with Streamate's business model, are affordable.
Becoming a Member
Signing up for a new account is presented as simple, and "free." Enter your email address, and site nickname.
Upon entering the information, you're prompted for a credit card or Paypal account.
If neither is chosen, no further progress in registration can be made.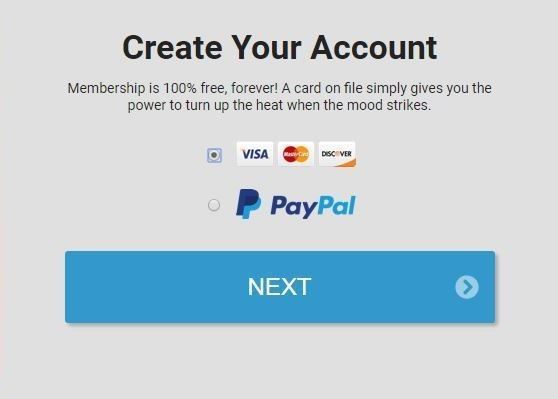 So your choices are, free anonymous "membership," or free premium membership, which is the only registered membership type, requiring a credit card on file, for use on any paid service on Streamate.com
Varieties of Chat
Free live chat is available to all users, during which time cam hosts will be earning tips, and many performers feature the popular bluetooth, tip activated sex toys, OhMiBod, or Lovense.
You can see a lot going on in a free chat, but it's not gonna last.
Private chat is a paid service on Streamate.com. It is not fully private, other registered, paying users can join in on a private chat, and make their own requests of the webcam girls on display.
Exclusive chat is Streamate's one on one service, you have full attention on you, and here is where you're going to get your most intense, worthwhile shows with their kinky cam models.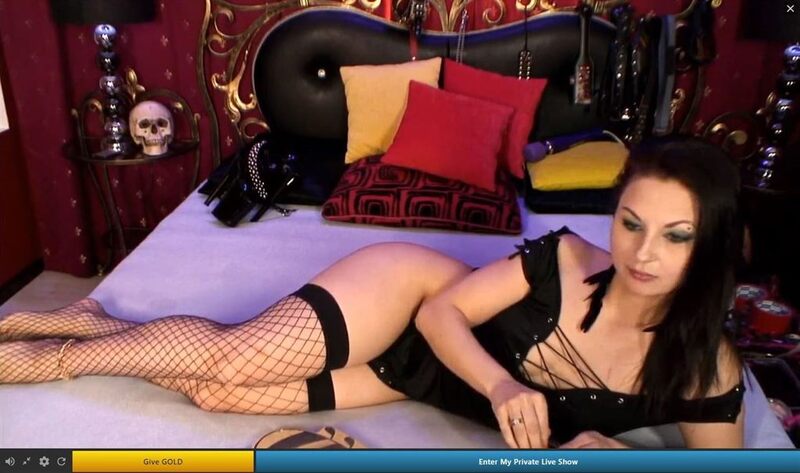 Each model has the option to feature a library of photos, and videos, either in a free gallery, or available for purchase, to be saved to your account library.
Streamate also offers Discounted Block Sessions, scheduled shows you set up with a model ahead of time.
These block sessions are available with the private, and exclusive chat types.
There's a 5% discount for a 15 minute block, 10% per 30 minutes, 15% at 45 minutes, and 20% off on 60 minute block shows.
Anything that runs over the allotted time, as long as the chat remains running in private or exclusive, the discount is still applied.
There's a protection in place for block show users.
If there's an interruption in your service, you have 2 hours to reconnect to the chat, and your price per minute won't be affected.
Quality of Video
Webcam quality is a bit of an issue on Streamate.com.
The highest quality available is 720p HD, and it's not a requirement, but the chat interface makes it simple to set or check the quality if you think you're watching a feed lower than 720p.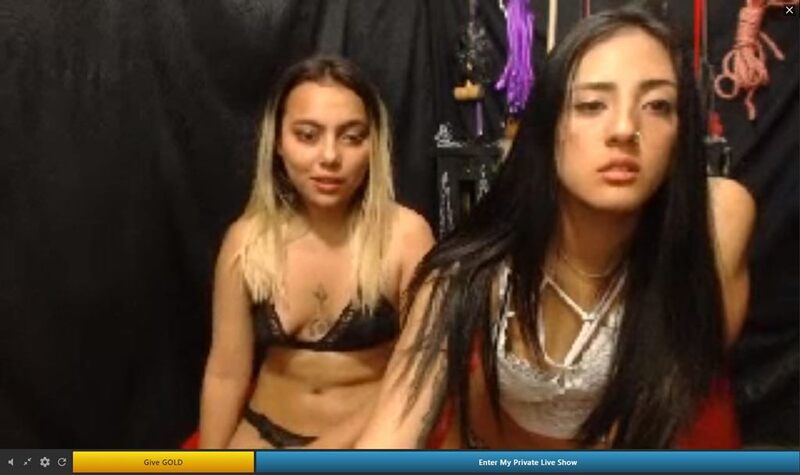 Quality selection is also an option in all the live adult chat rooms.
Because there's no requirements for Streamate in terms of cam quality, you're going to run into many webcam chat rooms with unreasonably poor quality options, but there are also plenty that have kept up to date with the technology.
There's not a lot to be done about it, some models are going to be broadcasting with inbuilt laptop webcams of an older generation, from countries where the internet speeds are generally not great.
It is what it is. This is what allows such a large number of kinky cam girls to host themselves on Streamate.com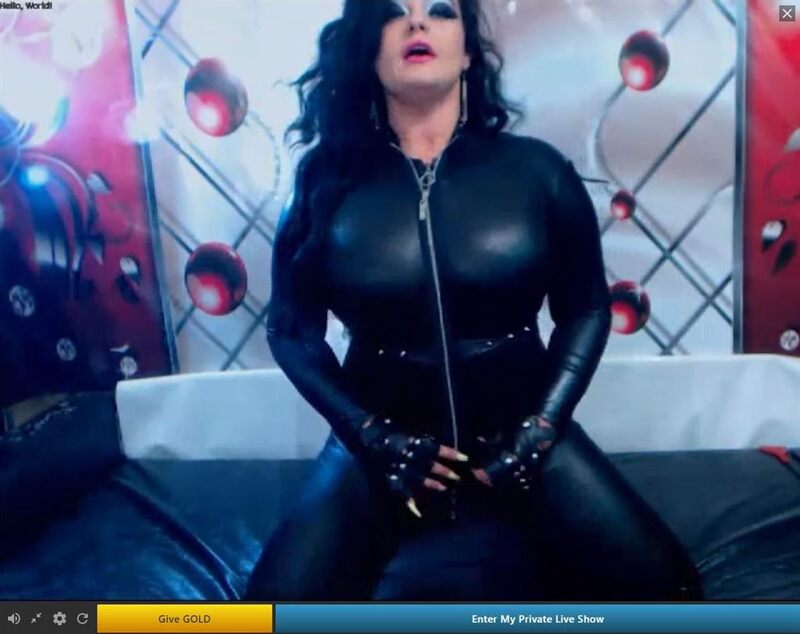 This is another reason that ranking Streamate.com higher has been difficult. With all it's positive points, there are some negatives that just can't be ignored.
Putting Your Money Where Your Mouth Is
There are 2 different currency exchanges that are going to happen on Streamate.com, payment for private/exclusive shows that are charged on a dollar per minute basis, drawn from your credit card.
The other method is Streamate Gold, their credit system, used for tipping, entering gold shows, and purchasing exclusive photos or videos from cam host homepages.
Each unit of gold is worth approximately 1 unit currency of the user's home country, assuming it's worth at least, or near a dollar, it would be a 1 USD, or 1 Euro to every gold unit.
Purchase of credits is only available to registered users, with valid credit cards on file.
Ways to Pay
A major credit card is required to register a free premium membership, mainly for age verification purposes.
Visa, Mastercard, Discover Card, and Paypal are the accepted payment options that are guaranteed to be accepted.
Prepaid credit cards from those major vendors are also accepted for all intents and purposes, provided they hold a sufficient account balance.
How Many XXX Lovelies?
Streamate.com is a site literally overflowing with choice, the number of models featured is excellent.
There are a bit over a thousand webcam models performing at any given time on average, from all over the world.
Streamate hosts over 40,000 kinky cam girls in total, who hold the ability to set up a daily schedule, or just log on when they like.
Your cup runneth over when it comes to the variety of kinky cam models, with female, male, and all the rest of those genders represented.
With a Streamate.com membership, you won't be finding yourself bored.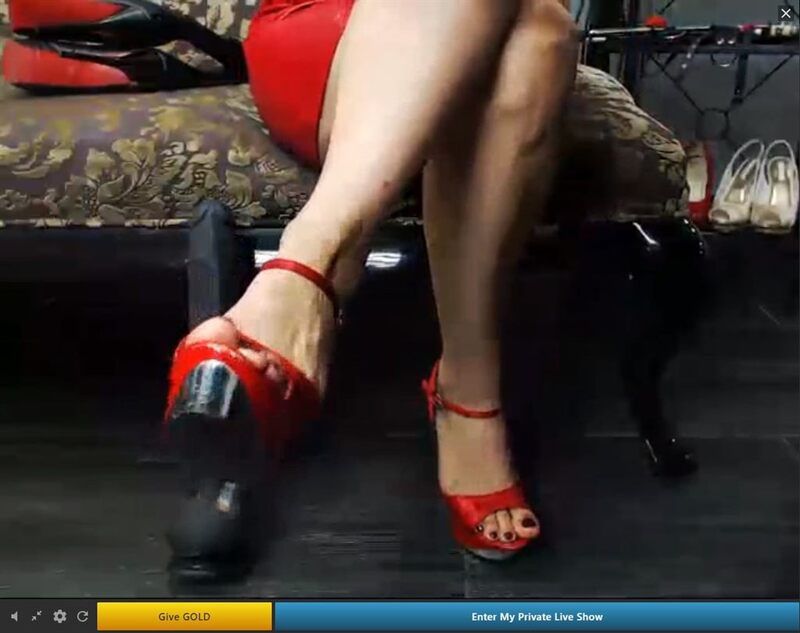 FAQ and Technical Assistance
The bottom navigation bar has several links, including the one to the FAQ section, which is extensive, but neglects certain questions a user might have, like the Party Chat debacle we already went over, and you're welcome.
Live support chat is a service offered by Streamate.com, but the quality is slightly iffy. One agent I spoke to didn't seem to have a strong grasp of English, and the responses/answers I was given were unhelpful.
The next agent took his time to give me a response, but it was comprehensive, and answered my question in great detail. It seemed like his response was copied and pasted, but he was able to understand me enough to relay the information I needed.
There is also support for technical issues, or billing queries through email, including a direct line to the support staff, mentioned earlier.
Overall, Streamate seems to take their customer service seriously enough to my tastes, but I'd err on the side of caution, and use prepaid credit.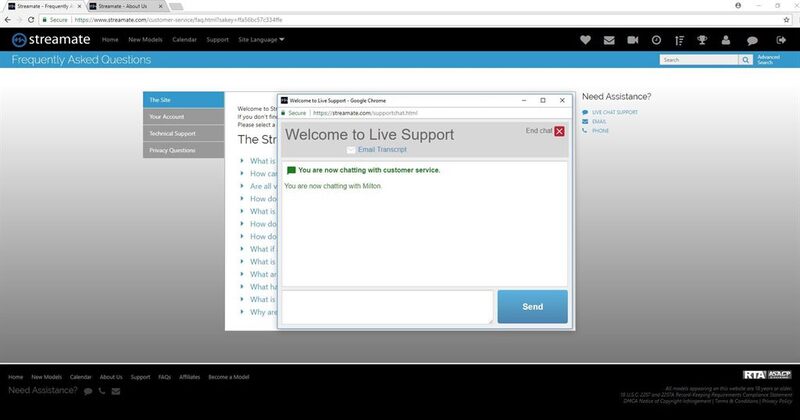 Positives & Negatives
Positives
👍 - Live thumbnail previews help you decide what rooms are worth entering.
👍 - The free guest chat requires no registration of any kind.
👍 - The UI is simple, and user friendly. Very well laid out.
👍 - Exclusive chat is just you and the exciting fetish models of Streamate, who are happy to oblige reasonable requests.
👍 - Cam2Cam is available in exclusive chat, which is more often than not a reasonable price increase from private chat.
👍 - Private chat can be joined at any time during a performance, for a dollar per minute amount, as can Gold Shows.
👍 -Gold Shows are priced very reasonably, a handful of Streamate gold gets you a 15 or so minute video session as a group.
👍 - Models can host a gallery of sexy pictures, if they have one, they'll usually have many, some hosting hundreds.
👍 - Free videos are also sometimes found on cam girl profile pages, as well as exclusive videos available for purchase.
👍 - Streamate doesn't want you to have to take out a second mortgage, or sell a kidney, so they have a daily spending cap.
👍 - The different variety of webcam models is sure to please any palette, from all over the world, available 24/7.
👍 - Prepaid credit cards are accepted as a payment method, provided funds are available.
Negatives
👎 - The 720p HD max quality cap, and the low quality cameras you see some models using is disappointing.
👎 - If you try to get off for free on Streamate.com, you will end up with achy balls.
👎 - Live thumbnail previews require registration.
👎 - Only one live webcam chat room can be viewed at a time.
👎 - A credit card is required for even a free membership, and the choices of card accepted are limited.
👎 - The Party Chat feature, which has been a part of Streamate's service since the beginning is very unclear in it's function.
👎 - A limited range of payment options are accepted.
👎 - The Live Customer Support feels inconsistent in the quality of service.
Summing it All Up
Overall, my experience with Streamate was less than stellar, but the strength in their consistency, and the quality of their models goes a long way to making up for the shortcomings.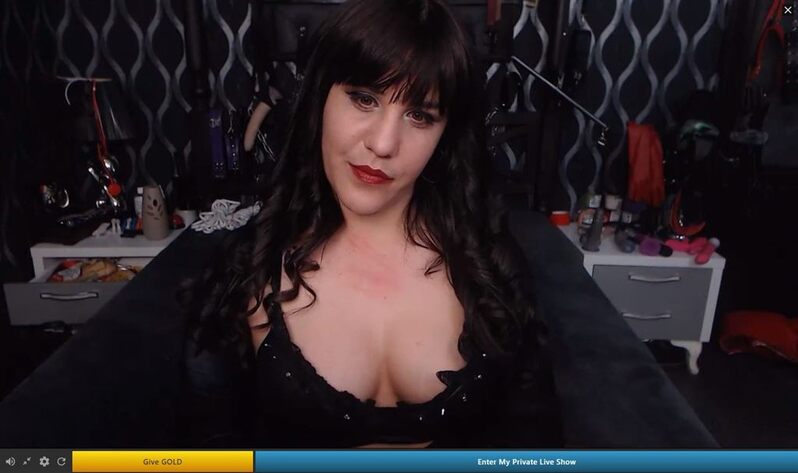 This IS a preferred destination if you're a fan of live fetish porn. The cam girls who cater to fetish lifestyles are very open, and often times very extreme in the kinks they're willing to explore with guests.
If you're looking for variety of webcam girls, if you're looking for the best live fetish porn, if you want transexual live nudes, guys, whatever you're looking for, Streamate.com is sure to have something to tickle your fancies, no matter what manner of fancies you happen to be packing.
Review of Streamate.com
- Reviewed by
hdcamsites.com