GenderBenders.com - FREE chat with lots of lovely ladyboys
Come in, pull up a chair and grab yourself a nice, cold beer. Or a bottle of Jack, whatever. Today I'm going to continue my slight detour in the way of all thing sex cams by reviewing another site for those who can't really make their mind up about what turns them on ... or they have made their minds up and it's a combination of the best of best both worlds, namely transsexuals. The site I'm going to be reviewing today is called GenderBenders.com. Not that good a name, eh? A little disparaging perhaps. It's also a little different to the other shemale cam sites I've reviewed so far in that not only can you find transsexual models there, you can also find transvestites.
Let's get the boring stuff out of the way, first. GenderBenders.com is owned by a California-based company called VSMedia. If that name has set a few little bells ringing inside your head, then well done, as it shows you have been paying attention. VSMedia are the same people who own Flirt4Free.com. The two sites look and function the same, so I'm hazarding a guess that we have another LiveJasmin.com / MyTrannyCams.com situation here, in that the models on GenderBenders.com are the shemale sex models from Flirt4Free.com. It's only a guess as it's very hard to prove as such, for reasons which I will come to later. Suffice it to say, GenderBenders.com has been around a long time - since 1997 in fact, although I couldn't hop into my time machine for a background check as the site doesn't allow archiving.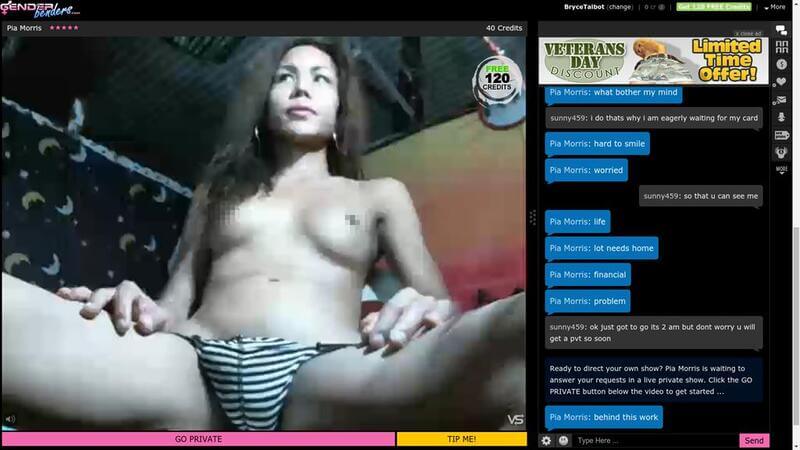 My considered thoughts
If your experiences at GenderBenders.com are anything like mine, then when you do hit the landing page, you'll be more than a little surprised. Pop over now (it's free to look around) and see if you get the same impression ...
... okay, are you back? If the thought that is rattling around inside your head is "where are all the fucking models?" then you've had exactly the same thoughts as me. I never saw more than six models online at one time, and I kept checking back every now and then just to see if I'd been incredibly unlucky, but the number didn't rise. I'll just go check again ...
... actually, nine online now. That's better than I've ever seen it, but it is still an incredibly small number compared to the other sites I've seen. There are a lot of models offline, but that only amounts to just over 100, yet when you use the search panel, 17,000+ profiles come up. All extremely peculiar, and a little dis-spiriting.
Anyhow, leaving aside my concerns with the lack of models, the entire site is laid out exactly the same as Flirt4Free.com. If you use the menu along the top, then the "Live Chat" button will connect you to a random tranny cam, and "Videos" gives you an extensive range of videos you can watch, for a fee. You can also browse the 17,000 or so sex cam models who are registered at the site, and access the site's support functions. There are also details of the site's VIP scheme, and the obligatory "Join FREE" button.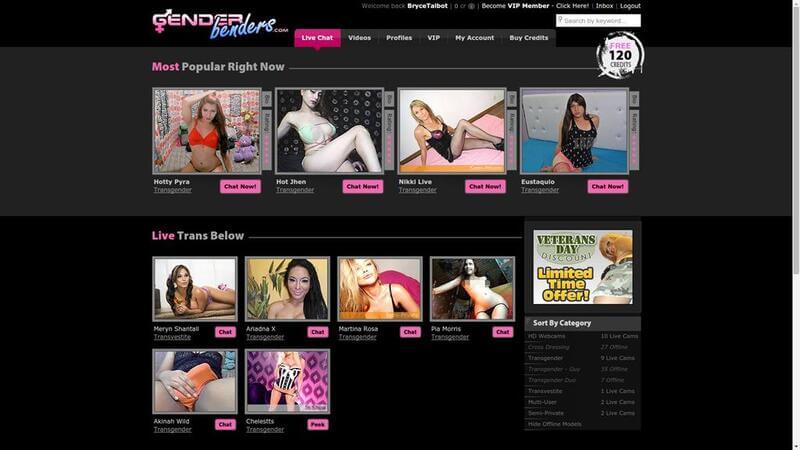 If you find a model to chat to, then bravo! You can chat for free for a grand total of two minutes, unless your selected she-male cam model has blocked "Basic" members (i.e. those without any credits) from chatting, as many do. Once your two minutes is up, you then have to wait another 24 hours before you can chat again. You can escape this annoyance by registering with the site. The chat rooms when you get to them are a bit ad-heavy, and often when you "free" chat the model simply ignores you. There are also limits to how big you can make the cam window, depending on your current level of membership, and it has a habit of resizing itself without warning.
Anything else?
Most of the extras are reserved for those who don't mind paying the $39.99 monthly fee. VIPs get access to special video and photo galleries, the ability to record their live shows for repeat viewing, and 120 credits free to play with each month. The rest of us ordinary folk get nothing.
Becoming a member
Well, I think, if you've read my reviews of the shemale sites I have reviewed so far, that you know what I am going to say next! That's right, if you're a member of Flirt4Free.com, then you're already a member of GenderBenders.com! If you're not, then I suggest you join Flirt4Free.com and just check out their "Transgender" section, and you will find exactly the same models online. Whichever you choose, just find a "Join" button and once clicked, enter your club nickname, password and email address (it must be a valid one) and click "Create Free Account".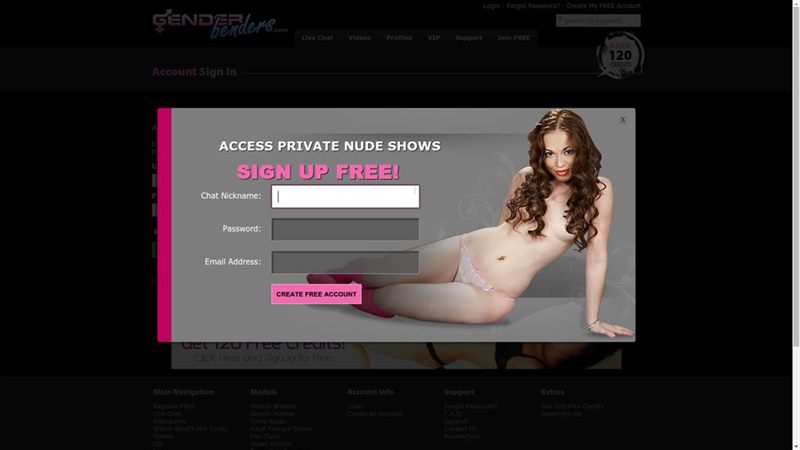 Let's get chatting
Quite a few chat options:
Standard - one-on-one live video chat with your chosen performer (30-60 credits/min)
Premiere - same as standard but with a higher class of model (70-120 credits/min)
Voyeur - watch someone else's one-on-on show, but with no interaction (10-40 credits/min)
Super Voyeur - watch up to six cams in voyeur mode at once (10 credits/min per cam)
Multi-User - one-on-one chats with more than one punter paying (10-120 credits/min)
Combo - join a one-on-one chat if the punter allows you to (40-80 credits/min)
Semi-private - Rooms where no free chat is allowed (30 credits/min)
Feature shows - shows with porn models (30 credits/min or free to VIPs)
Group chat shows - a show the model performs if enough people chip in the price they set (negotiable)
Offered shows - shows where you can negotiate with the sex cam tranny to perform certain acts (negotiable)
Party chat - like free chat but you can tip the performer as the show is in progress.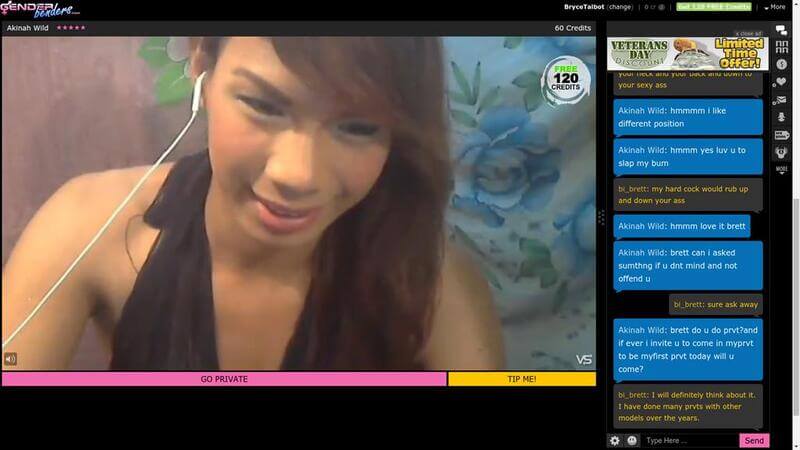 Quality of video
I wouldn't say the cams are brilliant, but I wouldn't say the cams are terrible either. You just have to strike it lucky I guess. The action is always smooth, but usually at the cost of some clarity. HD cams and SD cams look the same to me at this site.
Putting your money where your mouth is
One credit = $0.10, more or less. You can buy credits in packs of 300 for $29.99, or 600 for $59.99 (you can save yourself a cent if you just buy two packs of 300). if you want to become a VIP, it's $29.99 a month. All purchases come with 120 extra free credits.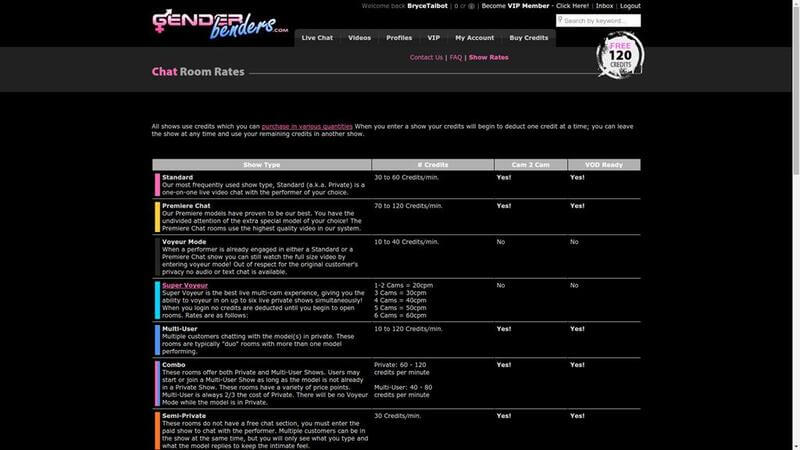 Ways to pay
GenderBenders.com thinks plastic is fantastic. MasterCard, Visa, JCB, Discover and Diners Club will do nicely.
How many xxx lovelies?
The search panel says 17,000+, put I think the true number is much closer to 120. Only a handful are ever online at one time.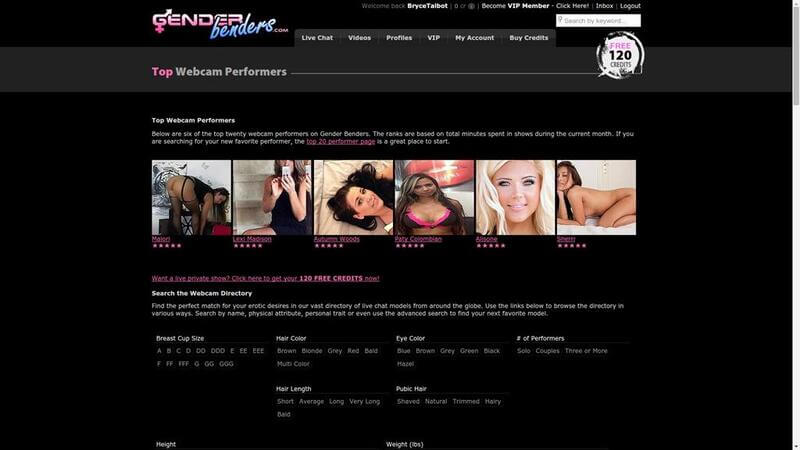 Help when needed
The support is very good, and there's even a mailing address. You can use the numbers they provide (both US and non-US), the email address, and there's a contact form as well.
Positives and negatives
Positives
✔ - Lots of chat options.
✔ - Erm ....
✔ - Give me a few minutes, won't you?
Negatives
✖ - Lack of models
✖ - Expensive
✖ - Not much "Free" content
Summing it all up
You know me, I'm a straight up guy. If you want Walt's Words of Wisdom, then I recommend you sign up for GenderBenders.com mainly because you're also signing up for Flirt4Free.com as well, as you can see exactly the same models under their "transgender" tag. It'll also give you something to do as you wait for the models to appear.
Review of GenderBenders.com
- Reviewed by
hdcamsites.com