Asians247.com - Top quality Asian sex shows for you to enjoy
Greetings, come on in and make yourself comfortable. I assume you are all nice and chilled ... or chillaxed as the kids say these days. Do they still say that? Sorry, I am a little out of touch with the young folk of today. One thing I am certainly not out of touch with are HD Cam sites of course, which I assume is one of the reasons that you are here. The other reason I assume you are here is because you have a particular taste for Asian sex cam models, and the super hot sex shows those certain performers are usually willing to put on for you, for a small contribution, of course.
If you can cast your minds back to my wonderful review of LadyboyCams.com, you'll remember that I commented that it was a site very heavy with Asian performers. I am afraid I have to hold my hand up and confess that on this occasion I have been a bit of an ass, especially with my usually impeccable detective work. It turns out that the shemale site I mention above is a clone site of the site I am reviewing for you today, namely Asians247.com. This rather neatly explains why LadyboyCams.com is more than a little heavy on the Asian side! I hope you will forgive my laxity, as I continue with the review.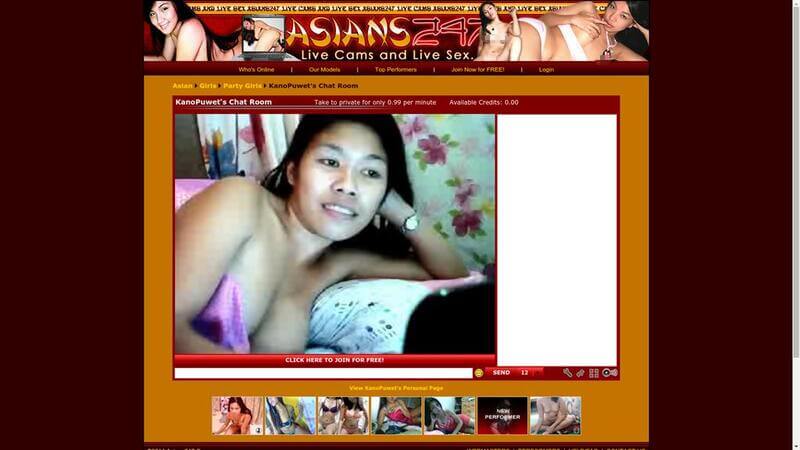 My considered thoughts
My first mention in my review of the shemale-only version of Asians247.com was the lack of sex cam models available there, despite the site claiming over 32,000 models were registered, and that there were over 4,000 active. I guess now that most of those figures were inclusive of the sex cam models at Asians247.com and any other clone sites the same guys have the pleasure of running. Even at 4,000 that still seems a little high to me, but you will certainly find around 200 online at any time you may choose to visit, which should certainly be enough to keep you occupied.
Asians247.com sprang into being in 2007, and you can tell this as it really hasn't been updated since. That really is quite unforgivable - the internet is a pretty speedy place when it comes to change, and it's never a good idea to allow a site to stagnate for so long. It really need to be chopped to bits and reassembled.
There's a pretty useless menu just under the site's boob-filled banner, which contains a link to the home page, and a link to the places where you can join up, log on or buy credits. You can also see who is currently top of the Asian sex babe charts, as voted by the users of the site.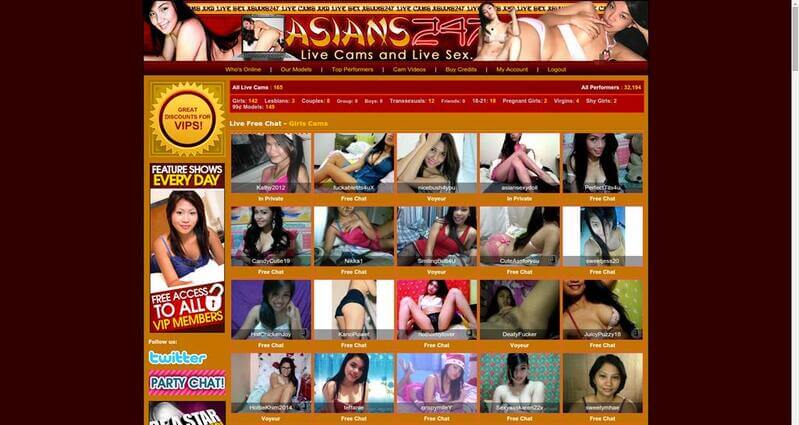 There's the usual menu screen to fill the rest of the page. The thumbnails are not very explicit (as you may understand is common with the better class of adult chat sites) and only give the Asian sex babe's performer handle and what she is currently up to or available for. If you hover your mouse over the thumbnail, you will see a little camera icon which, if you click, reveals a still image from the x-rated model's cam.
The cam rooms themselves are a little bit more useful. You get a decent profile, some pics and vids (you have to pay for the more explicit ones), and reviews and ratings from other punters at the site.
Anything else?
If you want to go private, you need to sign up, and by signing up you gain access to a very big library of recorded sex shows and other items for your viewing pleasure, although you do have to pay for them. You can become a VIP at the site and receive quite a few extra goodies. This will cost you $29.99 per month, and you also get 10 percent off all your credit purchases.
Becoming a member
Not difficult. You only need a username and password, and a valid email address. Once you've entered all that, you can just reply and confirm your email address. If you've already done this at LadyboyCams.com, then you don't need to do it here.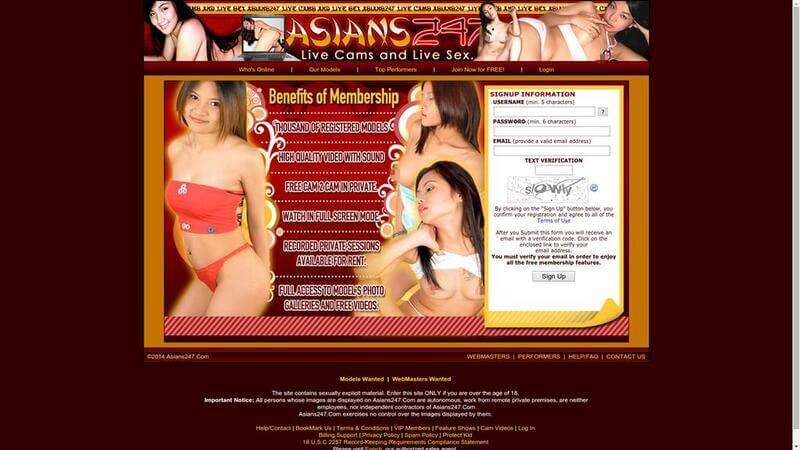 Let's get chatting
Free chat won't cost you a bean, although please be aware that some models only allow registered members to chat with them, although only a very small handful. There's a special section for "99c" models, which is for models who only charge $0.99 a minute to chat, which seems to be most of them, happily enough. You can also view a live show that's already in progress for the same fee, if the x-rated chat model allows you to.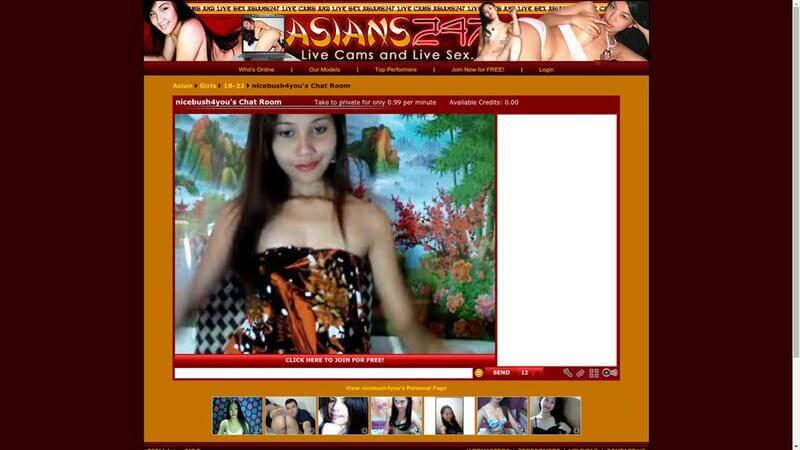 Quality of video
To be fair, Asians247.com does not really claim anywhere that the cams are "wonderful HD", as that would be a lie. The quality of some of the cams is quite dreadful. Going full screen on many of them is a joke.
Putting your money where your mouth is
It is basically one credit per dollar, or one dollar per credit, whichever way you want to say. Packs are available at $29.95, $49.95, $79.95 and $99.95. VIP status is achieved by paying $29.95 a month.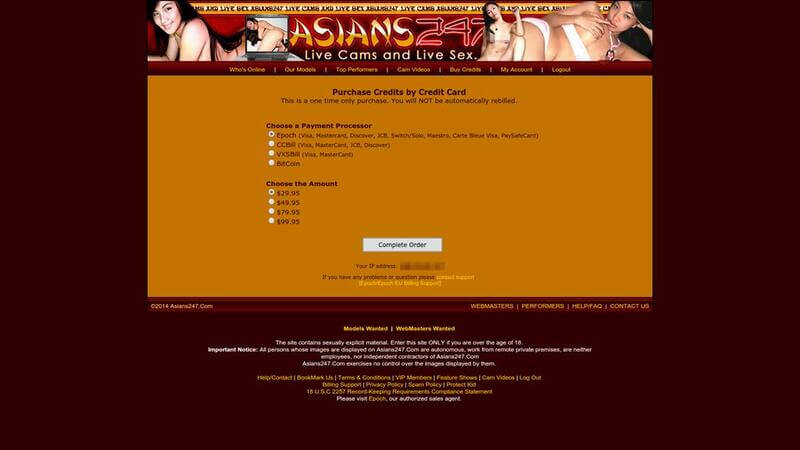 Ways to pay
There are more payment options here than at the Shemale site, which is peculiar. Asians247.com even has a "anonymous" possibility if you are lucky enough to live in a region where you can buy Paysafecards. Otherwise, all the popular forms of plastic are available for use.
How many xxx lovelies?
There are 30,000+ profiles registered, but the "active cams" figure is closer to 4,000. You'll typically find around 200 xxx cam babes online at any one time.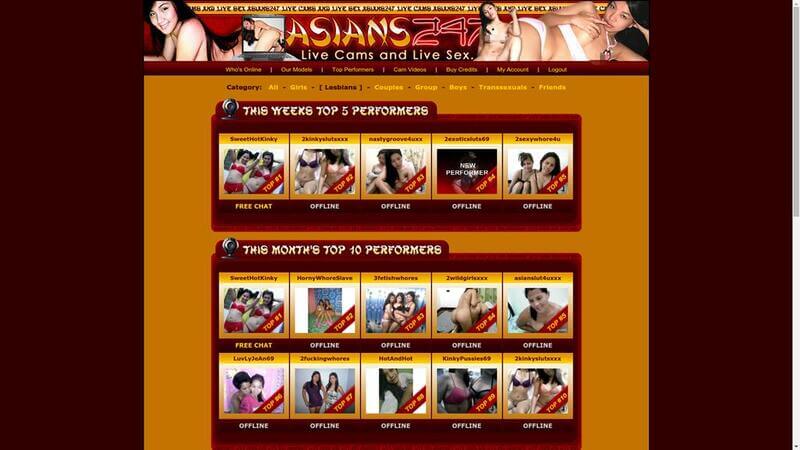 Help when needed
There is a phone number given for support, and email addresses and a contact form. The only thing the site is missing really is a live chat feature.
Positives and negatives
Positives
✔ - Nice, sexy cam babes willing to do dirty things for only $0.99 a minute.
✔ - Access to 400,000ish pay-per-view videos.
✔ - The rating and review system is very useful.
Negatives
✖ - Poor quality cams.
✖ - The site design is not very appealing.
✖ - Some of the cams ARE left on 24/7, so you see plenty of sleeping models.
Summing it all up
I guess the main selling point of Asians247.com when it comes to the world of x-rated cams in general of any description is that the price of $0.99 is very cheap, but then again the principles of "you get what you pay for" apply here as the cams are pretty poor. You'd have a very decent site here if it was redesigned and the cams were better, but then again the site would probably want to charge a lot more! Get in there while it is still at bargain basement prices!
Review of Asians247.com
- Reviewed by
hdcamsites.com