LadyboyCams.com - where you'll discover all the sexiest trannies
Hello there. Time once again to start on one of my extremely useful HD Cam Sites reviews. I hope you are in appreciation of my efforts, and you appreciate all the sexy activities all these lovely ladyboys are making available for you. Anyhow, enough fishing for praise here - it's not really my kind of thing - let's get on with another review for people who love "The Best of Both Worlds", which - coincidentally - is the tag line of the site I have been investigating for you for the past couple of hours. And that site is LadyboyCams.com.
This seems to be another very heavy Asian shemale site - not in the way that there are many heavy Asians here! I mean, the vast majority of the shemales at this site are Asian, even though the site is based in Nevada. It came into being in 2004, but really meandered along with not a great deal of action for seven years. It was then given a heck of a re-design to bring it (almost) up to the standards expected of a decent cam site at the time. Nothing seems to have happened to the site since, which means it has fallen back behind most of the better-designed porn cam sites available.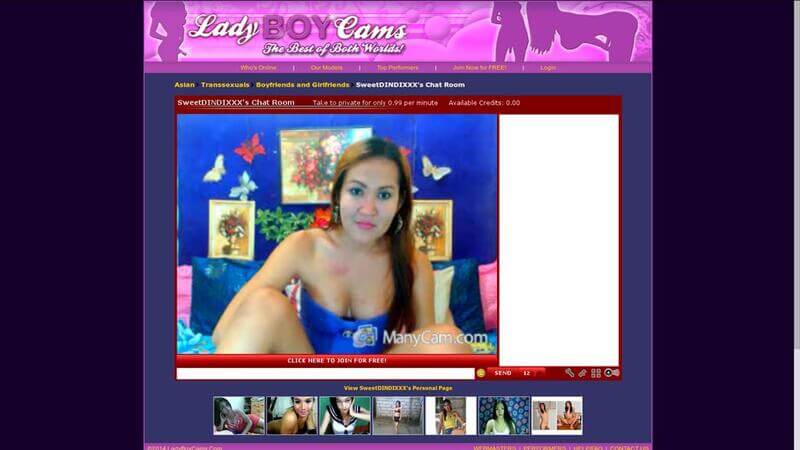 My considered thoughts
The number of models available to chat with is the first thing that needs to be mentioned, as there does not seem to be that many about. We are not down to the single figures I have seen at some other ladyboy cam sites I have reviewed recently, but the average here seems to be around twenty, which cannot be said to be very good. There is a "profiles" section on the menu, but when you click that you are shown 30,000+ profiles, and you can clearly see not a great deal of those are actually transsexuals. The number of performers given on the home menu screen in just over 4,000.
As I mentioned in the introduction, the site has had a little bit of a redesign in 2011, but even then it was not the best redesign of a cam site to bring it up to scratch, even by 2011 standards. So, as you might imagine, by 2014 standards it does not look good at all. The colour scheme is very garish, and there is too much of the flashy graphics side of design that makes the site look even more out of date.
The menu along the top gives you access to the home page, "the models" (which erroneously lists 30,000+ models as I've stated previously), the top ladyboy cam performers as decided by users of the site, and options to sign up, and log in. Once you are a member you can access a few videos of live cam shows that the models have already done, for a fee around the $5 mark.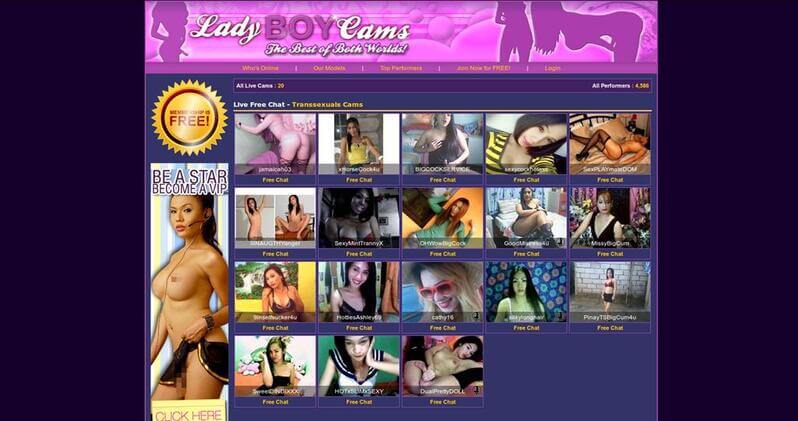 The models are arranged in little menu thumbnails as you are probably accustomed to, unless this is your first time at an adult sex cam site, shemale or otherwise. You can see what kind of chat the ladyboy is currently available for, and you can access their profile if you so desire. You can try the mouse hover tactic here as well, but instead of switching to a cam view, you just get a little "camera" that when you click gives you a still image of the cam action.
Anything else?
You need to sign up if you want to go private of course, and once you sign up you can access those recorded sex show videos I mentioned earlier. If you want, you can pay an extra monthly fee of $29.99 to become a VIP at the site, for which you receive access to special, VIP-only videos and pictures, and ten percent off the cost of all your paid porn cam activities.
Becoming a member
Nice and easy. Choose your username and password, and type in a valid email address. You will also need to enter an anti-spam verification code. Once you have confirmed your email address via the link, you are all set.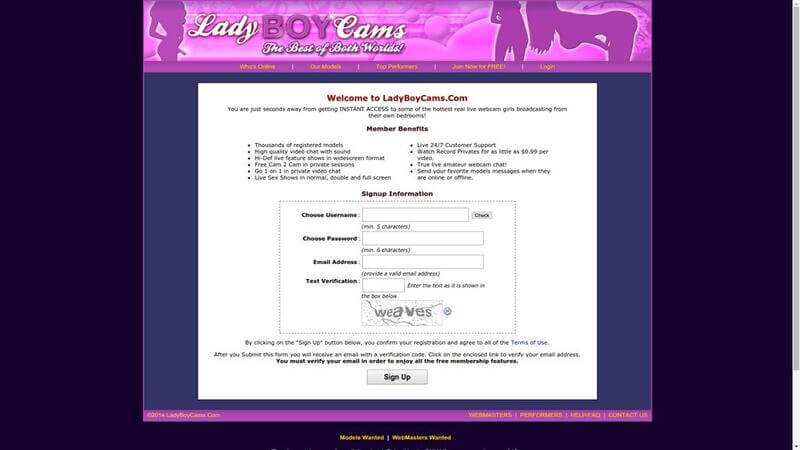 Let's get chatting
Free chat costs nothing of course, although some models will slap a "no free users" ban on - only usually for non-registered customers. You can enter private chat for the rate advertised, which generally seems to be around the $0.99 mark, and no sex cam model ever goes above the $1.99 a minute mark. There is also voyeur chat where you can watch a show that is already in progress, albeit for exactly the same fee.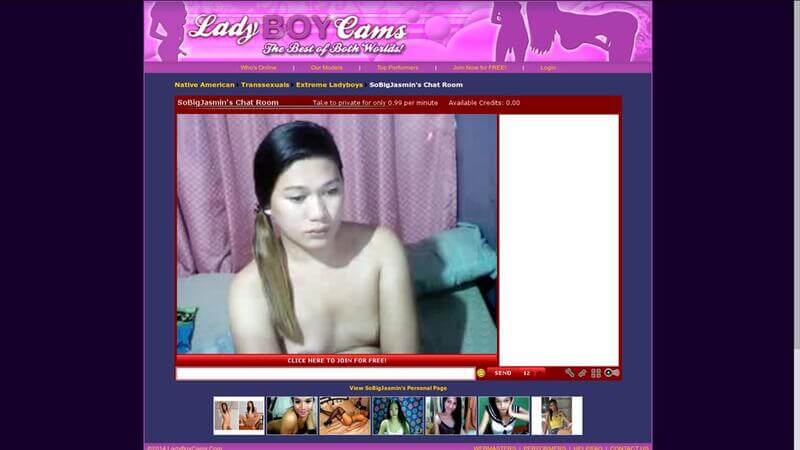 Quality of video
I almost did not put this review on the site, as although the site mentions "HQ" quality video, it is generally very poor indeed. Trying to go full screen is not advised, as the cam just becomes a huge blurry mess.
Putting your money where your mouth is
This is a one credit for one dollar deal, and you can buy packs in size from $29.95 to $99.95. VIP status is achieved by paying the $29.95 fee for the extras including the 10 percent discount.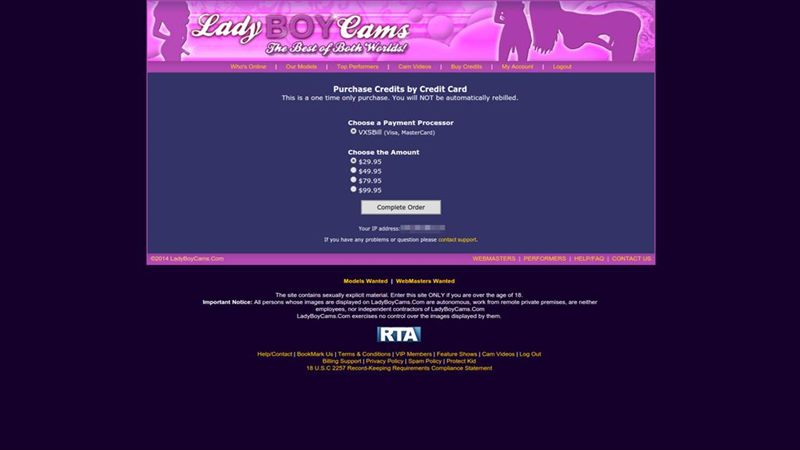 Ways to pay
You only have the options of either MasterCard or Visa.
How many xxx lovelies?
Have a wild guess really! 30,000+ profiles, 4,000+ performers, 20-30 online. The true figure is in the 20 to 30,000 range, then!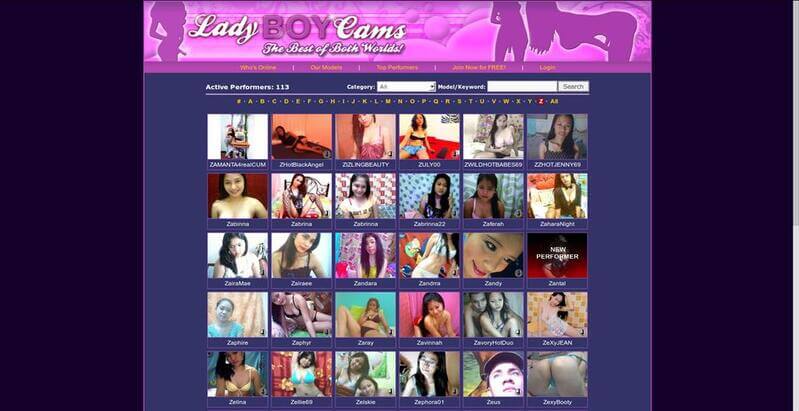 Help when needed
There is a telephone number provided, but I don't know how successful you would be if you chose to ring it. Other than that it is emails only. There is no live chat option.
Positives and negatives
Positives
✔ - The price of $0.99 a minute is very nice.
✔ - You can watch some videos if you have never heard of free porn video sites.
✔ - The models are generally friendly.
Negatives
✖ - The cam in full screen mode is awful.
✖ - There needs to be many more ladyboy cam models on the site.
✖ - The site needs to be redesigned to make it a more positive experience for the viewer.
Summing it all up
The best thing about LadyboyCams.com is the fact that the price for 1-on-1 chat is very small - less than $1 a minute for most of the models, and even less if you are a big cam viewer and go for VIP status. Unfortunately it's also the only thing that is good at LadyboyModels.com as well. The cams are not that brilliant, and there really are not enough models for this to qualify as a good cam site. If you're not bothered about such things as quality and quantity, and you like Asian ladyboys at a very nice price, then go for it!
Review of LadyboyCams.com
- Reviewed by
hdcamsites.com