Shemale.com - the top shemale site where payment can be made by PayPal
Well, I am certainly glad you could once again find the time to join me. As you are here, I understand that you're the type of person who gets turned on by shemales. If that is the case, then I have some excellent news for you, because the site that I have been appraising over the last couple of hours or so really should - in most ways - suit you down to the tranny ground. It's the site with the domain name I'm guessing all other adult tranny cam sites would kill for, namely Shemale.com.
My detective work has really let me down a little about this site, as there does not seem to be a great deal of information about it to hand. Suffice it to say, the domain name Shemale.com was registered a very long time ago - 1997 to be exact, although that's as far as my research can take me, so it may even be older than that. I think it would have been a domain name that was snapped up pretty quickly! Anyhow, back in 1997 it was a shemale portal, only a message chat site as I don't think the technology for cams was affordable back in the days when the internet was still in black and white! That didn't seem to last long, and the site was snapped up by someone else, who used it as a forwarding domain. This was the norm for Shemale.com until it was bought up by a collection of shemale models who wanted to establish a sexy tranny-only cam site, which is what they have done. That was 2007, and the site has been putting tranny lovers in touch with shemale porn performers ever since.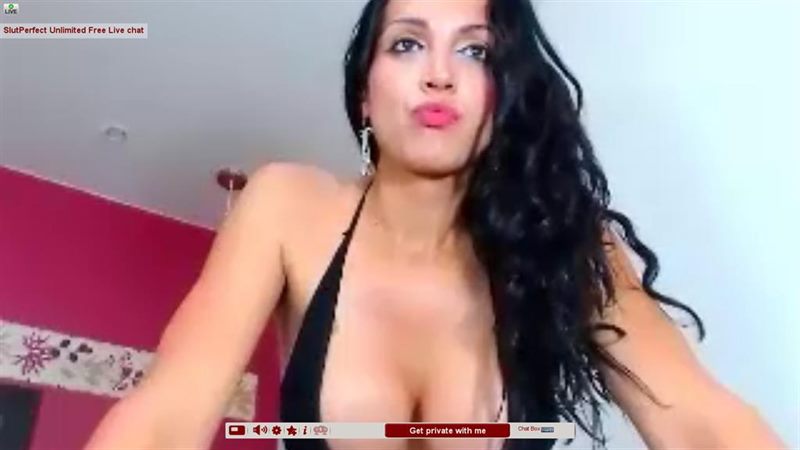 My considered thoughts
With Shemale.com you think you are entering a slightly different world than you would for other, typical sex cam sites, even tranny ones. There's more of a general website vibe about the place, rather than just a portal for multiple tranny sex cams. How you feel about that is of course up to you, but I quite admired the different approach, especially as everything at Shemale.com is for free, aside from the private 1-to-1 chat with the sexy tranny models and the videos. You don't even need to register. The landing page gives you a taste of possibilities by including one live cam view of a model currently available for free chat, and several pics for performers who have blogs there. There's plenty to view and digest at the site, and I say "bravo!" for this attempt to do things just a little differently.
Of course, if you are only here to view sexy tranny cam models, then you're going to want to be clicking on the "Webcam Hosts" menu item. This takes you through to the typical webcam selection screen. The thumbnails are nice and big, and you only get to see six sex models per menu page. There is a reason for this, as you will discover later in this review (and you'll have to work it out for yourself - I'm in a beguiling mood today!). The cam views are thumbnails unless you hover your mouse over them and then they switch to the live cam view (if the model is available for public chat), or a preview video if the model is in a private chat and she has recorded one. You can also find out a few morsels about each performer if you do this, and you can access the models' bio and any photos she may have sent up to the site in the same way.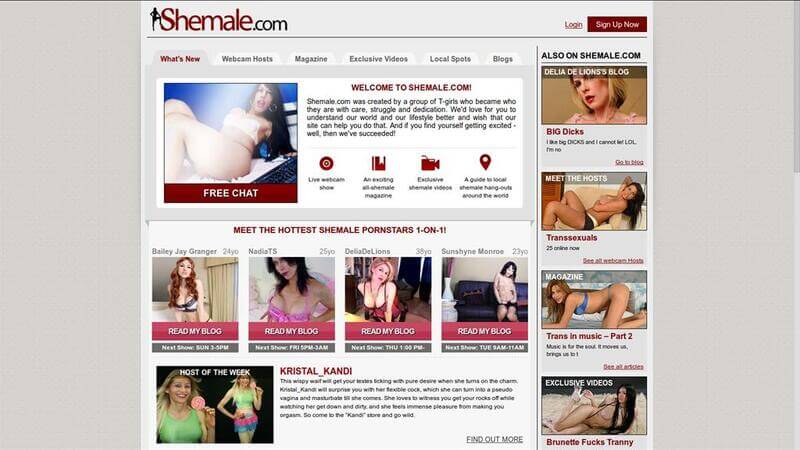 And that's really all there is to it on the webcam front. There's a disappointing lack of other cam options in this respect as the only chat options are the free chat which at least is genuinely free and you don't have to register (although you do from time to time get an annoying pop up that asks you to register, but that's understandable as you shouldn't really be using the site for free all time and these guys do have to make money to stay in business) and the private chat if you want things to get interesting. The other options do go some way to make up for this lack of sex cam variety, as I will explain in a bit!
Anything else?
Yes, lots. If you like to read and you are genuinely interested about the tranny lifestyle, then you will very extremely happy with what's available at the site. There's a "magazine" which really is a collection of short blog posts about all aspects of the shemale lifestyle. A few of the porn performers have blogs which you can keep in touch with, and there's even a guide to tranny clubs around the world if you fancy getting into the shemale scene for real. You can view a few sexy shemale videos for a low price as well, plus one lucky ladyboy model is featured as the "Host of the Week" for the site. Lots to keep you totally entertained.
Becoming a member
Membership is only necessary if you intend to spend money at the site. Most of everything I've described thus far is for free and you don't need to register. If you do want to register, then you are going to need to spend some money, as the final step of the registration process is to buy some credits, and at least 25, which will set you back £25. The first two steps of the process are very easy to complete - step one, just your username, password and a registered email address. Step two is to fill out a profile about yourself, although you can leave most of this blank if you want. Step three is the time to whip out your credit card.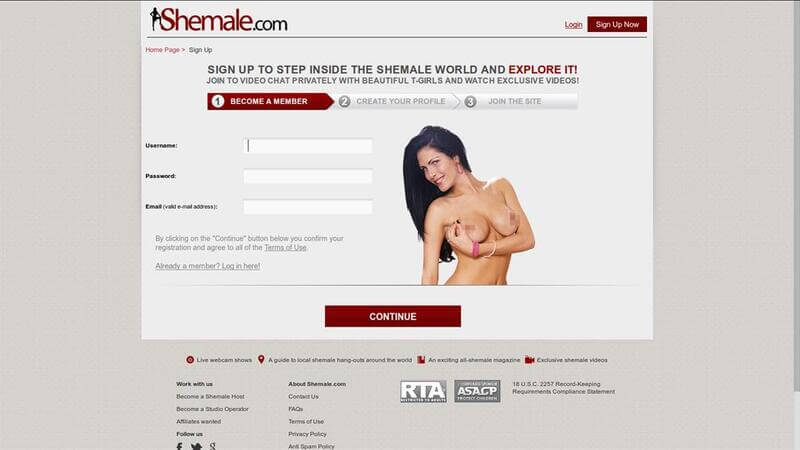 Let's get chatting
As I said, at Shemale.com there are only two chatting options - public chat which is free and doesn't require registration, and private chat where you can ask the performer to go the extra mile (or two) for which you need to be registered, and to pay.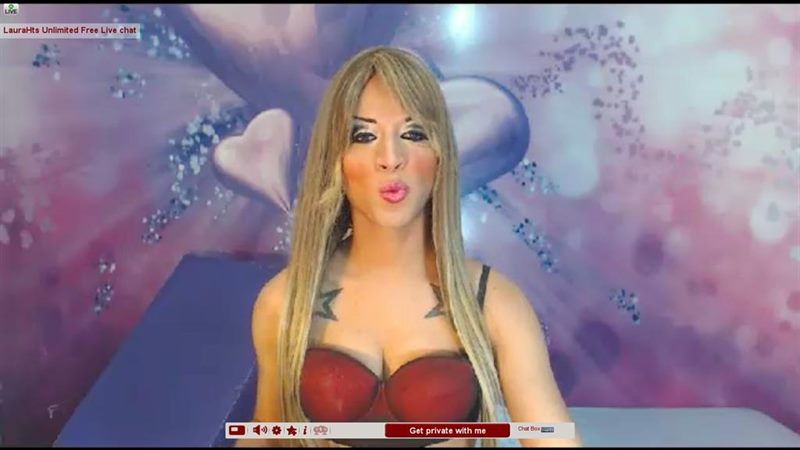 Quality of video
The HD is a bit hit and miss at the site, and can be a little blurry. Not sure if this is down to the cams themselves or Shemale.com's servers. You might strike lucky if you keep searching and find a model who you can stream in lovely HD.
Putting your money where your mouth is
The payment structure at Shemale.com is about as simplistic as you can get. You buy one credit for £1. This is handy as you can keep a strict eye on just how much you are spending at the site. You can buy credit packs for 25, 50, 75 and 100 credits. The models generally charge 0.99 to 5.99 a minute to perform.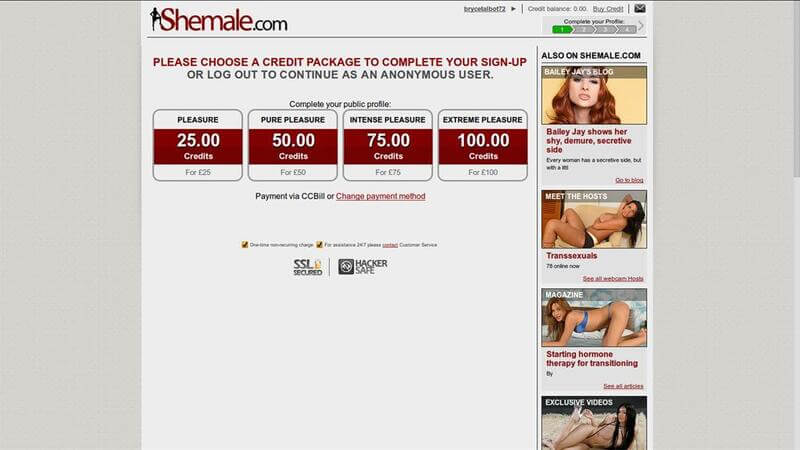 Ways to pay
If you like to keep your webcam experiences discreet, then at Shemale.com you can use PayPal to fund your account via EPOCH. The only other payment options are credit or debit cards, via CCBill or EPOCH again. If you have a card from any of the main providers, then you will be fine.
How many xxx lovelies?
Sources say that only 400 or so sex cam models are registered at the site, which makes for a bit of a poor choice, as at times there are only a couple of dozen trannys online, and most of them are in private chat. If you like a lot of variety, then you might be a bit stuck at Shemale.com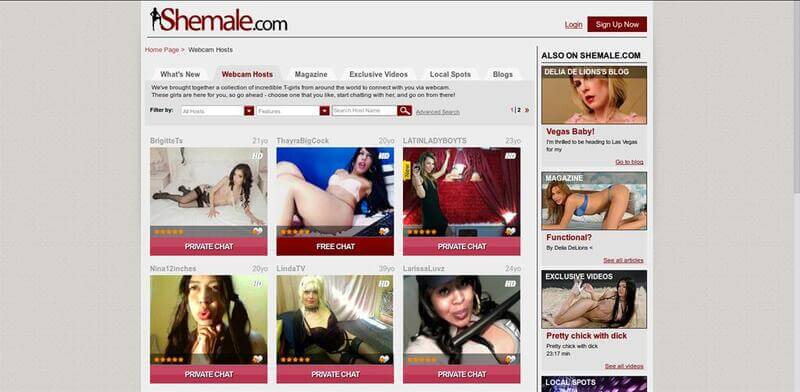 Help when needed
This is a real let down, as the only contact option for support is email. No telephone numbers are given, and there is no live chat functionality. Very poor.
Positives and negatives
Positives
✔ - The site has more of a total community vibe, rather than just sex shows
✔ - You can read about, view, and get 1-to-1 with lots of tranny porn stars
✔ - The simple pricing structure makes sure you always know just how much you are spending
Negatives
✖ - The lack of support options is a major misgiving
✖ - You have to buy at least 25 credits in order to complete your registration
Summing it all up
The variety and other things to do at Shemale.com is the main positive about the site, but there are plenty of little "niggles" that distract from the whole cam experience, which is a shame as I feel Shemale.com is trying to do something positive, rather than just attempting to leech as much money off you at it can, which is the impression you certainly get at other, lesser sites. It would just be nice if there were a few more models to choose from, and the support options were better. I'm not saying that Shemale.com is bad - far from it - just that with a little effort, the people who run the place could make it a lot better. If you're more than someone who just wants to view shemale models in hot sexy action, then I would definitely recommended Shemale.com to you.
Review of Shemale.com
- Reviewed by
hdcamsites.com