Fancy some FREE chat? Then head to Sexier.com immediately!
And where might you have been? No, don't tell me, I'm only asking to be polite and at to least appear interested. The important thing is that you are here now and that you've decided to do something important in your life for once, like read one of my excellent HD Cam Sites reviews. So, crack open a bottle of beer, open up that bucket of fried chicken, and read when I've got to say about Sexier.com. And watch out for grease on your keyboard.
I don't know how long you have been on the internet, but I was kind of late on the scene. All that blah blah blah at blah blah dot com didn't mean a thing to me until about 1999. So, I'm pretty amazed (as so should you be) that Sexier.com has been around since 1997. It was founded by those big city boys in New York City, from where it still runs, presumably, and has been providing xxx content for the discerning sex cam addict (and a few less discerning I assume) since then. That's well over fifteen years now, which is pretty good going. So, what do I think of the sexy (and not so sexy) goings on at Sexier.com? Well, hopefully you'll take the time to keep reading, as in that way, you will find out.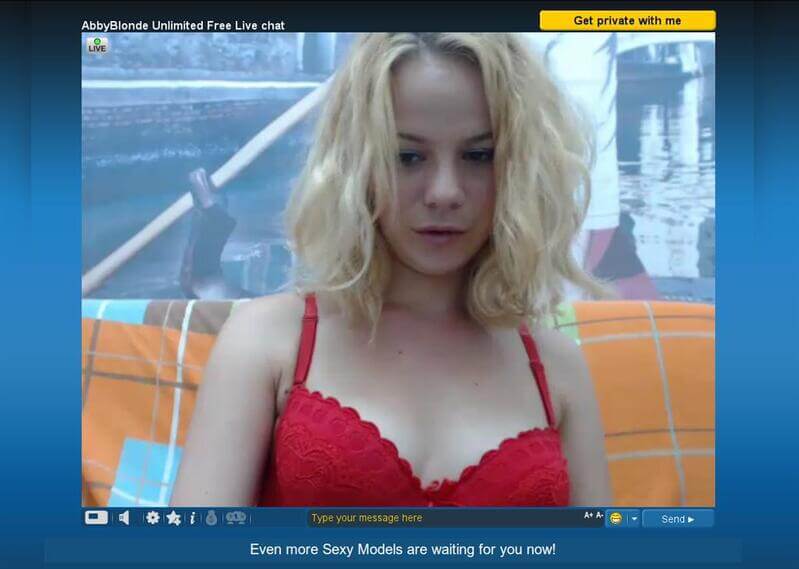 My considered thoughts
Now, as you've probably guessed by now I'm the type of guy whose first impression is usually the correct one - it really saves my time. And, to be honest, my first impression of Sexier.com is a pretty good one. The first time you visit you're presented with one of those disclaimer banners, for what they are worth, that will ask you to confirm that you are over 18 years of age. That should give you a pretty good idea of what's coming up, and not just all the juicy x-rated babes just waiting to get chatting with you. Sexier.com askes that question as unlike most other xxx cam sites you can have a good old nosey around the site without signing up for anything. You don't even have to supply an email address, never mind fill in all your credit card details. You can even indulge in a little good, old-fashioned free chat with any of the sexy ladies who are willing to talk to you. You cannot see anything or experience anything that's a little too raunchy, as you might expect, but you can certainly join in with the free group chats, browse the hot babes and see their galleries and stuff, all for absolutely nothing.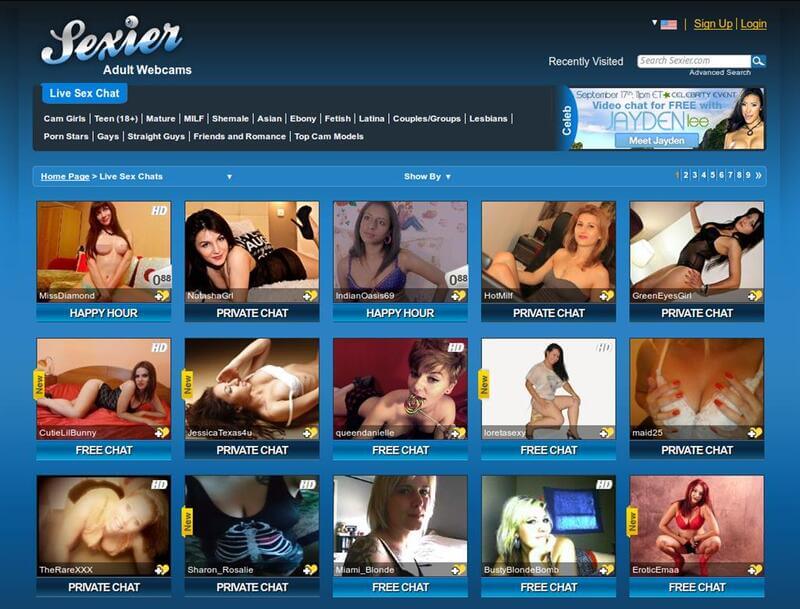 The initial screen looks a little like a chat forum (which, I suppose, is what Sexier is, although I doubt you'll be discussing the latest episode of Game of Thrones or how your favorite NFL team has started the season). All the xxx models are organised into particular categories, and there are plenty of outlandish categories for those who like something a little different from the normal xxx activities. The MILF forum is incredibly well populated, for example.
The leading category is of course girls, and full of lovely x-rated ladies it certainly is. The site says that 60,000 models are available, but I do wonder just how many of those 60,000 models are still leading an active sex life on Sexier.com, as only 1,000 or so seem to be online at any one time. I have had a look around other xxx cam review sites and most agree that a figure of around 10,000 is a fair estimate of how many x-rated lovelies are available at the site. Still, 10,000 lovely ladies should be enough to satisfy anyone in an evening (and if it isn't then I suggest that you seek help immediately). Many of the sexy babes will be happy to chat with you for nothing, but a few others are only there for the sexier side of life, and you can only see that if you're willing to splash the cash.
Anything else?
The one thing that really makes Sexier stand out from the xxx chat cam crowd is the fact that it's the first x-rated cams site to accept PayPal as a payment method. Now that will come as music to the ears of those sex cam model fans who like to spend their time seeing what buxom beauties they can discover, but have another half to keep happy as well. There's nothing more discriminating than seeing payments to "Sexier.com" (or at least can be traced back to Sexier.com if a little detective work is undertaken) on a credit card or checking account statement, so you can use PayPal as a more discreet payment system.
Sexier.com has a few genuine porn stars available to talk to, and hosts sex chat shows with porno modes, such as the breathtaking Jayden Lee.
Becoming a member
There's no real 'membership' at Sexier.com. You can either browse the site for free, or you can sign up with your valid email address and address the sexy babes directly by funding your Sexier.com account with cash and seeing what the naughtier side of the site has to offer you. You cannot sign up with the site unless you buy some Sexier.com credits, and the minimum spend is $25, which will allot you 35 credits, as credits are typically one credit per $/£/€1, with a 10 credit bonus every time you buy some. Note that the PayPal option as mentioned above is not readily apparent - when you come to pay click on "Pay Via Epoch", which will then take you through to a separate payment page, and from there the PayPal option will appear.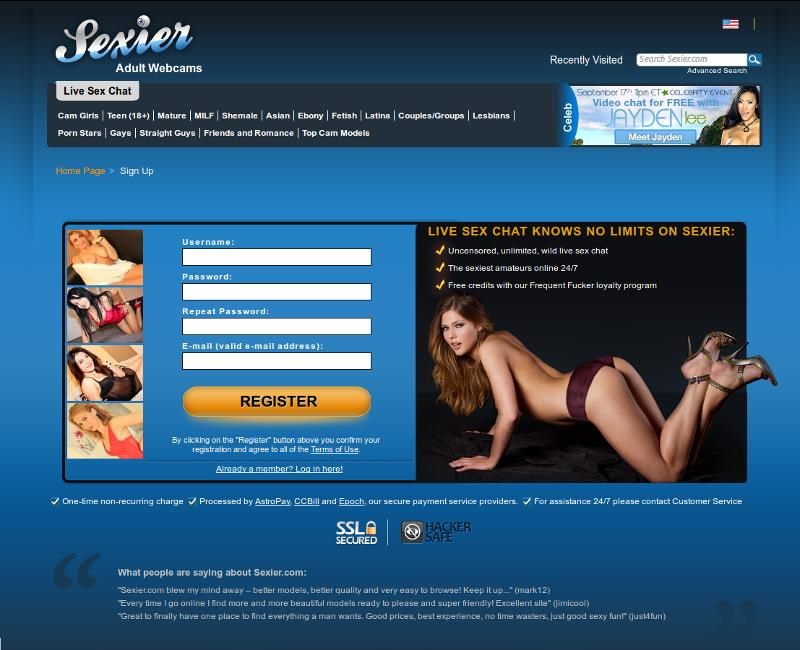 Let's get chatting
There are three xxx chat modes available, namely the "Free Chat" which you of course do not have to pay for, and the "Private Chat" which of course you do. As a halfway house there is the "Happy Hour" option which means you can take a quick look at someone else's "private" show for a reduced rate. You won't be able to interact with the hot babe in a "Happy Hour" session, though.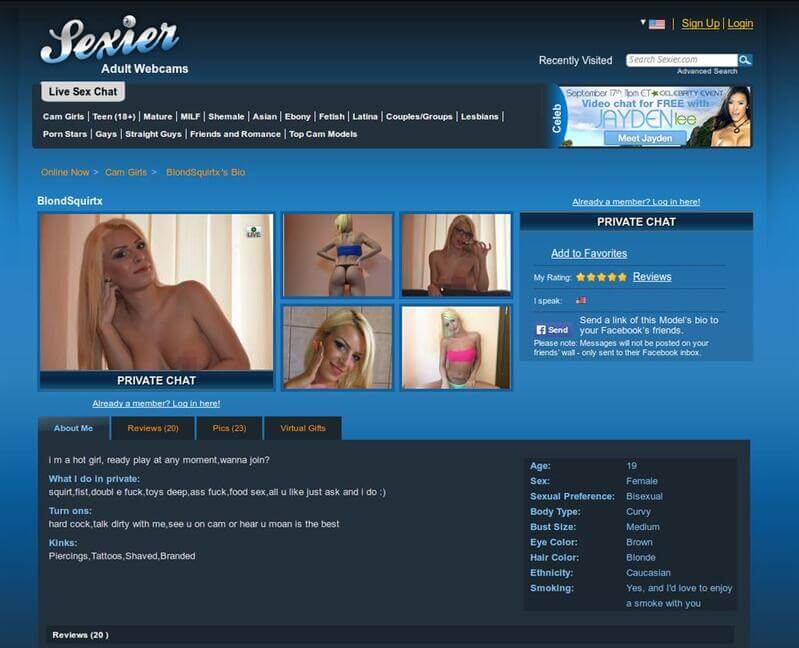 Quality of video
This wouldn't be a review on HD cam sites if HD wasn't available, would it? If you've got the bandwidth, then you can stream in gloriously hot HD, no problemo. If not, than it's the slightly grainy SD option for you.
Putting your money where your mouth is
The hotter the babe, or at least the hotter the babe thinks she is, then the more you have to pay. It's all down to the xxx models themselves, really. Credit packs are available in the follow denominations:
EURO €
GBP £
USD $
Price
Credits
Price
Credits
Price
Credits
€25
35
£25
35
$25
35
€50
60
£50
60
$50
60
€75
85
£75
85
$75
85
€100
110
£100
110
$100
110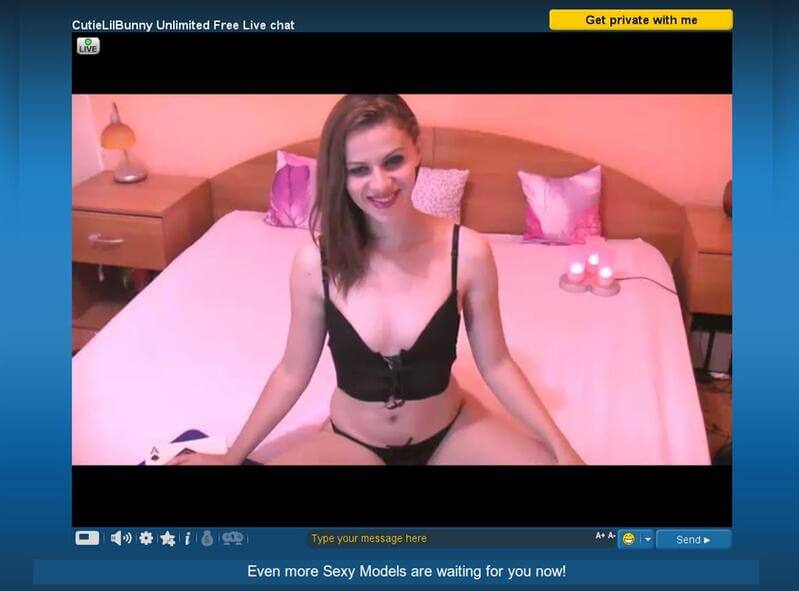 Ways to pay
You can pay the expected way, using your credit card (Visa, Mastercard, JCB, Discover, Switch, Maestro all taken), or for a little more sercrecy, you can head out and buy a UKash or PaySafe card and use the codes at the site, and of course if you were paying attention, you will have noticed that I mentioned something about PayPal earlier.
If you want my advice (and who doesn't?) then it pays to buy a lot of smaller packages, rather than go for one big one. That way you'll amass more free credits.
How many xxx lovelies
If you count up all the x-rated models that have registered with the site, you come to a total in excess of 100,000, but I don't think that's all the models who are currently active. I think that 10,000 - 12,000 is a better approximation.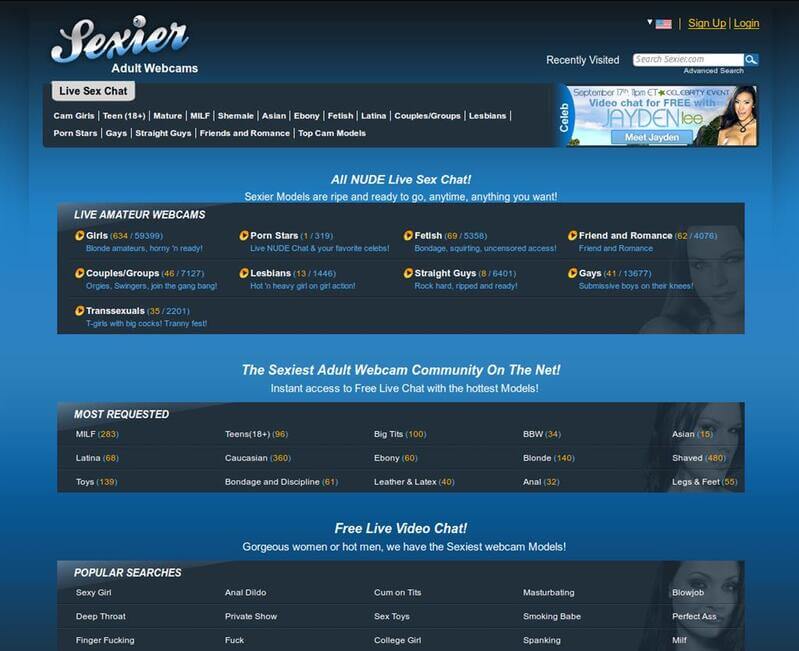 Help when needed
The only way it appears to get any issues shorted out with the site is via email. I think that this should be addressed, as there are much quicker ways of getting in touch with internet companies these days. Haven't these guys ever heard of WebChat?
Positives and negatives
Positives
✔ - You can enjoy sex chats with some real live porn stars
✔ - You can get used to the site without spending any money or signing up
✔ - Lots of categories for HD cams fans with "niche" sexy preferences
✔ - The site accepts PayPal
Negatives
✖ - You don't really get to see much unless you spend some money
✖ - Some of the models push the definition of "sexy" to the extreme, in my opinion
Summing it all up
This is the bit that really counts. Do I think Sexier.com is lovely or fugly? Well, it does get the Walter HD Cam Sites "Seal of Approval", and I can certainly see myself spending some time there. I wouldn't necessarily put it in the top three of my favorite sites ... but that's doing it a slight dis-service - it would maybe find itself knocking at the top five. Being the well-meaning and lovely man that I undoubtedly am, I say go to Sexier.com with my approval, and make your own mind up. I can't really be any fairer, can I?
Review of Sexier.com
- Reviewed by
hdcamsites.com