SakuraLive.com - full of erotic and exotic Japanese sexiness
Welcome yet again, my fine, Asian web cam loving friends. I seem to have perked up a little after feeling a tad under the weather for my last review. Perhaps old Walt's not ready for the great, heavenly sex chat cam room in the sky just yet. Who would you rely upon to bring you fantastic HD sex cam chat reviews? Anyway, speaking of heavenly sex chat cams, here is another HD cam site review.
This section of my site is of course for those lucky people who have a certain fetish for Asian cam babes. The site I am now about to review for you satisfies another particularly niche, as it is almost exclusively Japanese girls. I think I have told you before that I have a definite thing for lovely ladies from Japan, so this site is right up my particular sexual street. Without further delay, I will inform you that the site I have been reviewing is called SakuraLive.com. I doubt you know what "Sakura" means, so I will continue your education. I am sure you have seen media shots from Japan of when the cherry blossoms are in bloom. This is a very significant time of year for Japan, and people love to come out and admire the blossoms, which the Japanese people call "Sakura". So there is your answer. Read on to see if my experiences at SakuraLive.com were as welcoming as seeing hundred of trees bedecked in delicate pink blossoms.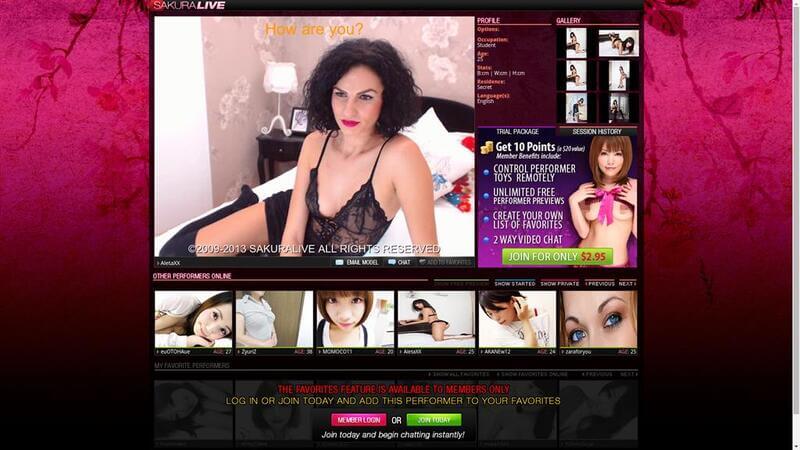 My considered thoughts
Again, don't worry if you cannot decipher Japanese for love nor money (even I can't make head nor tail of it, and I am a very definite Japanese films lover - and not just those kinds of films) as all of the site is in English. Your lack of Japanese becomes an issue if you enter a cam room with a performer who only speaks Japanese (which is the vast majority of models on the site). If you try and talk in English, they will usually ignore you. The site does offer an automatic Japanese translation tool. I don't know how good that tool would be, but I can guess it rather takes the fun out of sexy chat if you continually have to translate all that is said.
There is a rather blazingly hot "Are you over 18" screen to navigate first, and then the fun starts to begin - or you might hope it does. SakuraLive.com works in a very similar way to DxLive.com in that there is simply no such thing as free chat. You have to pay for ALL chat, and at $2 a minute, that is NOT cheap (although private chat - at $3 a minute may be considered cheap). Instead of free chat you get "Free Preview" which is a look at the cam screen of your chosen Asian sex cam performer. If you have not registered at the site, then this preview lasts 20 seconds. Full-time members get unlimited free previews, but they come with no chat!
If you're thinking "as this is a Japanese cam site do the models usually hide their faces?" then you have every right to do so, and the answer is, disappointingly, yes.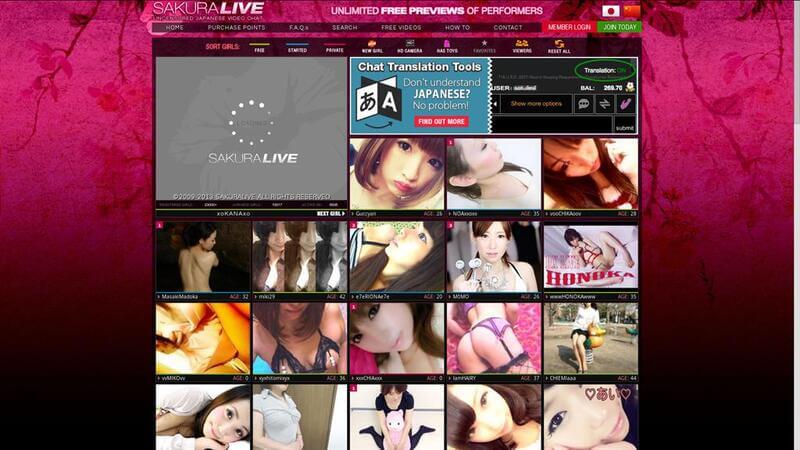 The cams themselves, and the free previews you can obtain by hovering your mouse pointer over the cam window, take a long time to load. You will see the spinning circle a lot. You cannot enter the cam room until the thumbnail menu pic changes to the preview cam, which is a bit odd. The chat windows are the same as at DxLive.com, and all you need to use them successfully is available via a mouse click.
The landing page has a filtering menu where you can filter each model by the type of show she is currently in, and you can also filter out any models who don't have HD, or filter in any models who are new, or have remote control sex toys, or both! The main menu across the top gives you options to see the FAQs and HowTo page, and the scant support functions. You can also buy points/credits here, and of course sign up, or login if you have already joined.
Anything else?
If you are a paid up member the only extras you get (aside from being able to actually chat!) are a favorites list, the option to do the remote toy thing, the ability to do some Cam2Cam chat, and unlimited free previews. For freebie fans, there are five free videos you can take a peek at which show you the kind of activity the Japanese cam models are willing to undertake for you.
Becoming a member
I am afraid to join up with SakuraLive it not only involves registering a credit card, but also paying a $2.95 fee. You get ten free points if you do, which are worth $20. The first step of the process is to enter your chosen username and password, and a valid email address, as is the norm. The next step involves typing in all your finacial details.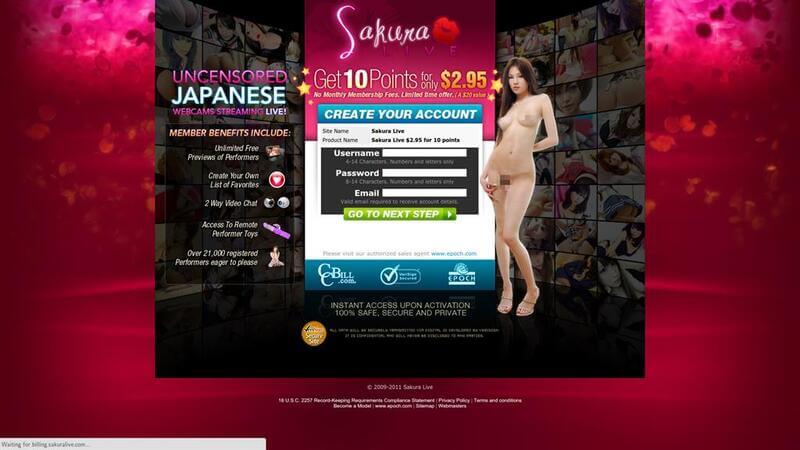 Let's get chatting
There are only two types of chat, "Started" at one point ($2) a minute which is group chat, or "Private" at one and a half points ($3) a minute for 1-to-1 action. No free chat, just those free previews. You can pay to control the Asian x-rated cam perfomer's sex toy if she has one for an extra point a minute.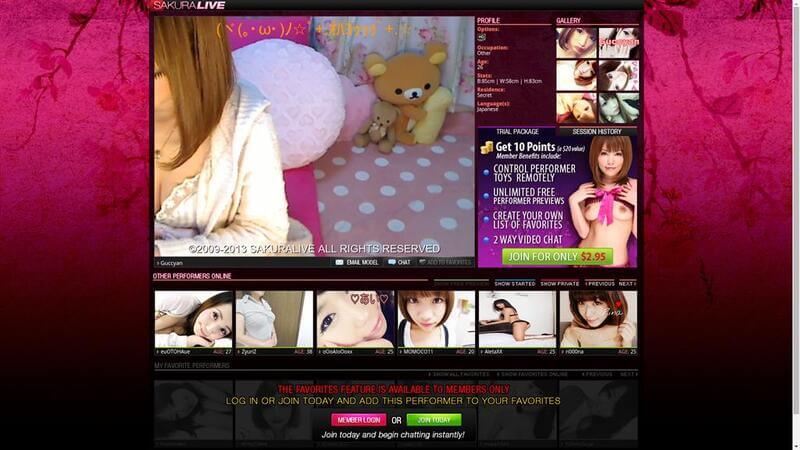 Quality of video
The best thing about SakuraLive.com is the quality of the video. It is nice and sharp, but the action is not as smooth as it can be. There is no way I can find of working out whether an xxx model has HD other than turning the "HD" filter on at the main screen.
Putting your money where your mouth is
You can buy points at the rate of $2 per point. There are no details on the site about the sizes of the pack available to you to buy.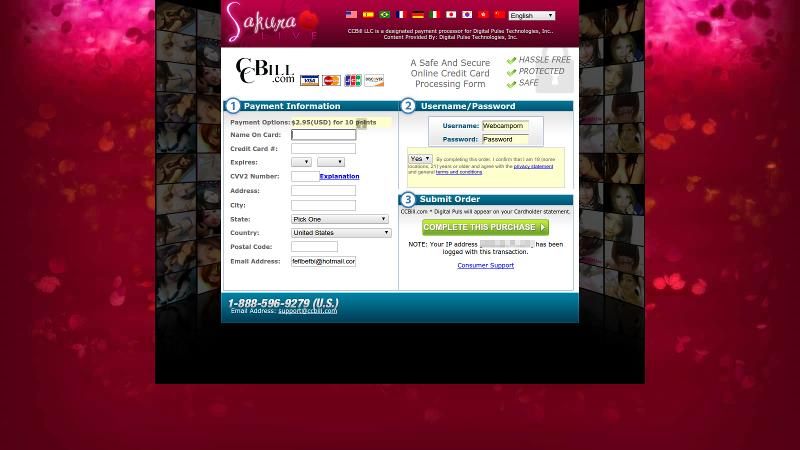 Ways to pay
Visa, MasterCard, Discover and JCB are your only options.
How many xxx lovelies?
There are just a handful over 23,000, which is about the same number as DxLive.com, so I definitely get the impression that these cam sites share models, and there are several perfomers on the site who you may have seen elsewhere. The site says there are 10,000 Japanese models and that around 7,000 of those have HD Cams. It's impossible to tell how many models are online where you visit as the site does not tell you.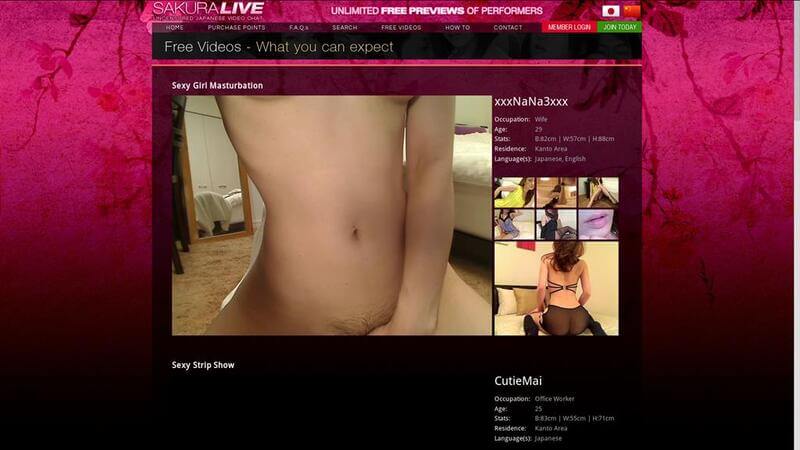 Help when needed
There is only one "help" (and the speech marks are deliberate) option - a contact web form.
Positives and negatives
Positives
✔ - High-quality cams if you are willing to pay for them
✔ - Five reasonably enjoyable videos to watch
Negatives
✖ - The curse of the Asian Sex Cam Models with no face
✖ - If you want to play here, then you have to pay
✖ - Very bad support options
✖ - No speak Japanese? Then I no speak you ...
Summing it all up
To get the most out of SakuraLive.com you need to have the ability to both speak and type Japanese (so a Japanese keyboard will help), and to have lots of money to burn. I have read on other review sites moans from punters who say they pay to enter a private chat, and then the model simply says "Wait!" and disappears, never to return. SakuraLive.com also has an ad for models claiming you can earn $200 an hour by being a model here, with the tag line "Hard work is for ugly people, which I find a little distasteful. This is one site where you really do need to see to work out whether it will suit you, so I suggest paying the site a visit yourself ...
Review of SakuraLive.com
- Reviewed by
hdcamsites.com