Explore Wet and Wild Gay Sex on XLoveGay.com
You might be chatting with homosexual hunks for years and this may be the first time you've even considered checking out a guy on cam. Maybe you are a self-secured, out-of-the-closer gay guy and maybe you're just a bit bi-curious, feel like exploring a different type of passion, a kinkier kind of sex chats. Well, whatever it is, you're in luck. I intend to serve this XLoveGay review and all you need to do is sit and gobble it all up. I will tell you exactly how much this sexcam site costs, how many hunks are online and what are the pros and cons of this portal. Are you ready to get some details? Read some more and I have a feeling you will have them all, with some to spare.

My considered thoughts
There are many reasons for guys to turn to live gay sex cams. Some men are just lazy – it's easier to find a sexy webcam hookup than it is to get dressed, go outside, drink, dance, flirt and look for a sex-partner. Others feel safer on live webcams – they can leave whenever they want and no one knows who they are. For certain men it's even a matter of time-saving: They want to get off and nothing more, and then there are those who like control and prefer to be on charge – having a gorgeous model obeying their every command. Well, whatever brings you to live sex webcams, XLoveGay.com is likely to have it. The men are straightly into sex – but certainly not straight, and they will be happy to either control you or be controlled by you, whichever way you prefer.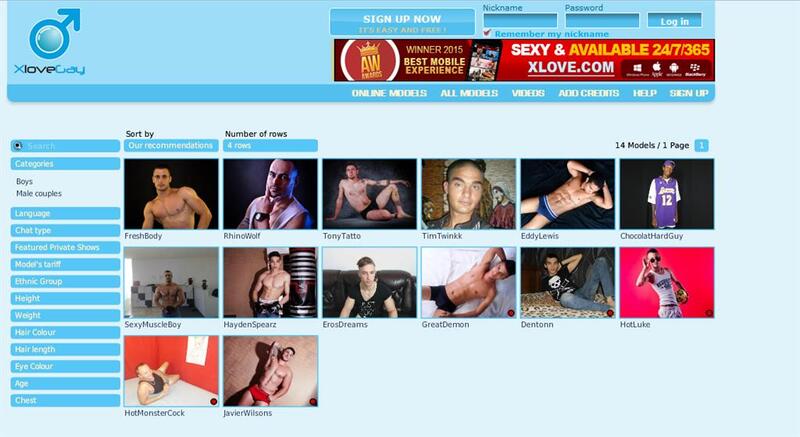 The studs here are exceptionally appetizing. I've chatted not just with one or two – but with a dozen of them, and they were all the kind of gay webcam models that I can go back to visit again and again. They weren't all that many online though – just around 20 or so were live and ready to chat when I came by on my first visit, and this number remained relatively constant on my other visits. I also was not wowed by the features, which were average at best. The is a special section reserved for gay porn videos, but you have to purchase a VIP membership in order to watch a specific guy's videos and this only buys you access to his vids. If you want someone else's videos, you will need to pay for a second membership, and so on.
Anything else?
If you are the kind of webcam user that just can't enjoy without a variety of unique features, XLoveGay.com is not the site for you. The chat rooms include the basic features that you will find anywhere else and nothing but.
Becoming a member
You can join XLoveGay.com for free, and it only takes a few seconds. You don't need to list your cc details or buy credits (not that you would get very far without credits, but this will not affect your ability to become a member), you just need to list the standard details: Username, password and email. After verifying your email, you can choose one video you can watch at zero cost. This is a 15-dollar worth video containing a model's hot 1-on-1 show.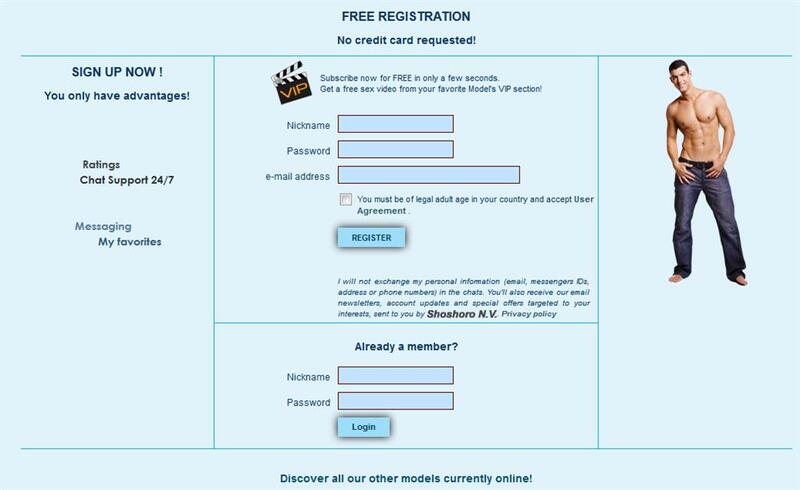 Let's get chatting
If you want to chat with the horny gays on this adult web cam site, you can choose the type of interaction from several options. Don't let the names fool you – they're the same as you'll find on any other sexcam arena.
Free Video Chat – Any member can enjoy the free video chat rooms on XLoveGay.com. They don't include nudity, but the sexy guys will answer questions and flirt.
Private Shows – This can either mean a group show or what the site refers to as Xclusive – a 1-on-1 session.
SneakPeek – This is the site's version of Spy mode. You can peek into other members' private chats and see what is up without being noticed.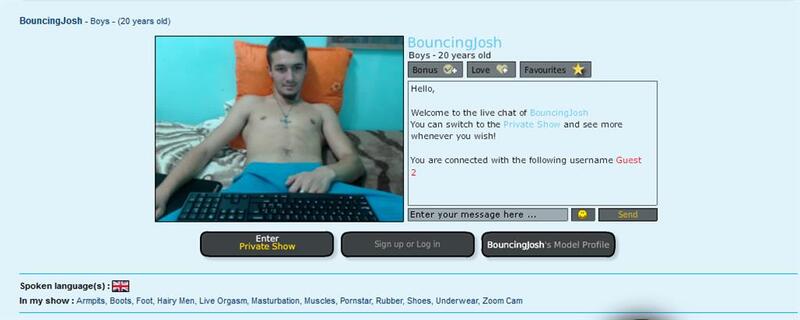 Quality of video
This is not some HD webcam service with the latest web cameras and smoothest streaming, but for an amateur web cam site, it's doing pretty well. I haven't encountered a guy with a really bad web camera and for the most part the cams were average to good and the streaming worked fine throughout my many visits.
Putting your money where your mouth is
Many factors will affect the final cost on XLoveGay.com: Are you chatting with one guy or a homosexual couple, have you chosen a popular model or a new one, with very few fans and is it a particularly kinky show or mainstream? No matter what your preferences are though, on average this gay webcam service has very descent prices and cost per minute is around 2 credits, or maybe 2.50.
If you are curious to know how much a credit costs, look at the chart below.
| | | |
| --- | --- | --- |
| How Many Credits | Cost in USD | Cost per Credit |
| 25 | $31.20 | $1.24 |
| 50 | $62.41 | $1.24 |
| 100 | $124.83 | $1.24 |

Ways to pay
How would you like to pay? XLoveGay.com accepts many different payment options including MasterCard, Maestro, Visa, PayPal, Bitcoin, bank transfer and some local prepaid cards. You can also pay using DirecteBanking, if that's the option you prefer. Personally, I like plastic and PayPal, but this is a reliable sexcam site and part of a large, established network, so any option you choose should be secure.
How many xxx lovelies?
There are no more than 8,000 hot gays registered to this lively sex chat community and this includes some single dudes, homosexual couples and the occasional threesome. However, keep in mind that the number of live guys is relatively low and even on the busiest days you won't find more than 20-25 men on live cams.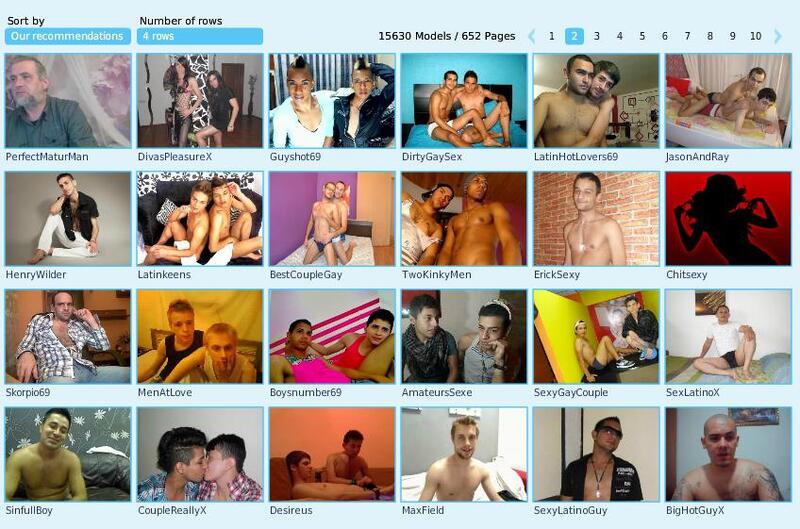 Help when needed
If you have a question or just need assistance, fill in the Help form which you will find – wait for it – under the Help tab. The same tab also includes the FAQ page which isn't long, but it covers the basics.
Positives and negatives
Positives
✔ - Hot and very cooperative homosexual men
✔ - You can search the chat rooms by tariffs, for a better control of your funds
✔ - New members get a free VIP porn video
Negatives
✖ - There aren't all that many live guys online
✖ - No HD chat rooms
✖ - No special discounts or promotions
Summing it all up
We are now reaching the very end of my XLoveGay review and I know that you all, well – the ones who made it this far, want me to offer a bottom line. You want me to tell you if this is the best adult webcam site ever or the worst and you don't want to hear anything that is even remotely indecisive. Well, sorry to disappoint you folks, but sex chat communities are kind of like people – very few are good or bad – the rest are somewhere in between. Do I think that this live adult webcam site is perfect? I certainly do not. It has many disadvantages: the videos are pricey, there aren't enough live chat rooms and no special promotions are available. However, I had a lot of fun video chats here and I am sure you could have some yourself. This is not an incredible site and not a horrible one: It's a cute, sexy portal with limited options – visit it and see if you like it enough to stay.
Review of XLoveGay.com
- Reviewed by
hdcamsites.com