XLoveFetish Offers BDSM, Roleplay & Foot Fetish Cams, but Not Many
What's up, my determined readers? I seriously hope that you are in a kinky mood today, because the adult webcam site that I intend to review is all about the naughtier pleasures of the sex chat arena. I have to admit that I am a tad excited. While I do enjoy reviewing all the best cam sites in the industry, few things are as entertaining to write about as live fetish webcams. This makes sense when you think about it. The standard nude cam portals deal with standard live sex shows, but when fetishes are concerned… you never know where you'll end up or what will take place before your wide open eyes on XXX webcams. So, now it's time to introduce you to a nice, albeit a small, adult chat portal that serves up the less mainstream sexual preferences. Read this XLoveFetish review and find out what I thought about this site.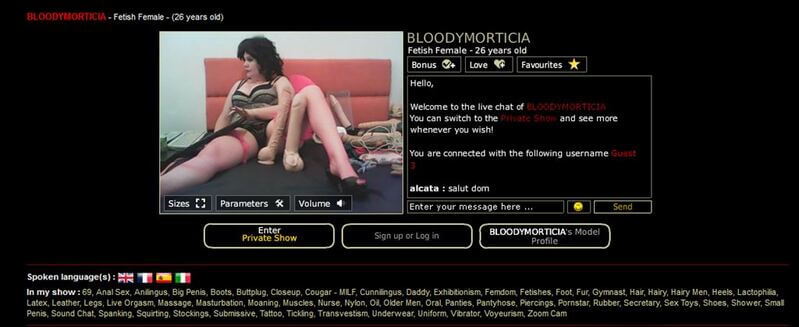 My considered thoughts
I couldn't help but noticing, as soon as I entered, that this is a rather small fetish sex cam community. X Love Fetish looks very professional and the platform is inviting and nicely-made, but when I first started browsing, there were like 20 models on the live chat rooms and that – to state the obvious - is not a high number. However, the level of the fetish webcam models was very high and here I have to pause to explain something. Many adult cam sites offer a fetish category, which is usually ordinary camgirls who think that they can get wild and promote themselves as femdoms and female subs without even understanding the meaning of these words. Just because you put on a latex suit, it doesn't mean that you truly grasp the concepts of control and submission or that you know how carefully you have to approach the various BDSM relationships. This is not a game – this is a culture and a lifestyle, and the sexy women on XLoveFetish.com understand it, offering these sensual interests the respect that they deserve.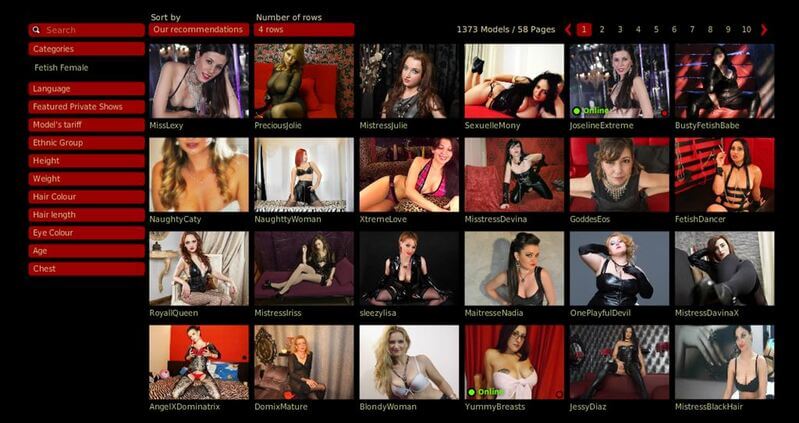 You can chat with any model that doesn't have a flashing 'private chat' sign near her name (meaning, of course, that she is currently engaged in a 1 on 1 session with another user). There are many search categories, but they are not very helpful for two main reasons. First, they don't deal with specific fetishes so if, for example, you are looking for a CBT expert, there will not be a particular category for this niche – or even for dominating women, and you will need to kind of go through the chat rooms and profiles and ask the model what she will and or will not do. Second, there are many categories that won't help you much with such a low number of live chat rooms. Starting to limit your results to certain ethnicity or hair color might leave you with no results at all.
Anything else?
I didn't notice any unique webcam chat features, but there were the regular ones such as Cam2Cam and emoticons of course. Members can join the VIP club of a specific model and gain access to her XXX fetish videos (pics too), but this comes with a monthly fee. Those who are hooked on financial domination will also appreciate the fact that you can tip the model at any time – during free or paid chat, and even when she is not online. It's called "bonus", but it is just a tip.
Becoming a member
I wish I didn't have to waste my time writing an explanation on what is, possibly, the simplest registration process ever, but I will anyway because some of you might be new to this industry and overwhelmed. Just choose a username (the site will informed you if the one you chose is already taken) and a password. Do your best to choose one that you'll actually remember, the next time you login. Then add an email and congrats – you're all done. Once you confirm this email, you can choose to watch 1 video of a performer's private show for free. This video is worth $15.00. The next and final stage will be adding funds to your account, when you want to begin a nude fetish chat, but we'll get to it shortly.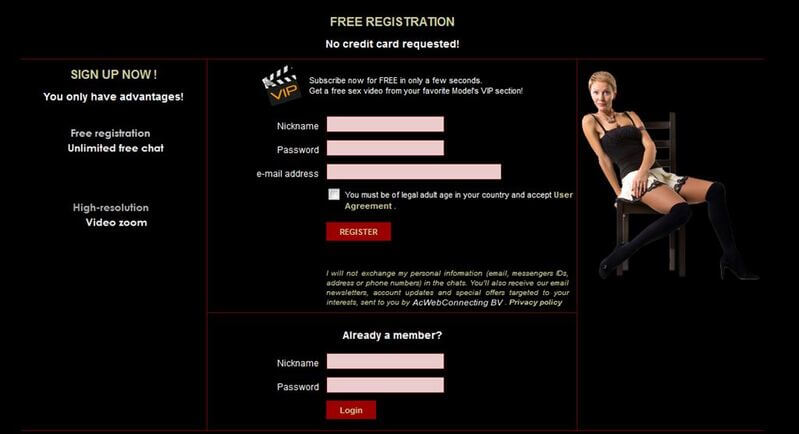 Let's get chatting
There are two types of live chats on XLoveFtish.com – free chat and private chat. Not too complicated, right? To start chatting, which I promptly did because as I mentioned earlier in this XLoveFetish review, the chicks here are beautiful, you just click on the image of the women. To start a private chat, you simply click the 'private chat' button. Needless to say (but I will anyway), you must have money in your account to start a personal submission and domination cam session.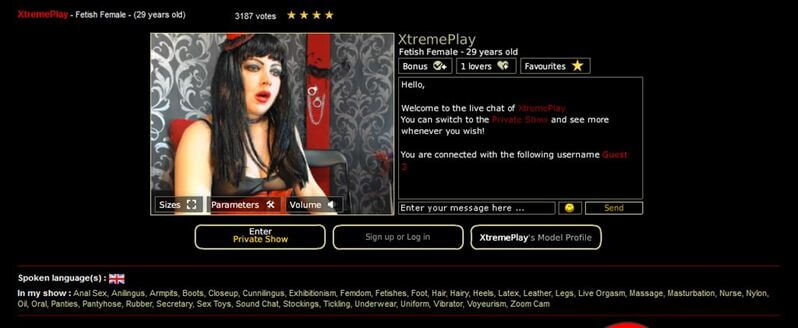 Quality of video
I hope that you noted that up until now I was fairly pleased with this adult webcam site, well, other than the number of camgirls that is. However, as far as streaming goes, it could usually do with some improvement. Not that it's horrible – but this is certainly NOT the HD clarity that you are used to from the larger fetish webcam portals such as LiveJasmin for example. Fetish webcams have to look professional because they deal with serious sex – that's how I see it anyway.
Putting your money where your mouth is
Many fetish chat communities are more expensive that ordinary sex chat arenas. Maybe this is even justified. Many women can perform on cam and have amusing live porn shows, but fetishes require experience, training and even specialized equipment at times. On X Love Fetish prices are very fair for such a specialized website. Average nude chat goes for 2 credits for minute and there are even babes that charge 1.50, if you're willing to search. Credit packages are as following:
| | | |
| --- | --- | --- |
| Number of Credits | Cost in USD | Cost Per Credit |
| 25 | $31.20 | $1.24 |
| 50 | $62.41 | $1.24 |
| 100 | $124.83 | $1.24 |
I have also promised to discuss the price of VIP subscriptions, so now will be the right time for that: One month of VIP usually costs 15 credits per minutes, but price changes according to the web cam model.
Ways to pay
PayPal and credit cards (Visa and MasterCard) are probably the best payment methods, but you can also pay with Bitcoin, via phone or with a variety of local prepaid cards, depending on your location. If you prefer debit, this website also works with Maestro and you can also do a Bank Wire, if you want.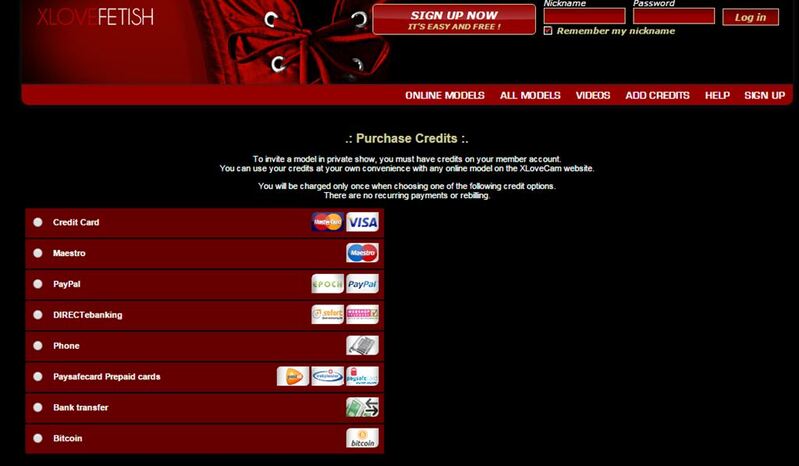 How many xxx lovelies?
X Love Fetish has an estimated figure of 8,000 registered models, but that doesn't mean much, does it? The real important figure, the one that makes a difference, is the number of live sex chat rooms and that will be between 15 and 30. Does the quality compensate for the low selection? You will have to answer that.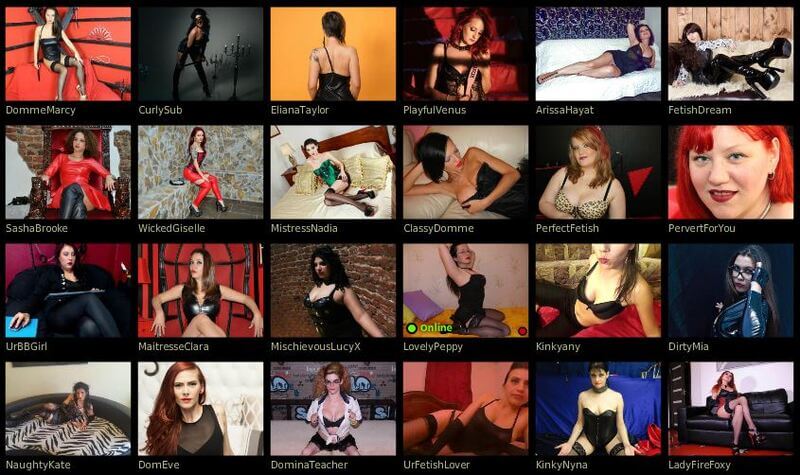 Help when needed
You can fill in a help form, contact billing support or check out Frequently Asked Questions. All of this information can be obtained by clicking the Help tab at the upper navigation bar. I told you this was a simple site.
Positives and negatives
Positives
✔ - The women I chatted with knew a variety of fetishes
✔ - Prices are very low for such a pro webcam sex portal
✔ - The kinky videos are really magnificent
Negatives
✖ - Not enough online chat rooms
✖ - Streaming should be improved
Summing it all up
On every adult webcam site there has to be some kind of balance between quality and quantity. You want to know that every (or almost every) sex chat room you'll enter will allow you to explore fetishes – foot worship, role playing and also hardcore BDSM stuff. It's annoying to have to deal with models who don't know this world and what it offers, but the camgirls that preform on XLoveFetish all do understand and have the necessary skills to give users the XXX experience they deserve. However, there are so few of them, that you really need to settle for what you find – the search tool is deemed useless with such a low number. The women are stunning, informed and know how to put on live porn shows – is this enough for you? Follow the link below and you will have your answer in less than a minute.
Review of XLoveFetish.com
- Reviewed by
hdcamsites.com